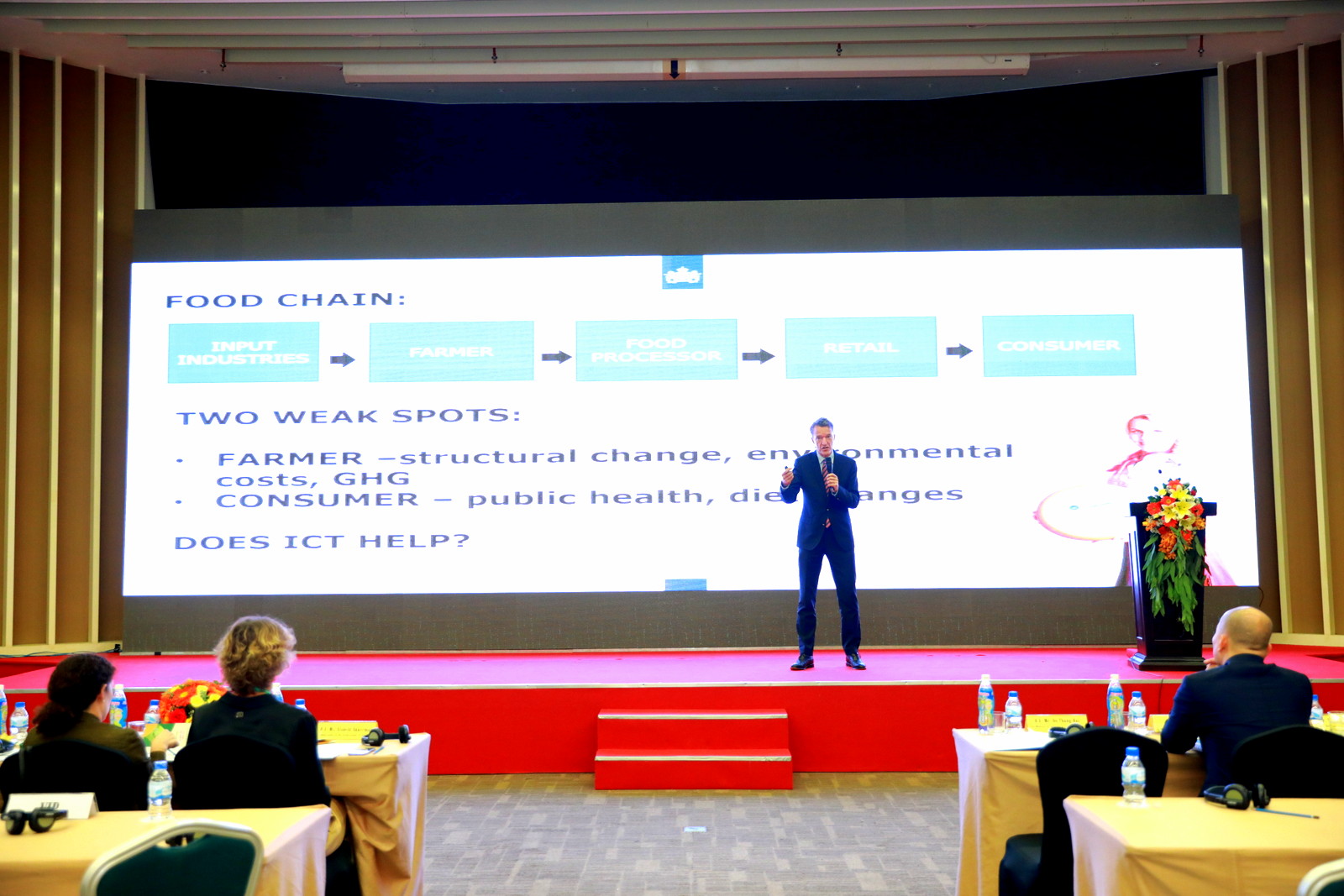 1. Date and Time: 08:30 – 12:00, Thursday, November 14th 2019
2. Venue: 2nd floor, Sai Gon Exhibition & Convention Center, Ho Chi Minh City
3. Speakers:
- Representative from Vietnamese Ministries and Provincial governments
- Foreign companies invested in Vietnam
- Vietnamese food processing companies
- Law and advisory firms with experiences in supporting foreign investors
4. Agenda
Time

Content

Expected speaker

08:30

Registration

09:00

Speech

Director Board of Vietnam Ministry of Industry and Trade

09:10

Speech

Director Board of EU Delegalion to Vietnam

09:20

Presentation:

Overview of Vietnam's food processing industry

Vietnam Trade Promotion Agency Representative

09:35

Documentary: Food processing industry in Vietnam

09:40

Presentation:

Investment promotion policies for hi-tech food processing projects

Representative of the Foreign Investment Agency - Ministry of Planning and Investment

09:55

Discussion session 1: Export opportunities of the Food Processing industry

Topic:

Direct export: Opportunities when EVFTA takes effect.
Export via e-commerce.
Export via supermarket systems.
Export via Made in Vietnam trademark.

Expected coordinators: Mr. Claudio/ Mr. Adam/ Mr. Alex Koff

Expected speakers:

Representative of EUROCHAM
Representative of Amazon Global Selling
Representative of supermarket systems such as AOE, LOTTE…
Agro Processing and Market Development, Ministry of Agriculture and Rural Development

10:30

Teabreak

10:45

Presentation: The story of Investment in Vietnam

Foreign investment enterprises

11:00

Discussion session 2: Investment and product development trends

Topic:

Potential in investment and technology transfer of food processing between Vietnam and the EU.
The importance of global value chains in developing Vietnamese small and medium food companies.
Food packaging trends.
Sharing of hi-tech investment companies in food processing and manufacturing.

Expected coordinators: Mr. Claudio/ Mr. Adam/ Mr. Alex Koff

Expected speakers:

Representative of EUROCHAM
Representative of AMCHAM
Representative of USAID
Representative of Vietnam – Korea Product Design Center
Representative of Vietnamese businesses

11:30

Trading

12:00

End of the program
5. B2B session: investors will be provided table in B2B session
In this regard, VIETRADE kindly invites your esteemed organization to participate in the conference and meet directly with Vietnamese enterprises to discuss the co-operation in doing business and calling for investment.
Please kindly register in advance through the link https://forms.gle/CvFuFogqCKwXmkpKA.
For further details of the conference, I would be grateful if you could refer to our point of contact:
Ms. Nguyen Linh Ngan - Mobile: (+84) 945 721 293
Email: investprocen@vietrade.gov.vn ; ngannl@vietrade.gov.vn
Thank you for your kind cooperation and I believe that your support will significantly contribute to the success of the conference.