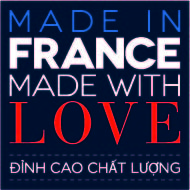 This year, France is the Country in honor of Vietnam Foodexpo 2017, from 15 to 18 November at HCMV. This event will not only be an opportunity to present more French products, but also to organize meetings to share good practices between Vietnamese and French food safety producers. Dairy products, fruit and vegetables, and delicatessen!
The success of French food products for export depends to a great extent on their quality, in particular health. At each level of the agri-food chain, a series of health checks is carried out. This requirement, based on science, ensures a high level of consumer protection while respecting both the gastronomic heritage and the environment. The Vietnamese authorities recognize this high level of safety and therefore allow market access for an ever-increasing number of products.
Through the promise Quality as a Standard, France through professionals as the French Chef Charles Soussin, the Best French Worker in cheese Francois Robin and the Baker Christophe CLIET-MARREL will animate and demonstrate for 4 days the know-how and the value of the French agri-food model....