For some products such as food ingredients used for cook, consumers tend to use value added and packed items. In addition, consumers are willing to spend money on healthy food and nutritious products such as milk, yogurt... This contributes to the increase of packaged food consumption and will be maintained in the next 5 years.
With 12 free trade agreements, Vietnam will continue to deeply integrate into the international economy though with TPP or not. Vietnam agricultural products and food must still take up themselves in the context of that integration.
Mrs. Emil Fazira - senior analyst for food and nutrition, representative of Euromonitor said that, along with the increase of affordability of consumers, Vietnam brands that can build their reputation for quality will be selected more than foreign brands. Vinamilk is a typical example. This brand has successfully maintained the # 1 position of milk for children. For candy and chocolate, multinational corporations still hold a large market share in Vietnam. For some products such as fish sauces, in addition to quality, it is essential for them to match with local tastes. Many food companies in Vietnam have successfully differentiated their brands. Masan Group has dominant the fish sauce and soy sauce market. In overseas markets, the Vietnam Food brand is still uncommon and the number of Vietnam food brands is still small.
Therefore, to have access to international markets, according to Ms. Emil Fazira, there are two important issues that Vietnam food brands should paid good attention to. One is the specialty, consumers, especially those in developed countries like strange tastes and differenct food such as "Pho" will help them to be familiar with Vietnamese brands. Two is the price, for products that there ar high fluctuation in price, Vietnam food brands can take advantage of trends in other markets to offer similar products at lower prices. Thai companies have been quick to imitate Japan's trend on the domestic market and export.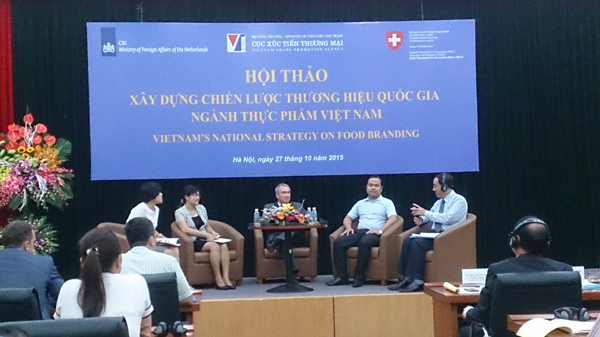 At the seminar "Building Vietnam National Food Brand Strategy" took place in October 2015 at the Ministry of Industry and Trade, Deputy Minister of Industry and Trade Do Thang Hai frankly admitted that Vietnam food industry had great potentials. However, there were still many limitations on branding work for the industry which led to low export revenues.
Individual efforts of Vietnamese food businesses have not yet gained much efficiency in creating excellent quality products, competitive price, strongly influenced brands on domestic and foreign markets. Therefore, Vietnam needs to develop a common brand for the food industry in order to create a strong brand architecture, strategic impact, bringing growth for each product line and promoting the collaboration between businesses. This is the direction many countries in Asia such as Thailand, South Korea have been successfully applied.
Since late 2014, the Vietnam Trade Promotion Agency (MOIT) has officially launched the National Vietnam Food Branding Programme with view to positioning a common brand for the food industry; increasing awareness and recognition in the international scale for Vietnamese food; building a reputation for quality and location as well as the strong increase in food exports of Vietnam.
"Branding Vietnam food industry is one of the important contents of the National Brand Programme. To successfully implement this program, it is essential to have a long term specific roadmap "- Deputy Minister of Industry and Trade Do Thang Hai said.
There have been 9 associations registering to accompany the National Vietnam Food Branding Program. They are associations in food, coffee-cocoa, tea, fruits, seafood, pepper, honey and coconut.