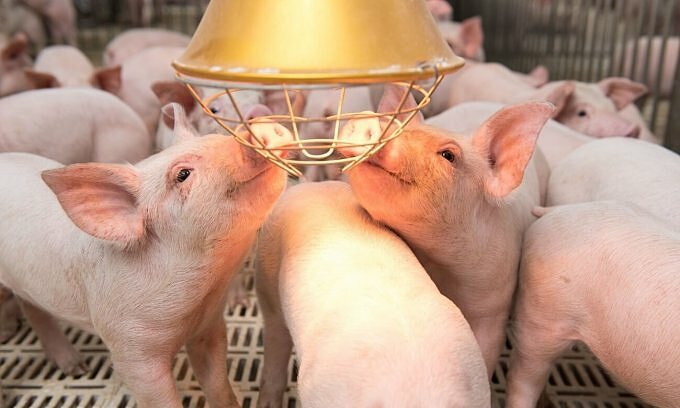 Baby pigs at a farm in the central province of Binh Dinh. Photo courtesy of GreenFeed
Many big companies have been investing trillions of dong (VND1 trillion= $41.67 million) in raising pigs, with the Vietnamese pork market estimated at $15 billion.
According to a recent financial report by Thaiholdings Joint Stock Company, through its subsidiary Thaigroup, it has joined hands with third parties to invest VND600 billion in a pig raising project in the central province of Thanh Hoa. Thaiholdings stands to receive 60% of total profits.
Earlier, many domestic giants had poured up to trillions of dong into pig farming, including Hoang Anh Gia Lai Joint Stock Company, Hoa Phat Group Joint Stock Company, Hoang Anh Gia Lai Agricultural Joint Stock Company and Truong Hai Group Joint Stock Company.
Foreign-invested firms, including Thai-invested C.P Vietnam Corporation, South Korea-invested CJ Vina Agri Company and Australia-invested Mavin Group Joint Stock Company, have also invested in the market.
International Finance Corporation (IFC), a member of the World Bank Group, has so far this year poured a total VND2.8 trillion into three pig-raising firms, namely Mavin, BaF Vietnam Agriculture Joint Stock Company and GreenFeed Vietnam Corporation. GreenFeed said it wants to sell over 125,000 tons of pork to 385,000 consumers every year, while Mavin plans to annually supply the market with 900,000 tons of pork.
Pig farming has become an attractive business as pork is the main source of animal protein in Vietnamese meals, accounting for about two-thirds of total meat consumption. According to a recent report by U.S. financial information services provider Fitch Solutions, the total meat consumption in Vietnam is forecasted to grow over 25% in the 2018-2026 period.
Vietnam will be one of the countries with the strongest meat consumption growth globally in the coming years, Fitch Solutions said, noting that there are no cultural barriers to eating meat.
By 2026, on average, each Vietnamese person will annually consume more than 51 kilograms of meat, including 31 kilograms of pork, more than 16 kilograms of chicken and over four kilograms of beef, up 9% against the consumption forecasted for this year.
Meanwhile, global meat consumption would average 34.6 kilograms in 2026, an increase of less than 0.5 kilograms in 10 years, according to the Organization for Economic Cooperation and Development (OECD).
Along with the increase in market demand, the report by Fitch Solutions showed a strong trend of industrialization in pig farming. After the spread of African swine fever in 2019, small farming households have been exiting the industry because of expensive investments and fluctuating prices.
Fitch Solutions said strong businesses would benefit from the potential recovery of pork prices in the future.
In the first half of this year, Hoang Anh Gia Lai Agricultural Joint Stock Company sold more than 82,000 pigs and made a profit of more than VND530 billion, the highest semi-annual profit since 2018. It expected to achieve the profit target of VND1.12 trillion this year.
Hoa Phat Group said the agricultural sector brought in after-tax profits of nearly VND720 billion last year.
However, Fitch Solution believed that the Vietnamese pig industry would face challenges in the longer run as people gradually eat less pork. In the 2022-2026 period, consumption of chicken and beef will grow almost equally at more than 13%, but that of pork less than half the rate. There will be more room for the chicken market to grow because of its affordable price.
Grasping the above trend, many firms also began to invest in poultry production. Since the fourth quarter of 2020, Masan MEATLife has acquired the 3F Viet brand and applied technology in the field of chilled meat to chicken products. Regarding this segment, it achieved revenue of nearly VND1.5 trillion in 2021, up nearly 58% against 2020. The company will further invest in the market whose value is expected to be worth $5 billion in future.
Recently, Hoang Anh Gia Lai Agricultural Joint Stock Company raised 100,000 free-range chickens on a trial basis. The chickens are expected to be sold on the market in November. Meanwhile, Mavin Group proposed building a complex worth VND600 billion in the northern province of Son La to breed chickens and ducks and process the meat for export.
The Vietnamese pig market is estimated at some $15 billion, according to the 2021 annual report by local meat processing company Masan MEATLife under Masan Group.
Source: VnExpress