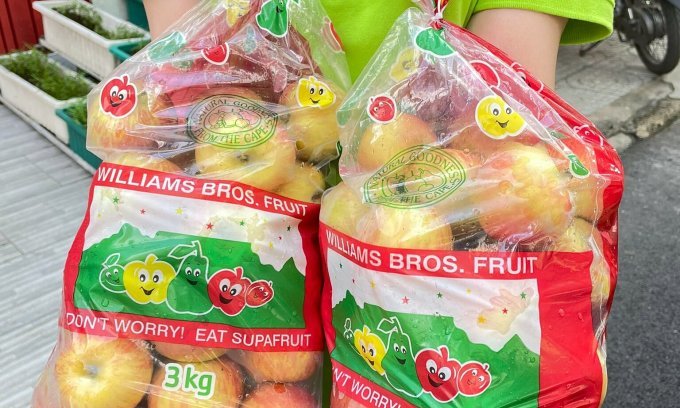 Packs of South African apples are pictured in Ho Chi Minh City
Fruits imported from South Africa, Cambodia, India, and China have been flooding into Vietnam this year as they are priced reasonably.
Loan, a vendor in Ho Chi Minh City's Go Vap District, said imported grapes, apples, oranges, and mangoes are cheaper than their Vietnamese counterparts.
"I sell 10 to 20 three-kilogram packs of South African apples every day. They are small but crunchy and sweet, and are well received by consumers."
Hang, a vendor in Tan Binh District, said the prices of Australian tangerines have dropped by half to VND100,000-150,000 per kilogram.
Online shops are also selling South African and Cambodian fruits in boxes of three to five kilograms each.
Nguyen Hoang Hai, a vendor in District 12, said both the quantity and quality of imports have been rising, and Vietnamese consumers love Australian oranges, South African apples and Cambodian mangoes.
The oranges cost less than VND50,000 per kilogram, which is cheaper than local produce, he added.
"I sell hundreds of boxes every day."
In the first eight months of the year fruit imports surged by 28.8% year-on-year to $1.2 billion.
Of the top 10 import markets, South Africa led with a 70% increase followed by China with 63%.
Imports from Australia, Cambodia, South Korea, and Myanmar all grew by double digits.
Sources: VnExpress