This information was released at a forum on connecting production, processing and exporting brackish water shrimp in Vietnam, organized recently by the Ministry of Agriculture and Rural Development (MARD) in Ho Chi Minh City.
According to the General Department of Fisheries under the MARD, during the past two decades, the shrimp industry has played an important role in the nation's seafood exports.
Vietnamese shrimp has been so far exported to around 100 countries and territories globally, with five major markets, including Europe, the US, Japan, China and the Republic of Korea. The shrimp industry annually contributes about 40-45% of the country's total seafood export value equivalent to US$ 3.5-4 billion.
Last year's shrimp export turnover hit a record high of US$4.3 billion, up 11.2% on-year. In particular, the shrimp industry has created more than 3 million jobs.
The total average annual shrimp farming area of Vietnam in the 2018-2022 period was about 714,000 hectares, with an average annual total shrimp production ranging between 745,000 and 930,000 tons.
At the forum, participants said that Vietnam boast great potential in terms of area, favorable climate and abundant water resources for developing brackish water shrimp farming. The shrimp industry has applied new science and technology, including techniques of seed production, commercial farming and preservation and processing with many models of science and technology application at different levels.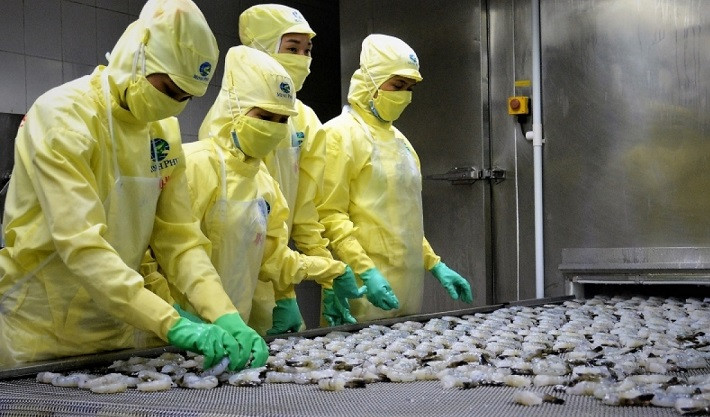 Regarding the development orientation of the brackish water shrimp industry in the coming time, Ngo The Anh, head of the Aquaculture Department, shared that the department will focus on applying new and advanced techniques into production, diversifying farming methods according to regional conditions and adapting to the impacts of climate change.
In the second half of 2023, the shrimp industry will focus on maintaining farming areas, and increasing additional harvested areas as planned, with the output target of 563,000 tons.
Source: VOV