During this visit, both leaders have vowed to put a priority on economic cooperation in terms of bilateral relations. Both sides also stressed on the importance of annual high level dialogue on economic cooperation and trade promotion between Vietnam and France.
On this occasion, Vietnam solemnly invited French Republic to participate in Vietnam International Food Industry Exhibition 2017 (Vietnam Foodexpo 2017) as the Country of Honor. The two leaders showed appreciation with an enhanced connection between Business France and Vietnam Trade Promotion Agency (VIETRADE).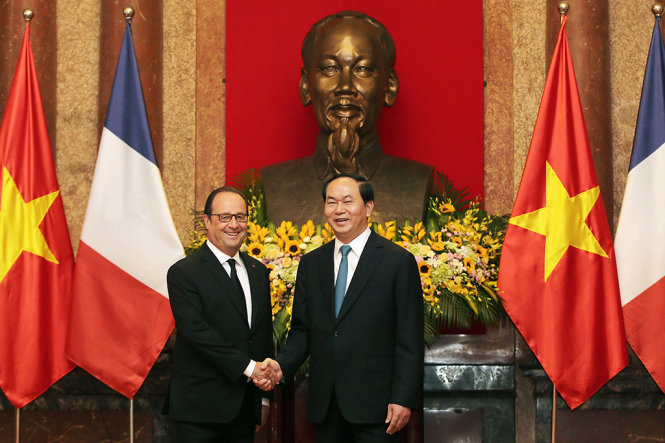 Both sides continuously claimed to create a favorable investment environment and develop a long term economic and industrial relation between the two countries. The agreements between Vietnamese airlines and Airbus Corporation which are bilaterally appreciated are a solid platform to boost cooperation in the aviation sector. The two leaders also reached unanimity in pushing towards contracting and ratification of the EU-Vietnam Free Trade Agreement (EVFTA). France and EU are welcome to technically support Vietnam in implementing EVFTA.
The President of French Republic, Mr François Hollande praised Vietnam for its strategic position in South East Asia region and its impressive growth.
In the last few years, Vietnam-France relation has ceaselessly developed. According to the General Department of Vietnam Customs, the bilateral trade turnover between the two countries from 2010 to 2012 had dramatically increased (From USD 2.06 Billion to USD2.86 Billion and USD3.75 Billion) thanks to the growth in export and import. During this period, the growth rates of export to and import from France were 39% and 22.8%, respectively.
In 2013, the mutual trade turnover reached USD 3.2 Billion which decreased by 14.7% compared to the year before due to a sharp decline in import.
The 2014 – 2015 period witnessed a rebound in both export and import with a close lead from export growth compared to import. For many years, export from Vietnam to France always has had the upper hand against import, thus the balance of trade has been most of the time in Vietnam's favor. Moreover, the trade surplus has been increasing consistently from 2010 to 2015. The surplus in 2010 was USD 130 million and climbed up 13 times to USD 1.69 billion in 2015 and stood at USD 1.01 billion for the first seven months of this year.
France is now the primary market for Vietnamese companies searching for import source, ranked 3rd in European markets and 18th in the world in terms of exporting goods into Vietnam. As for Vietnam's export, France is ranked 5th in Europe and 13th in the world.
More than 300 French companies have invested in Vietnam in various sectors from food to high-tech industry. That means France is now the second biggest investor in Vietnam. Some French leading corporations are willing to pour even more capital into Vietnam.