With the theme "Bringing Vietnam flavors to the world tables", the contest was not simply a lively playground for professional chefs to show off their talents and love of food. Through the contest, candidates introduced Vietnam and the world's delicious and attractive food made from Vietnamese unique spices and food ingredients, thereby contributing to expand domestic and export markets for Vietnamese spices and food ingredients.
The jury of the contest composed of: Ms. Doan Thi Thu Thuy – Acting Deputy Director General of Vietrade, Mr. Ly Sanh - Chairman of the Saigon Professional Chefs Association, Ms. Nguyen Thi Dieu Thao - Lecturer of Saigon University, culinary expert, Chairman of the Vietnam Food Club, Mr. Kris Burgess - British nationality, Mr. Leon Trujilo - Director of Nationmark (UK), Colombian Nationality.
Speaking at the Contest opening, Ms. Doan Thi Thu Thuy - Acting Deputy Director General of Vietrade, said the contest was one of the practical trade promotion activities with view to promote Vietnamese spices and food ingredients to Vietnamese and foreign professional chefs and family cooks.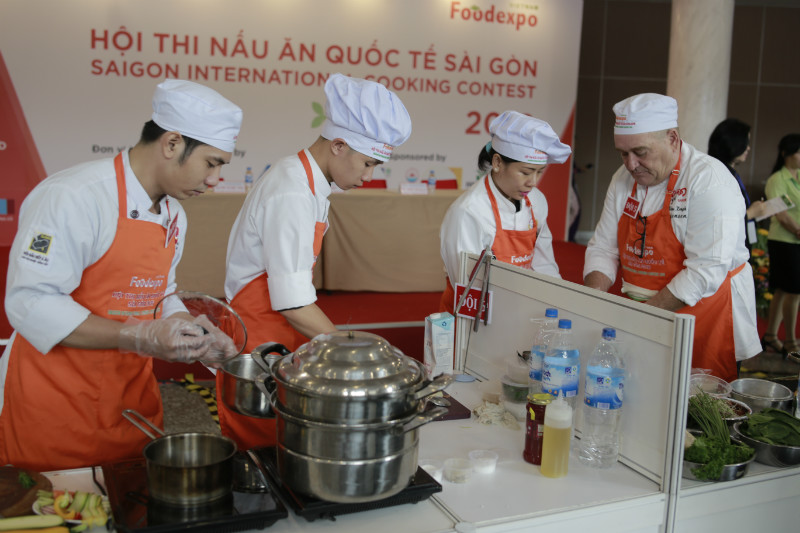 Contestants were showing off their talents at the Contest
The contest received a record of 22 candidates who were working in restaurants, hotels in ​​Ho Chi Minh City, Da Nang City, Kon Tum Province, Ba Ria - Vung Tau Province. Through the preliminary round on November 14th 2016 at the premise of Saigon Professional Chefs Association, the jury selected 10 qualified candidates for the final round.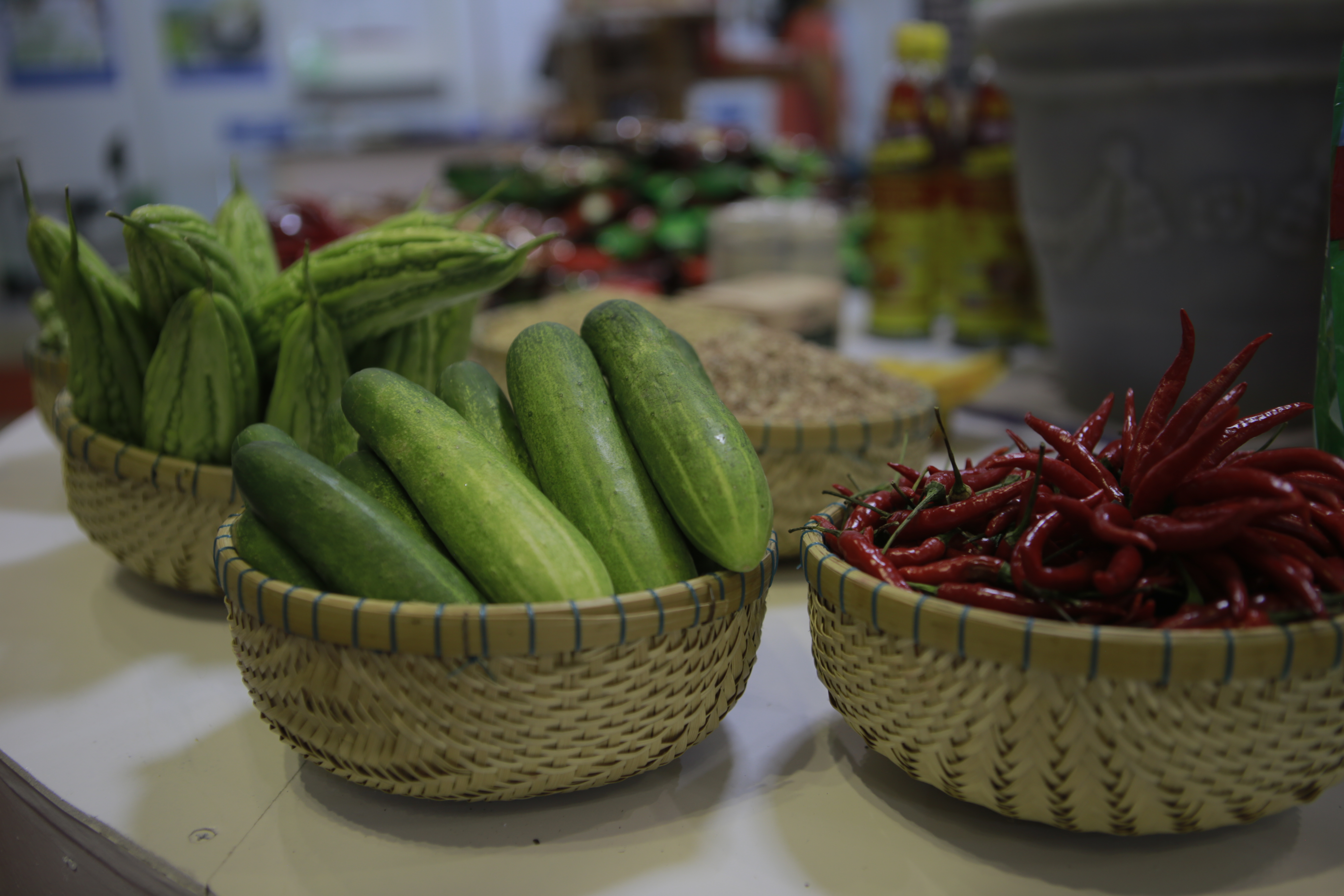 Vietnamese raw food materials used in the Contest
Contestants had to use food materials and spices of exhibitors at the Vietnam Foodexpo 2016 such as soy milk, cashew nuts, pepper, vegetables, seafood ... Candidates were also provided aprons, kitchen hats by the Organizing Committee, equipped with kitchen appliances and financed costs for purchasing raw materials, spices and travel expenses.
In the final round, contestants must compete with two dishes including appetizers and main courses.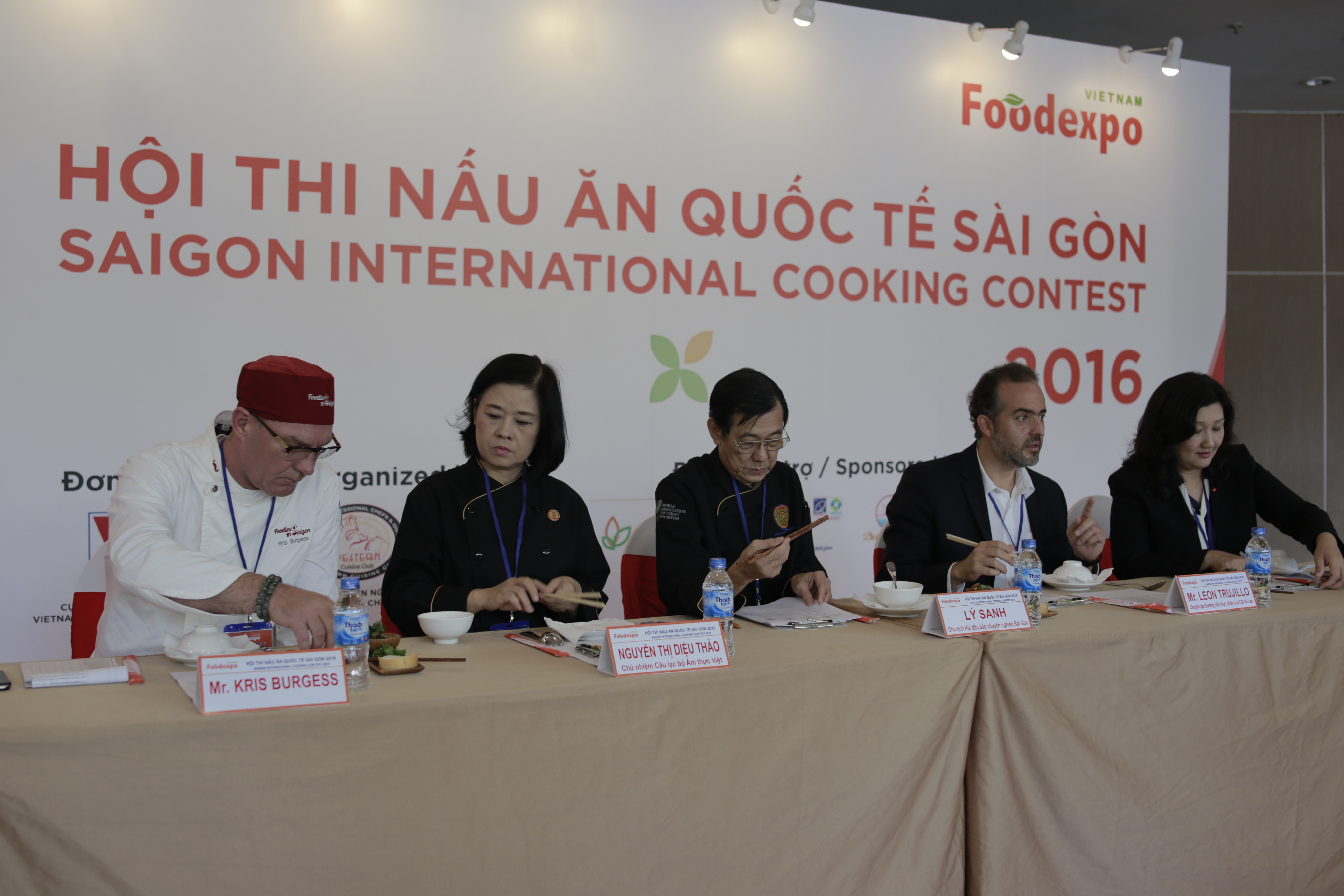 The Jury was assessing dishes
The jury marked contents such as food processing manipulation, smell, taste, status, color, presentation, creativity, safety, thereby selecting the brightest candidates.
After 90 minutes of active competition, this year's winner was Mr. Klaus Krogh Christensen, a Danish citizenship, from the Bistro Stormp restaurant (Ho Chi Minh City) with two dishes of fish rolled with cream, vegetables and meat ball. In addition, the Organizer also awarded 01 second prizes, 01 third prize and consolation prizes and medals to other contestants.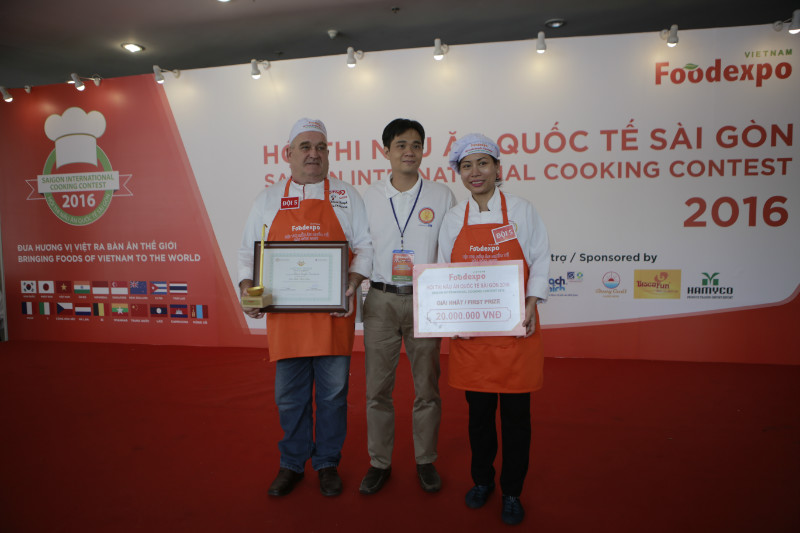 Ms. Batholomen Sarah, a British nationality, from the Crunchy Frog Company, an audience of the contest, said: "I felt voyeuristic and interesting to witness how the contestants process and demonstrate my favorite dishes from Vietnamese spices and food ingredients".
At the contest held last year, candidates must undergo two rounds, the main material used were foods, spices and flavorings of Vietnam origin. The winner of the contest held in 2015 was Mr. Nguyen Van Thanh from Quang Nam Province, with also dishes from fish.