Food Vietnam's 2016 is the 3rd Vietnam International Conference on Food Industry (Food Vietnam in 2016) - an important event on the sidelines of the Vietnam International Food Industry Exhibition 2016 (Vietnam Foodexpo 2016). The business matchmaking event was organized by the Ministry of Industry and Trade (Vietnam Trade Promotion Agency) in cooperation with domestic and foreign agencies, organizations and companies.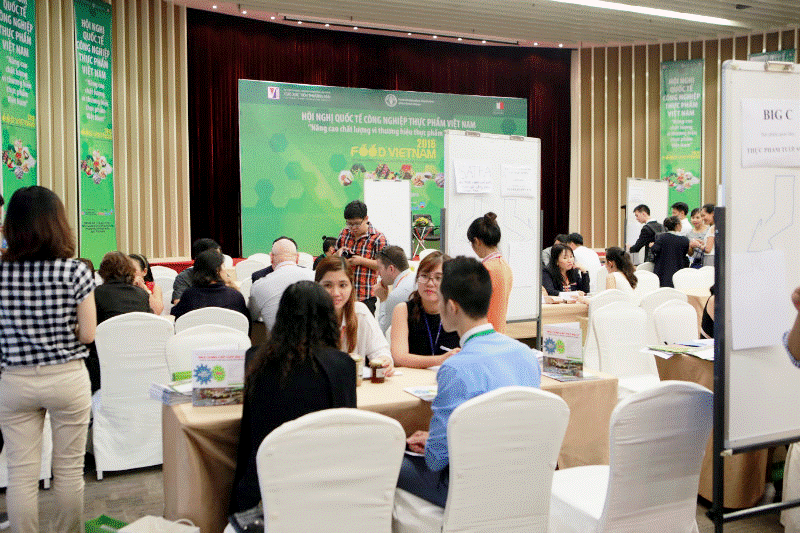 At the event, over 300 transactions were carried out, with nearly 30 agreements and contracts between Vietnamese food businesses with foreign partners attending the event were signed.
AEON Corporation is one of the largest retail trade of Japan joining the event. AEON has 179 domestic and foreign joint ventures in Japan. The corporation was established in 1758, with a history spanning over 250 years. AEON officially started operation in Vietnam since 2009. At the event, AEON purchasing representatives met many business Vietnamese seafood, rice and vegetables companies who need to put these items on AEON supermarket chains in Vietnam and abroad. AEON purchasing representative said, after the event, AEON planned to visit some Vietnamese factories and companies to assess the production capacity, supply, and made more specific exchanges about the supply of products to AEON supermarket chains.
Saigon General Trading Corporation (SATRA) is one of the big and reputed trading business in Vietnam. A senior leader of SATRA directly participated in the event. With the needs of connecting with suppliers in traditional agricultural products, fruits, vegetables, essential producst such as drinking water and food, SATRA achieved its goal for joining the event by concluding specific agreements with 20 potential partners. Mr. Nguyen Phuc Khoa - Deputy General Director of SATRA said, SATRA was very pleased with the results and appreciated the organization of the event.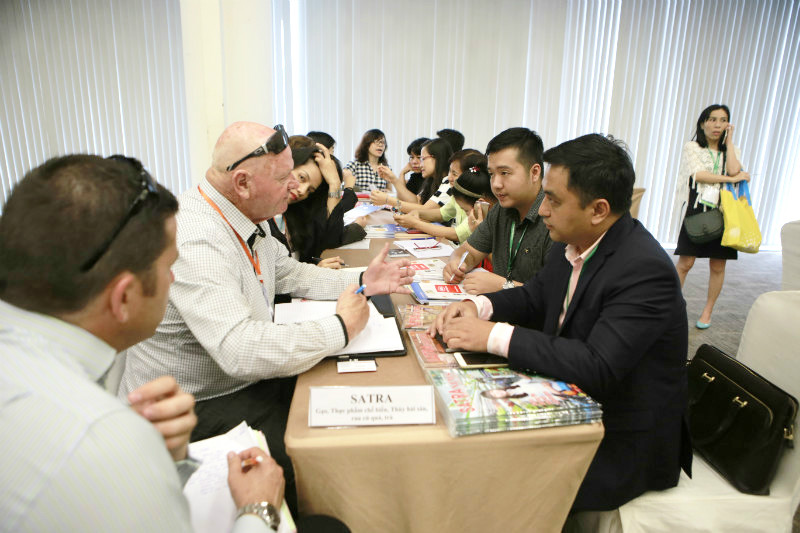 For the first time participating in the event held within Food Vietnam, EVFTA Group from Poland was one of the importers receiving great attention of Vietnamese food and beverage businesses. Through 34 transactions at the event, EVFTA Group selected six Vietnamese potential companies for further exchanges agreements for import of Vietnamese goods, Mr. Hoang Xuan Khang - President of EVFTA Group, a Vietnamese native living in Poland shared.
CJ Foods under CJ Group (Korea) participated in the event for the second time. This year CJ Foods had 02 transaction tables for processed food and fresh food at the event and made 44 transactions. LOTTE Mart also met 40 Vietnamese companies, Big C had 30 transactions, etc.
03 Malaysian companies participated in this event via the connection of the Malaysia International Trade Association of Small and Medium Enterprises (SMITA) including: Persepsi Pertama (with needs for importing coffee products); Unity Resources and TL Ballun (demanding for organic food items). Malaysian businesses made nearly 20 transactions with Vietnamese exporters.
Asia Ibero Africa came from Spain. They got to know and attended the event through the introduction of the Vietnam Trade Office in Spain. Asia Africa Ibero was a purchaser whom Vietnamese companies were most interested in. More than 43 transactions on fruits, beverages, confectionery, nutritious food between Asia Africa Ibero and Vietnamese companies were implemented.
Many Vietnamese businesses participated in the event highly appreciated the efficiency of the event in matching, creating opportunities for businesses to introduce their products and opening up potentials for cooperation with domestic and foreign supermarkets and purchasing groups. Mr. Pham Van Son - Chairman of the Board of Management of Organic Thuan Khiet JSC expected, trade programs like this event would be continued to organize by the Vietnam Trade Promotion Agency in coming Food Vietnam Conferences for companies to directly access more business opportunities right in Vietnam with importers and supermarkets.