According to the organizer of the Vietnam Foodexpo 2016, one week before the opening ceremony, there were 550 booths of over 400 enterprises inside and outside of the country registered to participate in the expo. The total area of 10,000 meter square of the Sai Gon Exhibition and Convention (SECC) has been fully filled with booths. Beside foreign companies from 15 nations, the presence of a large number of domestic companies is noteworthy.
"This year, many national brands such as Sabeco, Habeco, Vinamilk, Rang Dong plastic… have registered to participate in the Vietnam Foodexpo", said Mr. Ta Hoang Linh, Deputy Director General of Vietnam Trade Promotion Agency (Ministry of Industry and Trade). Vietnam Foodexpo 2016 had lots of new faces, contributing to the success and professional organization of the exhibition, Mr. Linh added.
There will be 5 main activities at the 4 day expo including a seminar on "Investment Promotion in the food processing industry"; the 3rd Vietnam International Conference on Food Industry (Food Vietnam 2016); a seminar organized by Italian partner about nutrition innovation; a signing ceremony of a MoU between Vietnam and Italia about food industry, Saigon International Cooking Contest 2016 with the objective of "Binging Vietnamese flavors to the world tables"; "Vietnam Foodexpo 2016 Impression Awards" for those having nice designed booths with attractive food display, and great contribution to the success of the expo.
A highlight for this year expo is that after Korea of the food expo last year, Italia was chosen to be the country of honor at Vietnam Foodexpo this year. Mr. Linh shared that: "Even though there is no criteria for the invitation of country of honor for the expo, however, we can see that Italia is one of the leading country in the agriculture industry and food industry".
Mrs. Carlotta Colli, Consul General, General Consulate of Italy to Ho Chi Minh City, said Italy was very honored to be the first European country invited as the country of honor in Vietnam Foodexpo. In the context where the Vietnam - EU Free Trade Agreement was about to take effect, activities such as Vietnam Foodexpo would contribute to the promotion of trade, strengthen cooperation, promote two-way trade between the two sides.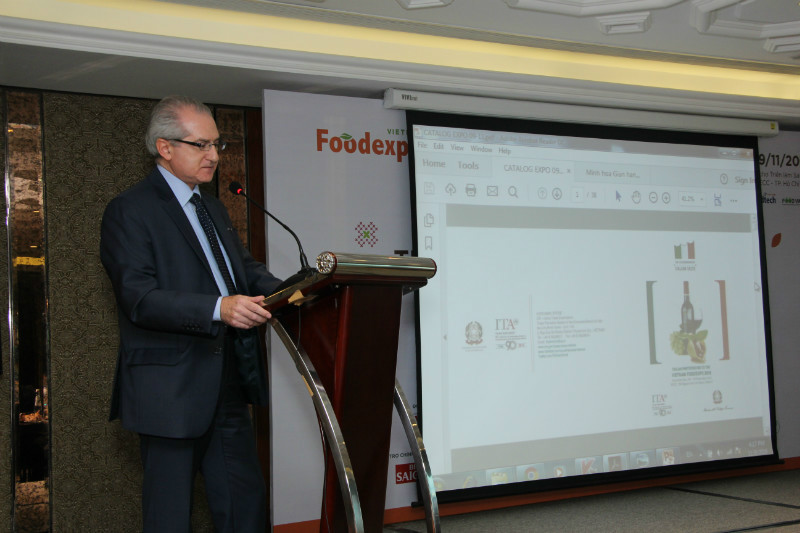 Mr. Paolo Lemma, Italian Trade Counsellor to Vietnam introducing Italian delegation participated in Vietnam Foodexpo 2016
Mr. Paolo Lemma, Italian Trade Counsellor to Vietnam proudly said that, "At Vietnam Foodexpo 2016, there will be 32 booths for Italian companies with the total are of 300 square meters. Among them, there are 30 companies from 10 provinces in Italia and 2 companies that have had offices in Vietnam.
"Most companies from Italia will come to Vietnam for the first time. Their products haven't been widely marketed in Vietnam. Therefore, besides introducing many traditional food products such as noodle, cheese, wine, coffee, Itatian companieswant to find potential partners in Vietnam", Mr Paolo Lemma shared.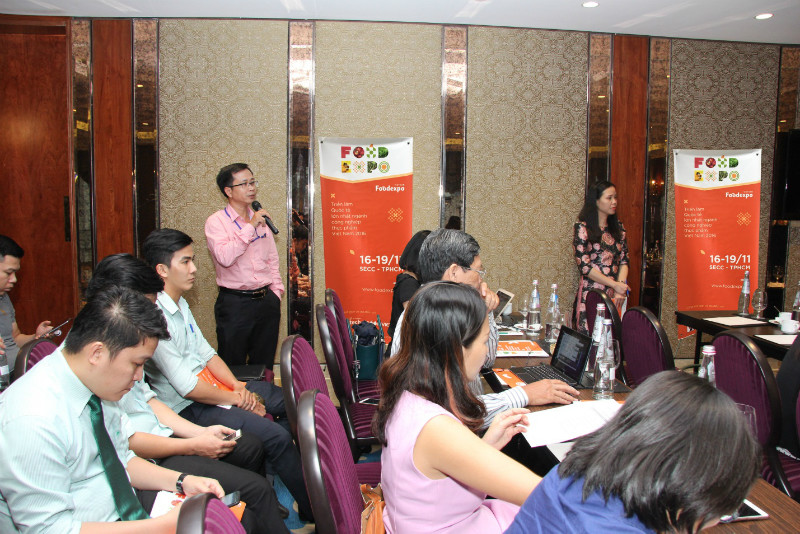 Regarding the investment tendency of Italian companies, Mrs. Carlotta Colli said that, Vietnam had a lot of potentials to attract foreign investment. The highly commitment from the government had open a way for Italian companies to invest in Vietnam. The industries that Italia cared about and could invest in Vietnam for the near future were textile, energy and environment protection. The participation of Italian companies in Vietnam Foodexpo is a good chance for them to learn about the investment environment, policy and finding potential partners… for Italian companies to decide to deploy their projects in Vietnam.
Along with Italia, there are 3 EU countries also having companies participating in Vietnam Foodexpo 2016 including: Poland, the Netherlands and Hungary.