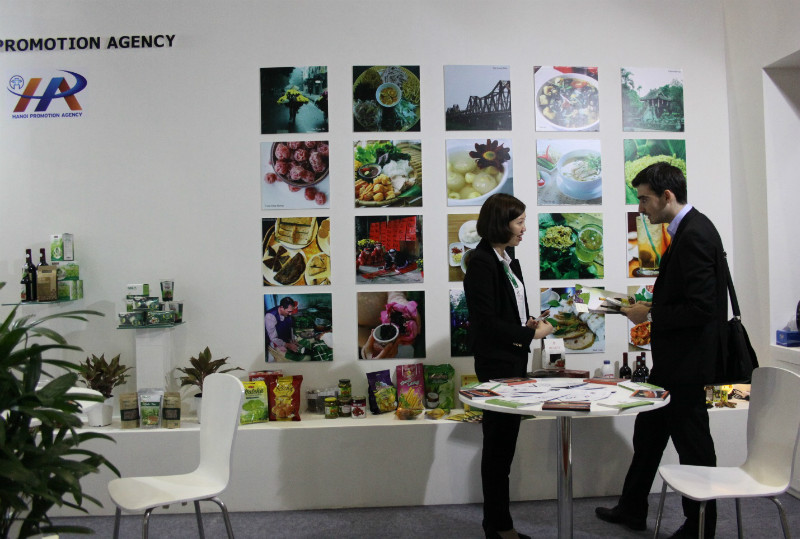 Hanoi introduces diverse traditional products in Vietnam Foodexpo 2016
Under the guidance of the Hanoi Peple's Committee, the Hanoi Investment, Trade and Tourism Promotion Center of Hanoi City held a group of 13 companies operating in the food and beverages sector participating in the Exhibition. The city's Pavilion with a scale of 90m2 impressively designed facilitated the product display and trading of businesses. With traditional products such as banh com, che lam, apricot, candies, dried fruit, coffee, tea, milk, honey, cordyceps, rice products..., Hanoi Pavillion attracted a great deal of domestic and international visitors.
Thua Thien Hue had 5 companies, participating in its pavilion including: Thien Huong Co., Ltd; Pham Thi Khanh Tam Enterprise; Loc Mai Co., Ltd; Que Lam Organic Agriculture Co., Ltd, Thua Thien Hue Water Supply and Construction Co., Ltd. Products on display at the exhibition were agricultural commodities, processed food specialties of the province. In Vietnam Foodexpo 2016, Thua Thien Hue pavilion contributed to support local companies to promote brand image, establish and strengthen cooperative relations and expand markets, especially export markets.
For sustainable development, Lam Dong province determined to strengthen the promotion and expansion of domestic and export markets, especially for the province's strong products such as vegetables, fruits, processed agricultural products… as the driving force of economic growth. Mr. Vu Van Tu, Director of the Trade, Investment and Tourism Promotion Center of Lam Dong province shared that, Lam Dong is specializing in large agricultural production, and is the biggest vegetable growing area in Vietnam, with 60,000 hectares of vegetables, provides the market about 2 million tons of vegetable per year. More than 90% of Lam Dong vegetables is ensured for food safety in Vietnam, 40% qualifying for export. Therefore, realizing major benefits from the participation in Vietnam Foodexpo, Lam Dong province continued not to miss the opportunity to present at the exhibition this year. Lam Dong had 10 companies showcasing the strengths of the province to search partners in transferring clean production technology, in order to create value-added products to consumers at home and abroad.
Coming from the South, An Giang Trade and Investment Promotion Center and 02 companies including Vegetables and Foodstuffs JSC (Antesco) – a national brand awarded enterprise and Tan Vuong Food Company made several marks at the exhibition. Exhibits of An Gian pavilion included organic fruits, vegetables and rice. Especially the three color mangos of An Giang attracted the interests of many customers. On the first opening day of the exhibition, a Korean company ordered 400-500 kg of three color mangos, to be delivered immediately after the end of the exhibition, and paid in cash. This Korean company will assign experts to collaborate An Giang Trade and Investment Promotion Center to do survey on An Giang mango planting areas in Cho Moi district.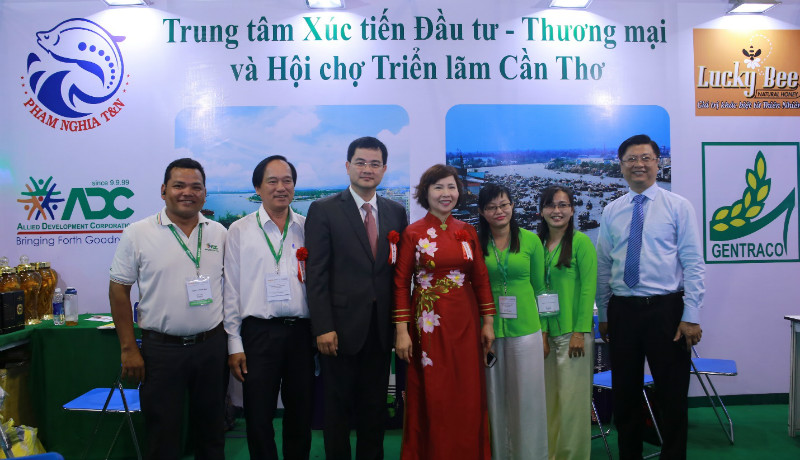 Ms. Ho Thi Kim Thoa – Deputy Minister of Industry and Trade (middle) and Mr. Truong Quang Hoai Nam – Vice President of Can Tho City (far right) visit Can Tho Pavillion at Vietnam Foodexpo 2016
Can Tho city had the presence of specific products such as rice, honey, frozen seafood … The city's Pavilion was honored to welcome Ms. Ho Thi Kim Thoa – Deputy Minister of Industry and Trade and Mr. Truong Quang Hoai Nam – Vice President of Can Tho city to visit and encourage the Trade and Investment Promotion and Exhibition Center and Can Tho businesses to boost trade promotion at the exhibition.
With the mobilization of local businesses participating in promoting local image, enterprises and products in a more professional way at the exhibition this year, many localities were honor to be awarded Certificates for contributing to the success of the exhibition from the organizing committee (the Trade Promotion Agency – Ministry of Industry and Trade).
Vietnam Foodexpo 2016 has created an effective forum for local Trade Promotion Centers and businesses to promote, introduce products' and brands; seek business opportunities with traders, exporters domestically and abroad; expanding markets, promoting consumption and export diversification of typical agricultural products and food.