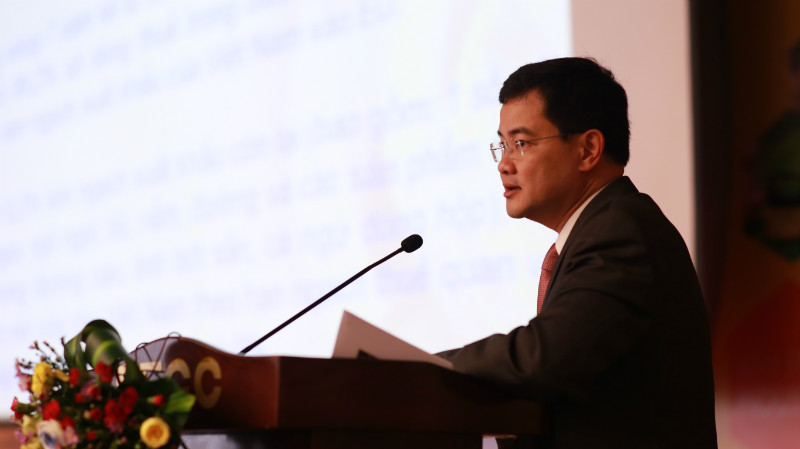 Mr. Bui Huy Son - Director General of Vietnam Trade Promotion Agency was giving a speech at Food Vietnam 2016 in the framework of Vietnam Foodexpo 2016
According to domestic and international experts at the conference, to build and promote the Vietnam food industry efficiently, increase awareness and recognition about Vietnam food value on the international scale, agencies, localities and companies should actively promote trade, technological innovation, transfer of the advanced scientific technology in the production process to create high quality and high value added Vietnam food products for the world market.
Trade promotion activities for Vietnam agricultural and food sector, especially the key and advantegous export products have been implemented by associations, trade promotion organizations and companies through various channels. One of the trade promotion activities for Vietnam's major export agricultural and food products is the showcase and promotion at Vietnam Foodexpo 2016. According to Mr. Bui Huy Son, Vietnam agricultural and food products for export such as rice, coffee, pepper, cashew nuts, vegetables, honey, milk and some food items made from agricultural materials... are focused for promoting at the exhibition.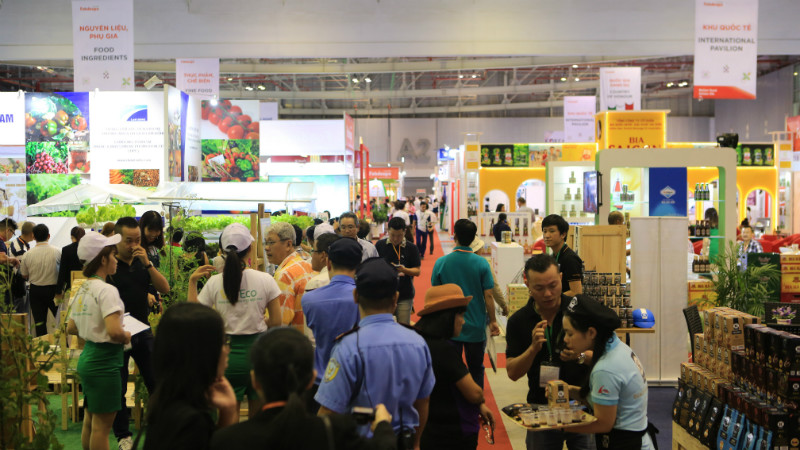 High-quality agricultural products and food attracted visitors at Vietnam Foodexpo 2016
To take advantage of opportunities from Vietnam Foodexpo 2016, the Ministry of Industry and Trade (Vietnam Trade Promotion Agency), in collaboration with related agencies and organizations to make a selection of local companies and quality products which have geographical indications, are produced under national and international standards, had professional design and packaging, can be provided in large quantities... to display and transacted at the exhibition. At the same time, the Ministry of Industry and Trade (Vietnam Trade Promotion Agency) has mobilized the entire system of Vietnam Trade Offices in foreign countries, foreign organizations in Vietnam and abroad to organize business delegations from 38 countries and territories to the exhibition for business transactions.
Mr. Tran Thu Nguyen, Head of Sales Department of Mekong Fruit Co., Ltd in Can Tho City, said his business gained significant efficiency from joining Vietnam Foodexpo 2016. During the 4 day exhibition, the company could meet many foreign importers from countries such as Singapore, China, USA, Thailand... and signed a contract to sell 08 tons of dried fruits for trial with Singaporean and Chinese partners, worth over VND 1.2 billion.
Booth of Phuc Ha Juice Co., Ltd in Binh Thuan province welcomed a crowd of domestic and international visitors. Ms. Le Thi Nguyen Hieu, business representative of the company shared that, thanks to Vietnam Foodexpo 2016, her company could meet a considerable number of customers to cooperate in exporting fermented red dragon water. Dragon fruit is now a commodity companies in Binh Thuan are promoting for consumption in foreign markets.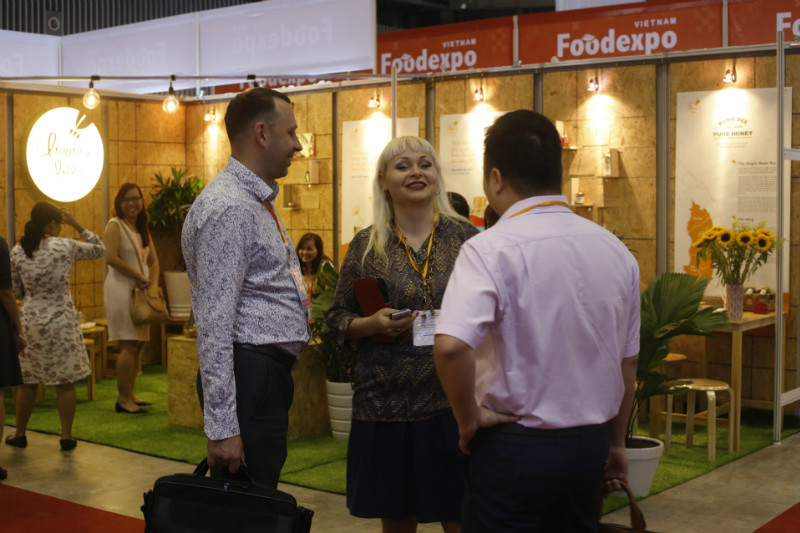 Foreign visitors at Vietnam Foodexpo 2016
By participating in Vietnam Foodexpo 2016, many manufacturers, traders and exporters of rice and rice products, coffee, cashew, pepper, honey ... such as ADC Co., Ltd., Golden Ban Me Co., Ltd, Nhat Viet Anh International Co., Ltd. Anh Coffee Co., Ltd, Song Thinh Phat Co., Ltd. Envitek, Bonie Bee Co., Ltd. Viet Pepper Co., Ltd... achieved the goals to promote their brands and products. Many businesses could meet potential foreign visitors coming for business cooperation offer, including importers from the ASEAN, China, Korea, Japan Japan, EU, etc ..
Agricultural products and food are among sectors with typical potentials and advantages. They have been identified as key industries of Vietnam, playing an important role in boosting exports, creating job, increasing income for workers in agricultural sector, food industry and developing socio-economy.