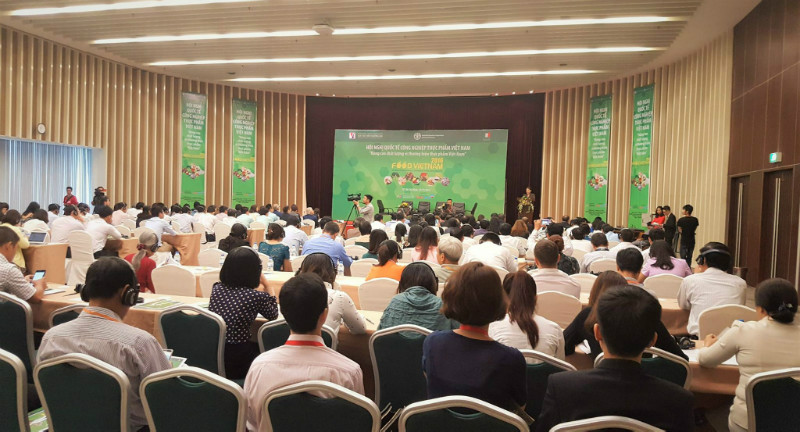 View of the Conference
The conference was attended by Mr. JongHa Bae, FAO Representative in Vietnam, Ms. Cecilia Piccioni, Ambassador of Italy to Vietnam, Mr. Bui Huy Son - Director General of Vietrade, Mr. Le Van Banh – Dirctor General of Agriculture, Forestry and Fishery Processing and Salt Agency - Ministry of Agriculture and Rural Development, together with about 250 delegates representing Vietnamese and international organizations, sectoral associations, food and beverages producing and trading companies.
Addressing at the opening session, Mr. Bui Huy Son - Director General of Vietrade said, with typical potentials and advantages, the Vietnam food industry were identified as one of the key industries in Vietnam, playing an important role in promoting exports, creating jobs and raising incomes for workers and developing socio-economy. In this context, towards the goal of sustainable development of Vietnam food industry, under the direction of Vietnamese Government, the Ministry of Industry and Trade in collaboration with the ministries / agencies, organizations and businesses focused to promote specific activities to improve food quality, build and develop Vietnamese food brand firmly on the world market.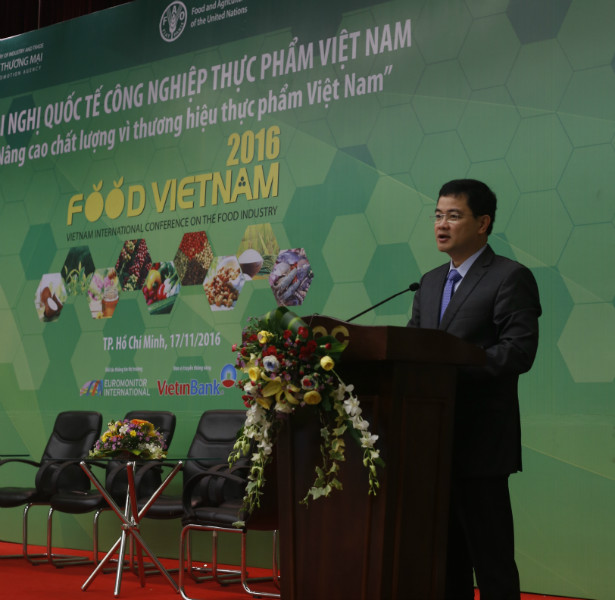 Mr. Bui Huy Son - Director General of Vietrade was delivering opening remarks at the Conference
To do this, Vietnam has to solve the biggest problem which is food safety and food hygiene. At the conference, experts inside and outside the country discussed and shared knowledge and experience in the food sector, solutions for brand building and improving food quality and food safety.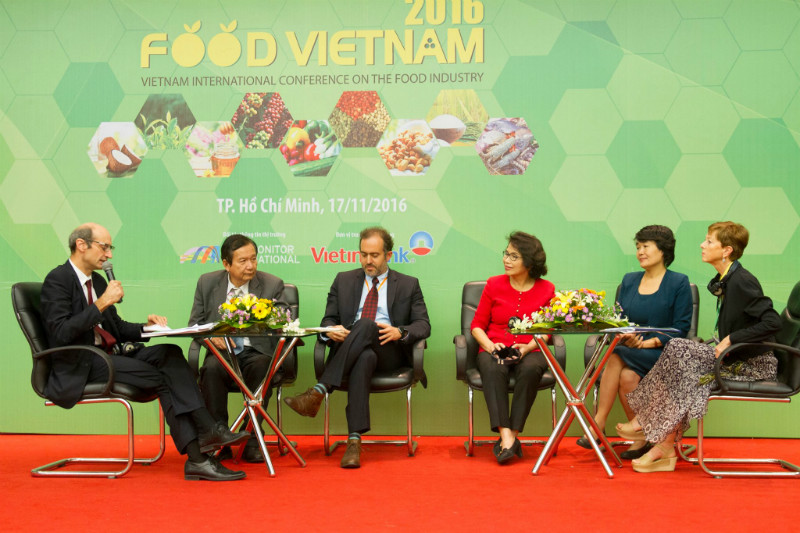 Vietnamese and international experts were exchanging ideas at the Conference
Mr. JongHa Bae – FAO Representative in Vietnam said the opportunity for Vietnamese agricultural products to penetrate in foreign markets had been affected by some products which did not meet food safety standards. For example, in 2015, a number of fishery products were returned due to exceeding antibiotic residues recently rice was the case. According to Mr, JongHa Bae, the production capacity development in rural areas was the core issue to improve the quality of agricultural products. For 10 years FAO had several projects to support for Vietnam food safety.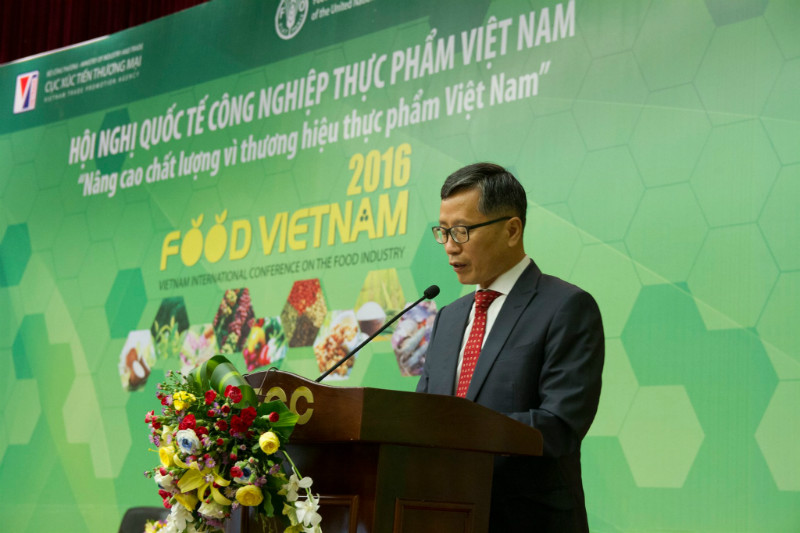 Mr. JongHa Bae - FAO Representative in Vietnam was speaking at the conference
According to Ms. Vo Ngan Giang who is in charge of FAO's safe food program, the private groups such as cooperatives and private businesses had a very important role in connecting and supporting farmers to participate in organic food production programs. Besides, to produce safe food products, it was essential to pay attention to the quality control from different links in the supply chain, and especially to the traceability so as to attach responsibility to ensure the safety of final products.
Sharing experiences to ensure food safety in Italy, Dr. Giuseppe Ruocco, General Director, General Department of Sanitation, Food Safety and Nutrition, Italian Ministry of Health said, controlling food safety in Europe in general and Italy in particular was implemented from production, processing, packaging, inventory to sales stages. Management was made by the production chain from input - distribution - consumption. European markets had a number of general provisions applicable to 28 members and had early warning systems to warn of the risks that might occur for stakeholders… In addition to general provisions, depending on each field there were also other particular provisions, suitable for each particular type of food and the member States.
Attending the conference, Ms. Nguyen Hong Minh - Former Deputy Minister of Fisheries, Head of Campaign Board for Establishment of Transparent Food Association, said the issue of improving food hygiene, food safety and reputation for the food industry involved many stakeholders. However, the most important issue was that the state agencies and producers must have an adjustment in approach way, instead of only checking final products. The control by campaigns should be done systematically.
Related to the issue of food branding for Vietnam, Mrs. Emil Fazira – market research expert of Euromonitor International mentioned the branding of Vietnam food should study other Asian countries and beyond. She said, Vietnamese "Pho", bread and iced coffee were increasingly popular food around the world. These Vietnamese brands were increasing and having stable positions in the food markets of the US and Europe. For Vietnamese brands to stand out globally, Vietnam needed to develop a unique brand image, to balance an open economy and success in the domestic market.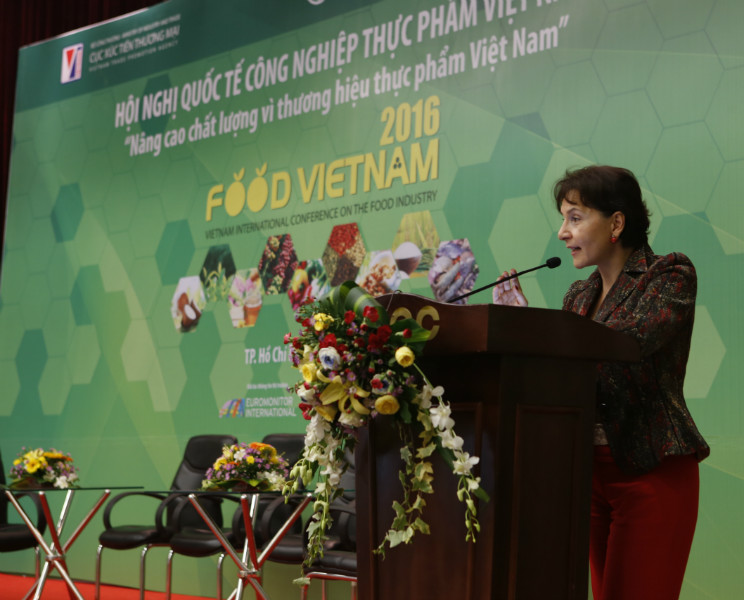 Ms. Cecilia Piccioni - Italian Embassy to Vietnam, said at the conference
Sharing experiences in building Italian national food brand "Italian Taste", Ms. Cecilia Piccioni - Italian Embassy to Vietnam said the "Italian Taste" program helped to introduce efficiently Italian food products to the world. "Italian food industry also relies on small and medium-scaled companies as in Vietnam. Aside from having individual brands, once companies altogether simultaneously focused their resources to investe in product quality, they would benefit from the national food branding program".
Business matchmaking in the Conference
In the framework of the Vietnam International Conference on Food industry 2016, in the afternoon of the same day, a business match making program was held with the participation of around 200 Vietnamese food production and export companies making transactions with import partners from Spain, Poland, UAE, Malaysia... and foreign purchasing groups, supermarkets such as Aeon, Lotter Mart, CJ, Big C, Metro, Satra ... The program happened with over 300 transactions done at 20 tables on specific food and beverage items. It was expected that nearly 30 purchasing contracts would be signed.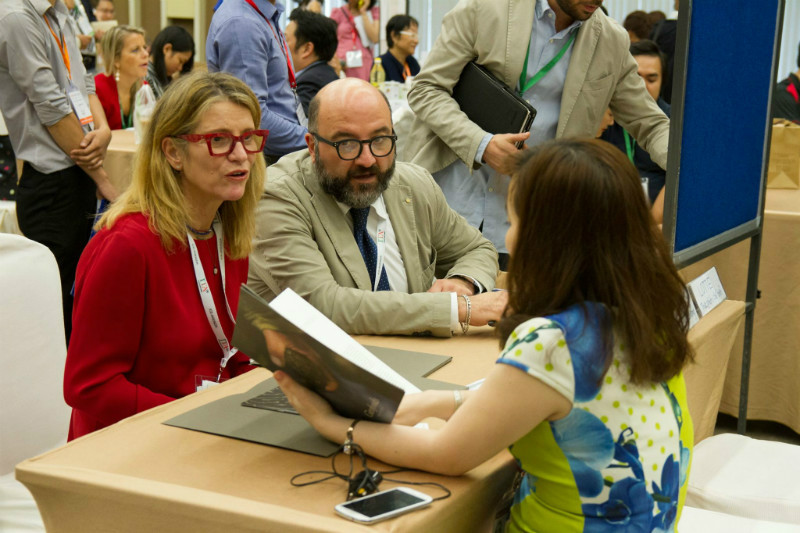 Commercial transactions in the Conference
The Vietnam International Conference on Food Industry 2016 is one of the main activities within the framework of the Vietnam International Food Industry Exhibition 2016 (Vietnam Foodexpo 2016) held from November 16th to 19th 2016 in Ho Chi Minh City, which is hosted by the Ministry of Industry and Trade and implemented by the Vietnam Trade Promotion Agency.