Vietnam Foodtech 2016 is one of the events to implement the Government policy to encourage the development of agricultural production and food industry basing on high-tech applications.
Vietnam Foodtech 2016 had more than 70 booths of nearly 50 Vietnamse, Italian and Japanese businesses. These businesses had good opportunities to introduce advanced machinery, equipment, technology which well fitted with the demands, applications in agricultural and food production and processing of Vietnam.
During the 4-day exhibition, Phat Dat Technology Solution Co., Ltd. (Ho Chi Minh City) exhibited metal detectors, packaging machines of mid-range and high-end, which responded well with demands for packages of various types of agricultural and food products of medium and large producers. At Vietnam Foodtech 2016, Ms. Nguyen Thi Ngoc Bich, Phat Dat representative said that her company could meet multiple partners who came to visit and learn about the quality and process of operating machines, of which there were 3 potential clients for signing buying contracts.
Turatti Group (Italy), one of the world leading suppliers of processing machines and innovative solutions for fruits, fresh vegetables, processed frozen and preserved foods, was also present at Vietnam Foodtech 2016. Turrati exhibited and seeked for opportunities to cooperate with Vietnam enterprises on sorting machines, cutting machines, washers, dryers, mixers, etc. Ms. Ilaria Turatti - Chairman of Turatti Pacific Company (Italy) shared that, her company invested in factories in Vietnam. In Vietnam Foodtech 2016, Turatti Pacific Company met a lot of potential Vietnamese businesses, and discuss on the cooperation in using machines, applying Italian knowledge on high-tech into production of high added value products from tropical fruits like rambutan, dragon fruit, mango... for export to markets in Europe in general and Italy in particular.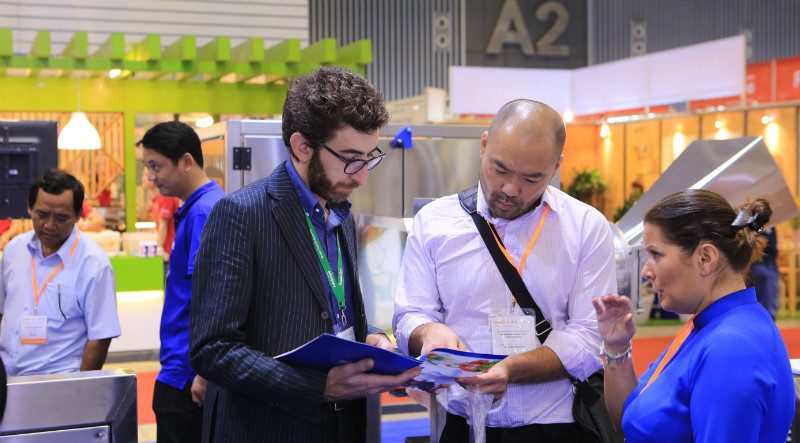 Vietnam businesses learnt about Italian machines and technology in Vietnam Foodtech 2016
Japanese businesses were very interested in developing cooperation with Vietnam food industry through Vietnam Foodtech 2016. Mr. Toshihiko Tamura - CEO of Japan Agricultural Machinery Production Association (JAMMA) said, JAMMA and Japanese companies including Kanryu Co., Ltd., Kuraray Juraflex, Marumasu Kikai Co., Ltd., Tiger Kawashima Co., Ltd., Yamamoto... exhibited multiple kinds of machines, equipment, high technology applications fitting well for the production and processing of Vietnam agricultural products and foodstuffs. These were smart dryers, processing and milling machines, rice cake kneading machines, stone stackers, grain movers, agricultural product and food cleaners, sterilization machines, moisture measurement equipment, laboratory equipment, etc...
Tiger Kawashima Co., Ltd. (Japan) introduced at the exhibition various kinds of vegetables and fruit cleaning machines. Mr. Kodai Kawashima - Deputy General Director of Tiger Kawashima Co., Ltd was excited to share that, his booth attracted a large number of Vietnam companies visit to learn and do business transactions. In addition, other product lines of the company exhibited at the exhibition, such as seed treatment machines, agricultural product and foodstuff graders and weighing machines, hot water disinfection machines... also received lots of interests from visitors.
From the experience in the development of food industry in Japan, representatives of Japanese businesses at the exhibition said that the increased support for Vietnamese companies to approach the supply of advanced machines, equipment, technology of developing countries through a variety of events, including Vietnam Foodtech, helped change the Vietnam food industry very practically.
Vietnam Foodtech 2016 has proven to be an effective channel for companies in the Vietnam agriculture and food processing sectors to access to advanced technology of the world, to build competitive its with view to meet better the needs of the world's demanding food market.