Members participating in the delegation included An Giang Business Association, An Giang Import Export Joint Stock Company (AFIEX), An Giang Food Company and Cho Moi District Safe Vegetable Production Unit.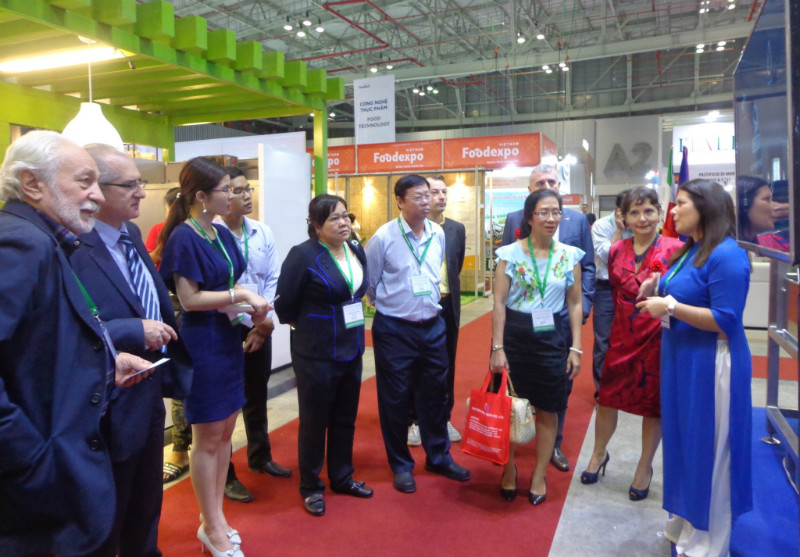 An Giang delegation discussed with representatives of Turatti Group (Italy) on advanced vegetable processing machines and equipment in Vietnam Foodexpo 2016
At this year's exhibition, Italy was selected as a Country of Honour. Speaking at the opening ceremony of the exhibition, her Excellency Cecilia Piccioni - Ambassador of Italy to Vietnam said, the Italian business delegation organized on a large scale brought to the Exhibition advanced and modern technology and unique products. Besides, some delegations of Italian buyers also had plans to identify potential Vietnamese export partners at the exhibition. Representing Italian businesses Italia, Ms. Cecilia Piccioni encouraged Vietnamese companies to visit Italian pavilion at the exhibition.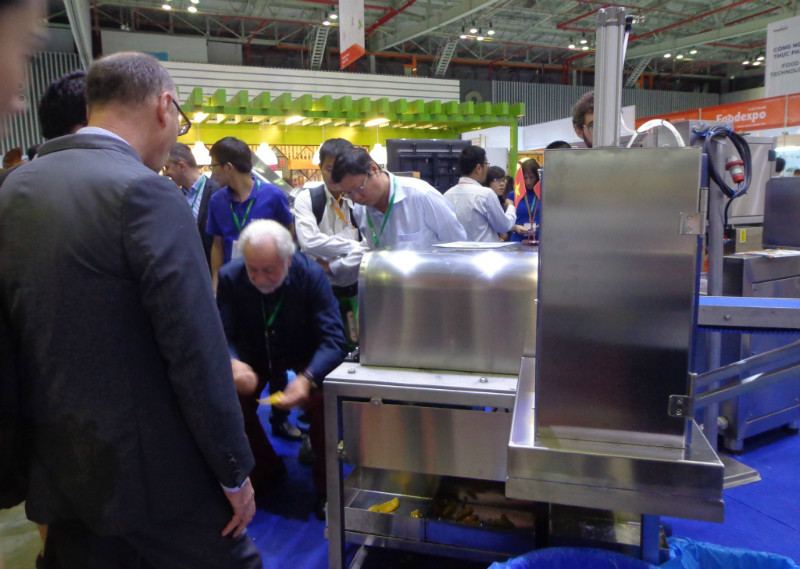 An Giang Centre for Trade Promotion and Investment led a business delegations to visit the vegetable processing line showcased at the national pavilion of Italian businesses. Here they were welcomed by Ambassador Cecilia Piccioni and exchanged about business opportunities between Vietnam and Italy. At the same time, the Italian delegation was also performing the process of vegetables and mango processing by modern equipment, which brings much higher efficiency than handmade method. The vegetable processing line of Italian businesses really drew the attention of An Giang delegation. That was a post-harvest technology needed by An Giang's agricultural processing companies.
An Giang is the largest granary of Mekong Delta in particular and of the country in general, with rice production of over 4 million tons annually. An Giang is the traditional catfish, basa "cradle" of the region, with a production of about 287,000 tons, in which catfish, basa reached nearly 230,000 tonnes. An Giang is also home of a large vegetable growing area in the region with about 65,000 ha.
Agriculture and fisheries have made great contributions to the economic development of the province. Each year, An Giang earns over USD 250 million from rice export, nearly USD 400 million from seafood export and USD 13 million from frozen vegetables export.
An Giang Agriculture is aiming to develop production towards higher-quality, value-to-market products; applying science and technology in farm-work; focusing on building new rural areas; promoting mechanization in agriculture...
From above factual situtation, there is need to attract investment in mechanization of agricultural production in An Giang. That is to attract investment in the application of advanced technologies, such as automatic sprinkler systems, automatic fertilizer system..., on models of growing vegetables in greenhouses with the quality management standards of VietGAP, safe vegetables...; upgrade technologies in growing , cultivation processing, handling - quarantine, storage, packaging for exports to potential markets such as EU, North America, Japan, Korea, Australia, New Zealand... , to enhance the added value of the province's vegetable sector.
High-tech applications in agricultural production will be leveraged to develop An Giang agriculture to a larger scale with higher quality, help farmers get rich and create more high-quality products serving for tourists and consumers, orienting to a modern and sustainably developed agriculture. Therefore, being able to directly access all kinds of agricultural machinery, high-tech food of industrial economies right in Vietnam through Vietnam Foodexpo is a favorable opportunity for An Giang organizations, businesses to capture additional information to make up their orientation and plan for food and agricultural production innovation in the future.