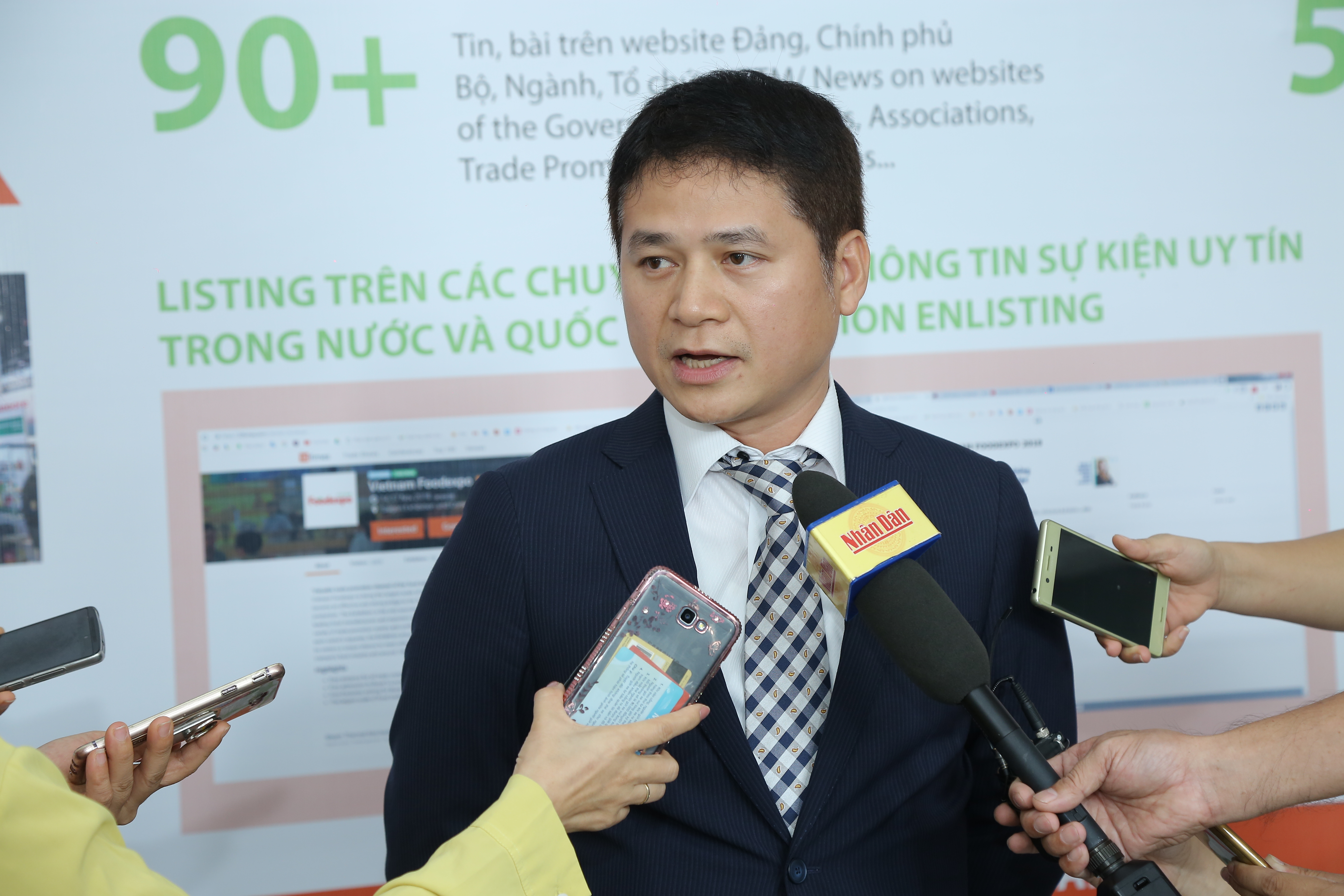 Organizer: Japanese business delegations organized by the Vietnam Trade Office in Japan to participate in Vietnam Foodexpo 2018 are quite big. Could you introduce some of these delegations?
To implement the policy of the Vietnam Embassy to Japan as well as the 2018 business plan of the Vietnam Trade Office, aiming to promote trade and investment between Vietnam and Japan, we organize 3 Japanese business delegations in agricultural and food sector to participate in Vietnam Foodexpo 2018 in Ho Chi Minh City.
The first group consists of 9 companies including supermarkets, importers of agricultural and food products, fresh fruits, etc who want to survey supply sources and find agricultural suppliers at the exhibition, survey banana growing areas in Dong Nai province, dragon fruits in Binh Thuan province and coffee, honey in Dak Lak province.
The second delegation consists of 2 businesses (5 people). They need to find suppliers of agricultural and food products, fresh fruits at the exhibition to import; visit and work with the People's Committee, the Department of Industry and Trade and fresh fruit growers and exporters in Bac Giang province, visit lychee planting areas​​ to prepare for the import of fresh fruits right after Japan opens its market entry for Vietnamese lychees. On this occasion, these Japanese companies will guide for Vietnamese partners harvesting methods, transfer after harvest preservation technology for fresh fruits. We have been cooperating with the Plant Protection Department of the Ministry of Agriculture and Rural Development to negotiate with Japan related authorities to open its market for Vietnamese fresh fruits. It is expected that Japan will officially accept to open its market for Vietnamese lychees since this 2019 season. Therefore, it is important for two Japanese companies to visit Bac Giang this time. This will create a prerequisite for Vietnamese companies to export right after Japan officially opens its market.
A third delegation of 13 people including leaders and officials of Ibaraki province and 7 companies. They introduce products of the province at the exhibition to find business partners and suppliers of raw materials in Vietnam. In addition, there are four other businesses joining the delegation with the purpose of finding suppliers of agricultural products right at the exhibition.
Organizer: What are the advantages of Vietnamese agricultural and food products when exporting to Japan in the near future?
Japanese people more likely believe in using products made in Vietnam than similar products from other countries. This is one of the major advantages for Vietnamese agricultural and food products. In addition, the preferential tariff in the VJEPA Agreement is also favorable for agricultural and fishery products - the key export items of Vietnam. Fresh fruits and vegetables are subject to a tax rate of 0% after 5 to 7 years from the date the Agreement comes into effect. Besides, for seafood - the sector bringing biggest benefits for Vietnam, Japan will also reduce tariffs from an average of 5.4% in 2008 to 1.31% in 2019. Meanwhile, shrimp, crab products and some fishery products enjoy a tax rate of 0%.