This is the third time Italy has been present at Vietnam Foodexpo. At the exhibition, organizations and businesses from different regions of Italy have promoted their products and brands, such as: COOPERATIVA PRODUTTORI SUINI PROSUS S.C.A. specializing in supplying and processing pork; DIVELLA F. S.P.A with pasta, canned tomatoes, wheat flour, biscuits, pure olive oil, balsamic vinegar, canned beans, rice ...; FITNESS COFFEE GVM producing and exporting coffee, tea and barley; PASTIFICIO F.LLI CELLINO S.R.L producing pasta; WORLD OF ITALY SRL specializing in canned food such as peeled tomatoes, minced tomatoes, pizza sauce, grilled tomato sauce, vegetable, bean sprouts, instant tomato sauce, red and green pesto sauce, olive oil and balsamic vinegar. In particular, at the event, the Italian Pavilion presents the "Italian Food Week" and the "MACFRUT - Fruit and Veg Expo" - a leading annual trade fair for fruit and vegetables held by CESENA FIERA SPA from May 8th - 11th 2019 at the Exhibition Center Rimini, Italy.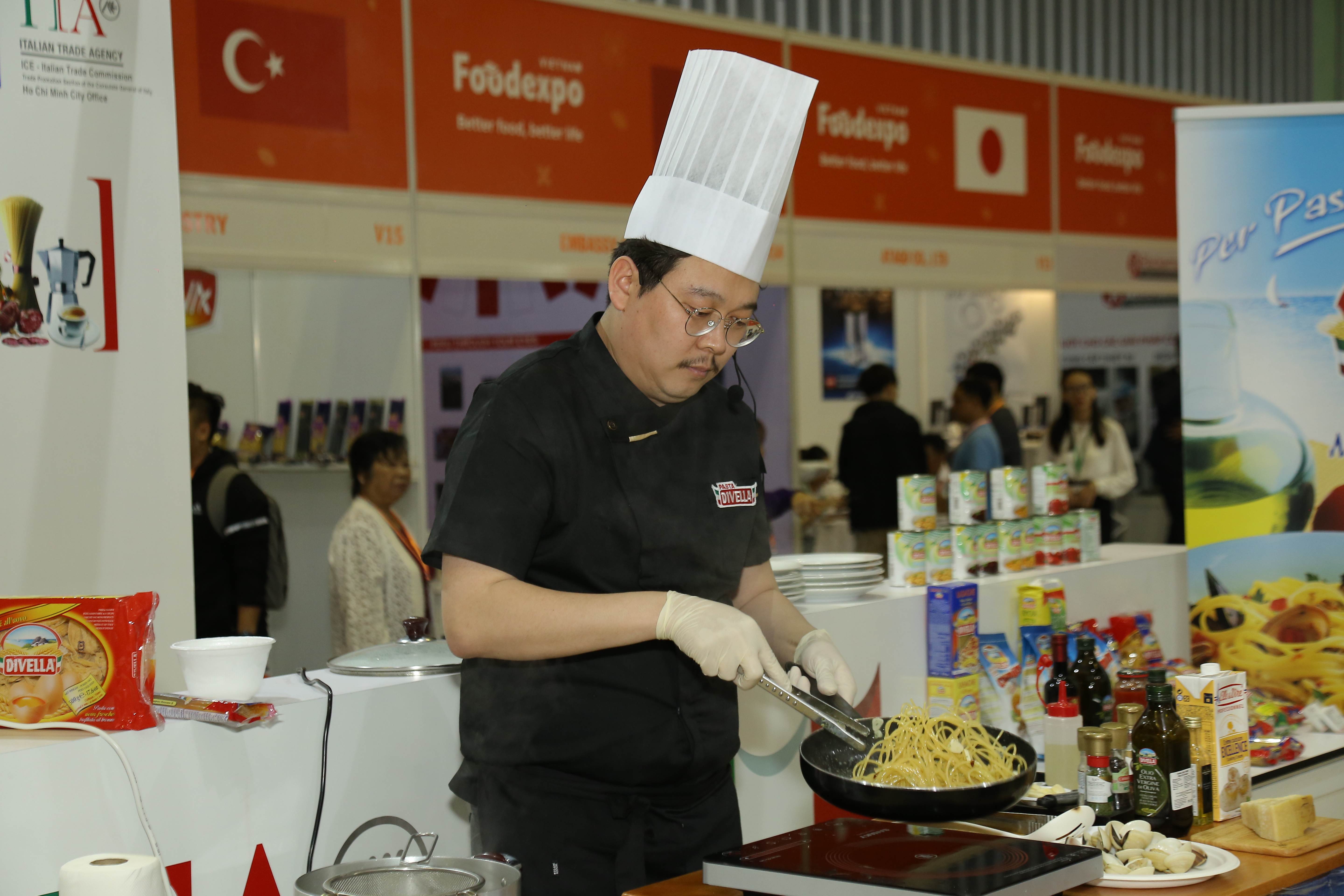 The highlight of this exhibition is a space that connects activities called "Lounge Italia". This space is equipped with special cooking area for Italian businesses to introduce different methods of processing delicious food basing on traditional Italian recipes from their products and ingredients.
In addition to food and beverage products, the Italian National Pavilion is proud to exhibit Italian technology for the food industry. TURATTI S.R.L - one of the world's leading suppliers of food processing equipment, has exhibited tropical fruit processing machines.
Mr. Dante Brandi - Consul General of Italy in Ho Chi Minh City said: "Vietnam Foodexpo is a chance for Italian food and beverage, food processing and packaging businesses to introduce products that Italy pioneers to offer to the Vietnamese market. The partnership between the two countries will be strengthened further when the EU-Vietnam Free Trade Agreement (EVFTA) is signed, in line with Italy's desire to become an important partner of Vietnam, especially in areas where the two countries' economic cooperation can be more effective in the food sector".