These enterprises including: Saigon Beer – Alcohol -Beverage Joint Stock Corporation (Sabeco), Hanoi Beer Alcohol and Beverage Joint Stock Corporation (Habeco), Vietnam Dairy Products Joint Stock Company (Vinamilk), JSC food Vegetables An Giang (Antesco), Tien Giang Food Company (Tigifood) and Rang Dong Plastic Joint Stock Company.
These enterprises brought to the exhibition their strong products such as milk, beverages, rice, vegetables, plastic products... which were fond of by a large number of domestic consumers and capable for export to foreign markets.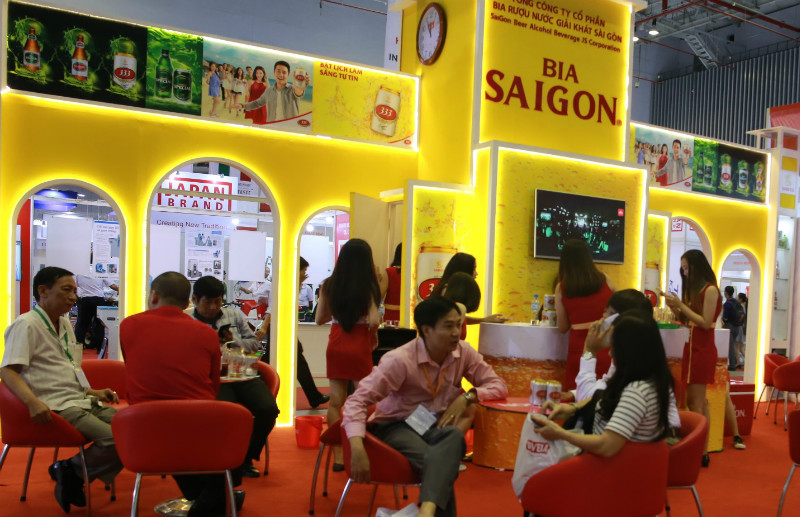 Sabeco is one of 23 enterprises achieved 5 consecutive National Brand. Sabeco pavilion in Vietnam Foodexpo 2016 was specifically designed to create a familiar and marvelous space, attracting many visitors at home and abroad to the exhibition. Mr. Nguyen Dang Anh Hoang, Sabeco representative said, the exhibition was a favorable occasion for Sabeco to constantly promote their image and status on the beverage market.
Right next to Sabeco pavilion is Habeco the pavilion - the No. 1 Hanoi beer brand. The pavilion had got as equally striking design and impressive display mode as Sabeco's. Similarly to Sabeco's, this was also the second consecutive presence at the exhibition of Habeco, with the objective to bring Hanoi beer brand closer to large distribution partners and consumers in Ho Chi Minh City .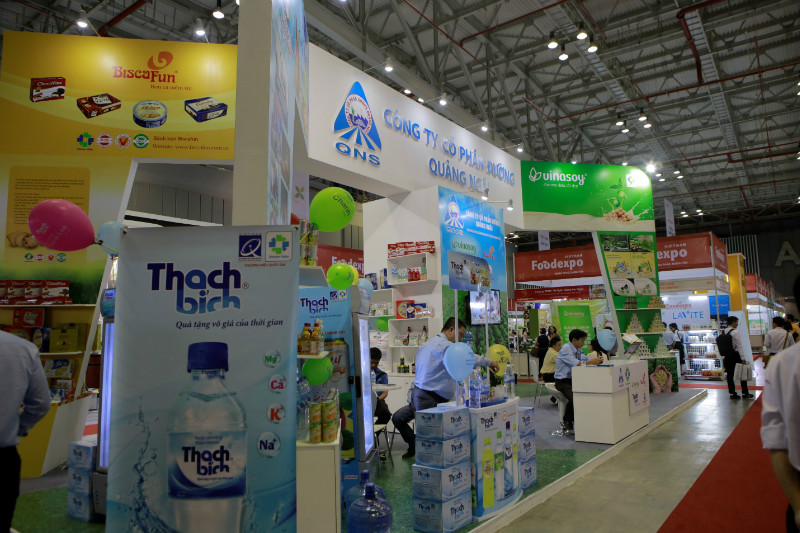 Booth of Quang Ngai Sugar Joint Stock Company was very impressive, with the participation its members including: RS Sugar, VinaSoy Vietnam, Biscafun Confectionery factory, Dung Quat Brewery, Thanh Phat Trading Company, and Thach Bich Mineral Water Factory who came to exhibit, introduce their products and match make with potential domestic and export partners.
In the framework of the activities of the Vietnam Foodexpo 2016, Quang Ngai Sugar Joint Stock Company sponsored the Saigon International Cooking Contest 2016 with the products: Thach Bich Natural mineral water, Thach Bich carbonated soft and non-carbonated drinks, Dung Quat beer, Biscafun confectionery, RS sugar, VinaSoy soymilk. At the end of the exhibition, Thach Bich Mineral Water Factory had transactions with nearly 10 export partners, such as AEON hypermarkets, Metro, Big C ... Ms. Huynh Thi Ngoc Diep, representing JSC Road Quang Ngai appreciated the organization quality of Vietnam Foodexpo and hoped that her company would continue to have the opportunity to take part in the next exhibition to reach more customer groups of middle and high-end segment – the key targeted visitors of the exhibition.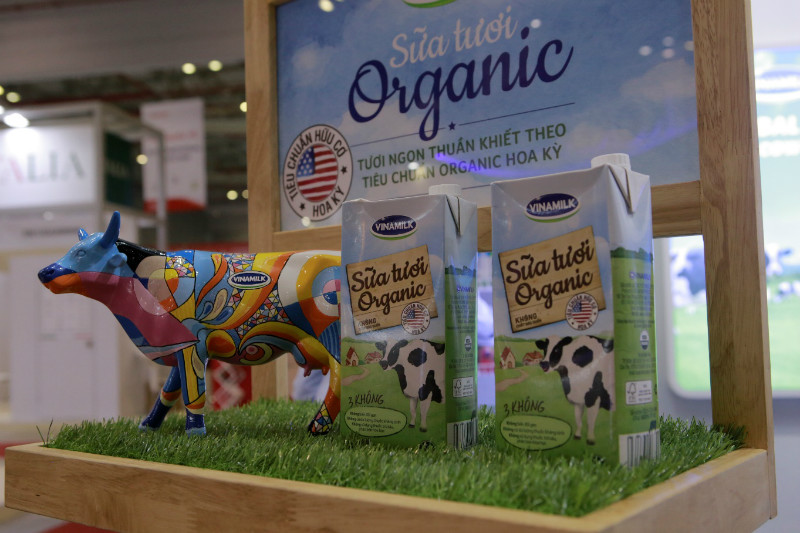 Vinamilk, the first diary brand in Vietnam, is honored to be awarded National Brand for 8 consecutive years. In Vietnam Foodexpo2016, Vinamilk further confirmed its No. 1 brand in Vietnam in general and in Vietnam dairy sector in particular, with the display of a variety of nutritional products. At the same time, Vinamilk also had many activities to support its systems of dealerships to promote its products and search for potential partners at home and abroad.
An Giang Food Vegetables JSC (Antesco) brought to Vietnam Foodexpo 2016 their strong products of tropical canned IQF vegetables including baby corn, pineapple, vegetables, soybeans, sweet corn... These products are consumed widely in domestic market and exported to many countries around the world such as the EU, US, Canada, Japan, Korea ... At the same time, Antesco also took the opportunity to be present at the comprehensive Vietnam Foodexpo 2016 to introduce their equipment, plant, production capacity, production standards that Antesco has been applied, in order to provide quality products and better serve markets.
Tien Giang Food Company (Tigifood) displayed and introduced rice and bottled water in Vietnam Foodexpo in 2016. The company's goal was to strengthen and develop the distribution network in the domestic and foreign markets. Tigifood is a major rice supplier and exporters of Tien Giang. During the last 5 years (2010-2015), Tigifood has gained a totaled VND 10,800 billion in revenue, with a sales volume of over 1,000,000 tons. In Vietnam Foodexpo 2016, Tigifood had many opportunities to promote rice and high-quality beverages, as well as did many transactions and contacts with customers effectively.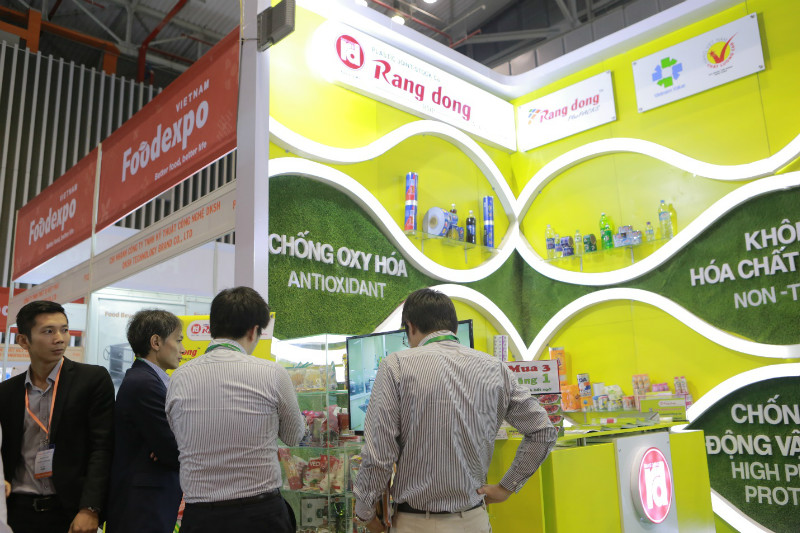 Rang Dong Plastic Joint Stock Company participated for the first time in Vietnam Foodexpo and achieved the objectives as expected. Rang Dong Plastic booth was highly appreciated by European experts thanks to the eye-catching decoration, highlighting the message on the environmentally friendly packs, attracted the attention of many domestic and international visitors.
The presence of National Branded Enterprises together with many other large enterprises at home and abroad at the exhibition contributed to improve the size, scale, quality and efficiency of Vietnam Foodexpo 2016.