At the exhibition, Nghe An introduced the overview about the potential of commercial and travel products, craft villages, food products, JICA products, local specialties. In addition to the products extracted from oranges such as orange oil, orange jam, orange wine..., Nghe An also introduced Vinh oranges which were recently electronically stamped for traceability - a solution for consumers to identify and distinguish Vinh oranges and other oranges. Especially, Nghe An Pavilion spared a space to introduce the miniature model of Vinh Ecological Park.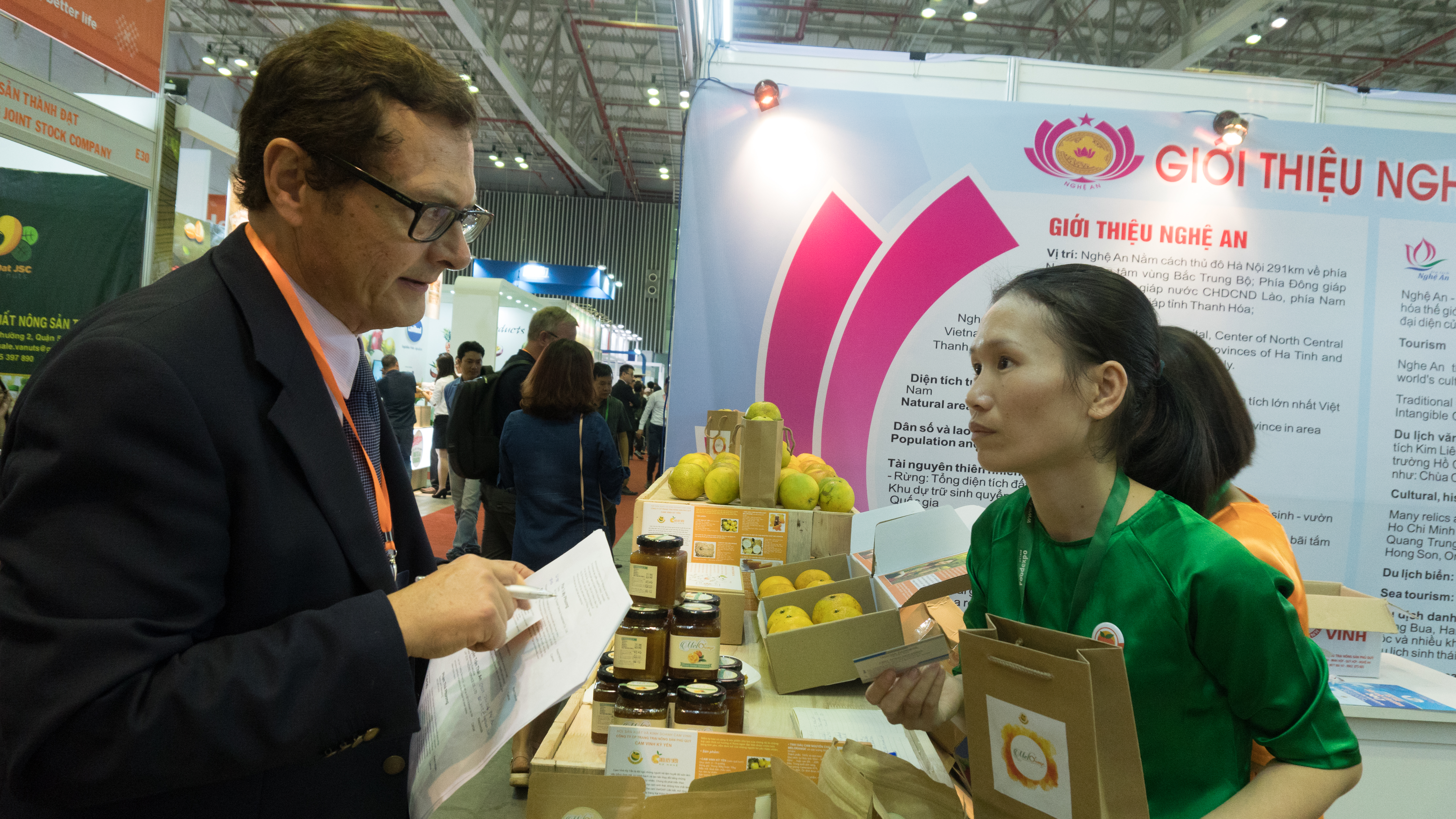 International visitors visited and looked for business opportunities with Nghe An companies at Vietnam Foodexpo 2017
Vinh orange is a strong brand of Nghe An. Vinh oranges displayed at the exhibition in Nghe An pavillion attracted many potential customers and partners inside and outside the country to explore, enjoy and set up business cooperation. These are practical results from the exhibition, helping Vinh expand new channels, bringing Vinh oranges more and more known on the market.
Since 2007, according to the report of Nghe An Department of Science and Technology, the geographical indication of Vinh Orange has been certified by the Department of Intellectual Property with nearly 1,700 ha, but in fact, there are more than 6,400 ha with many orange seedlings. Up to now, the province plans to have an area of ​​2,870 ha by 2020.
Through Vietnam Foodexpo 2017, Nghe An wants to introduce key agricultural products, especially Vinh orange, along with the development of the provincial food industry. This activity aims to create a favorable environment to promote business opportunities and trade links for Nghe An's companies with other provinces and countries in the world, thereby creating a driving force for technological innovation, productivity, quality, safety in production, processing and trading of agricultural products, foodstuffs and beverages.
In recent years, agricultural products and food processing industry of Vietnam in general and Nghe An province in particular have tended to increase strongly, step by step supplying many products with high competitiveness, dominating the domestic market and increasing exports.