According to Le Van Lien, an agricultural technician of PAN-Saladbowl, the company is implementing a project to grow daisies for 100% export to Japan in Lam Ha district, Lam Dong province.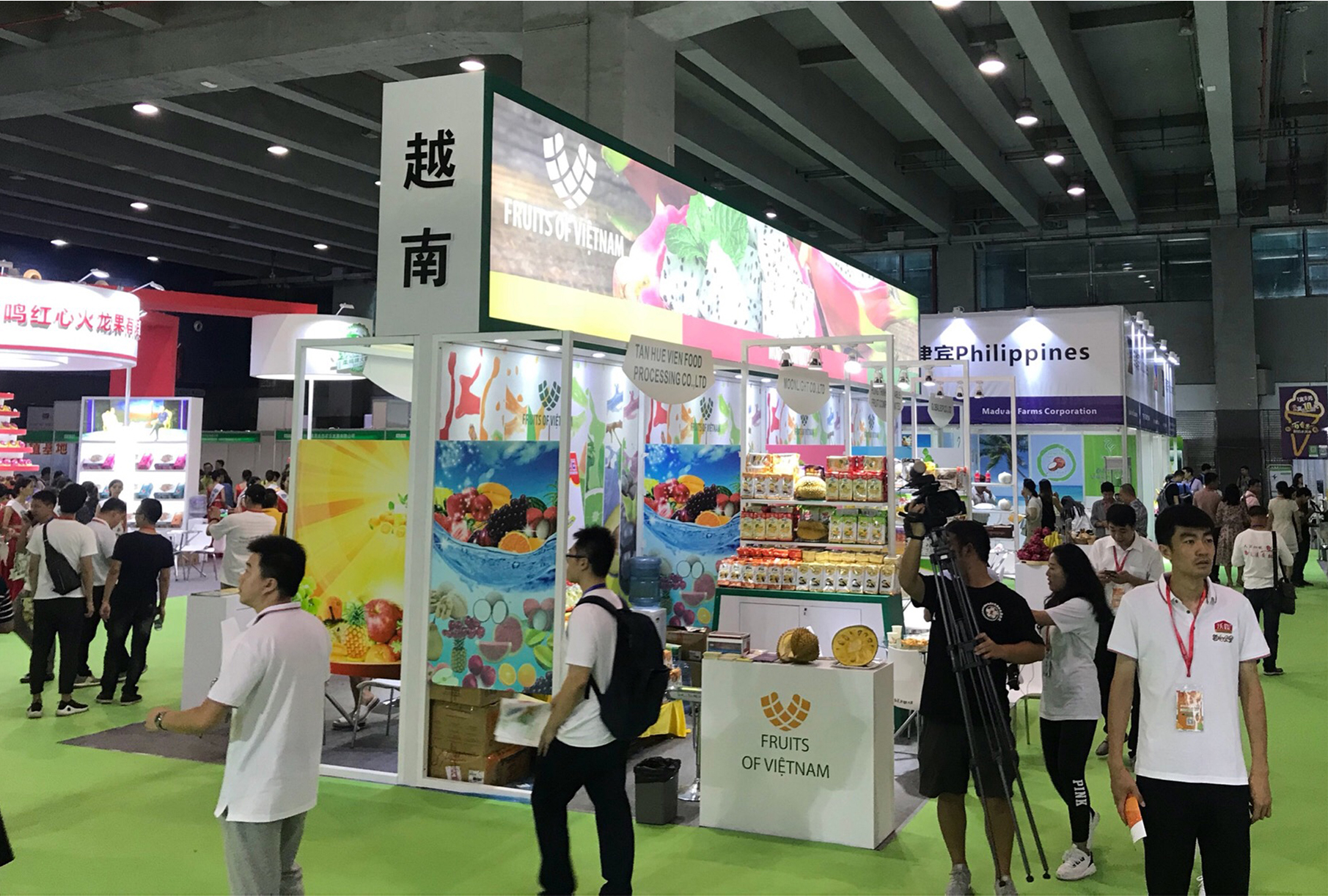 Mr. Le Van Lien - agricultural technician in charge of PAN-Saladbowl is introducing a variety of flowers at Vietnam Foodexpo 2017
Invest in high-tech flower planting
The area of ​​the farm is about 6 hectares, of which 1 hectare is used for seed production and the remaining 5 hectares are for planting daisies for export. By investing in greenhouse technology from $ 8 billion to $ 10 billion per hectare, floriculture is out of risk by weather. Not only that, with the force of more than 100 staff, skilled workers working on the project, it is also promised much success for PAN-Saladbowl. In particular, this workforce includes both artisans and senior engineers in flower cultivation from Japan to work. So the daisies bring a piece of "Japanese soul" right from the production.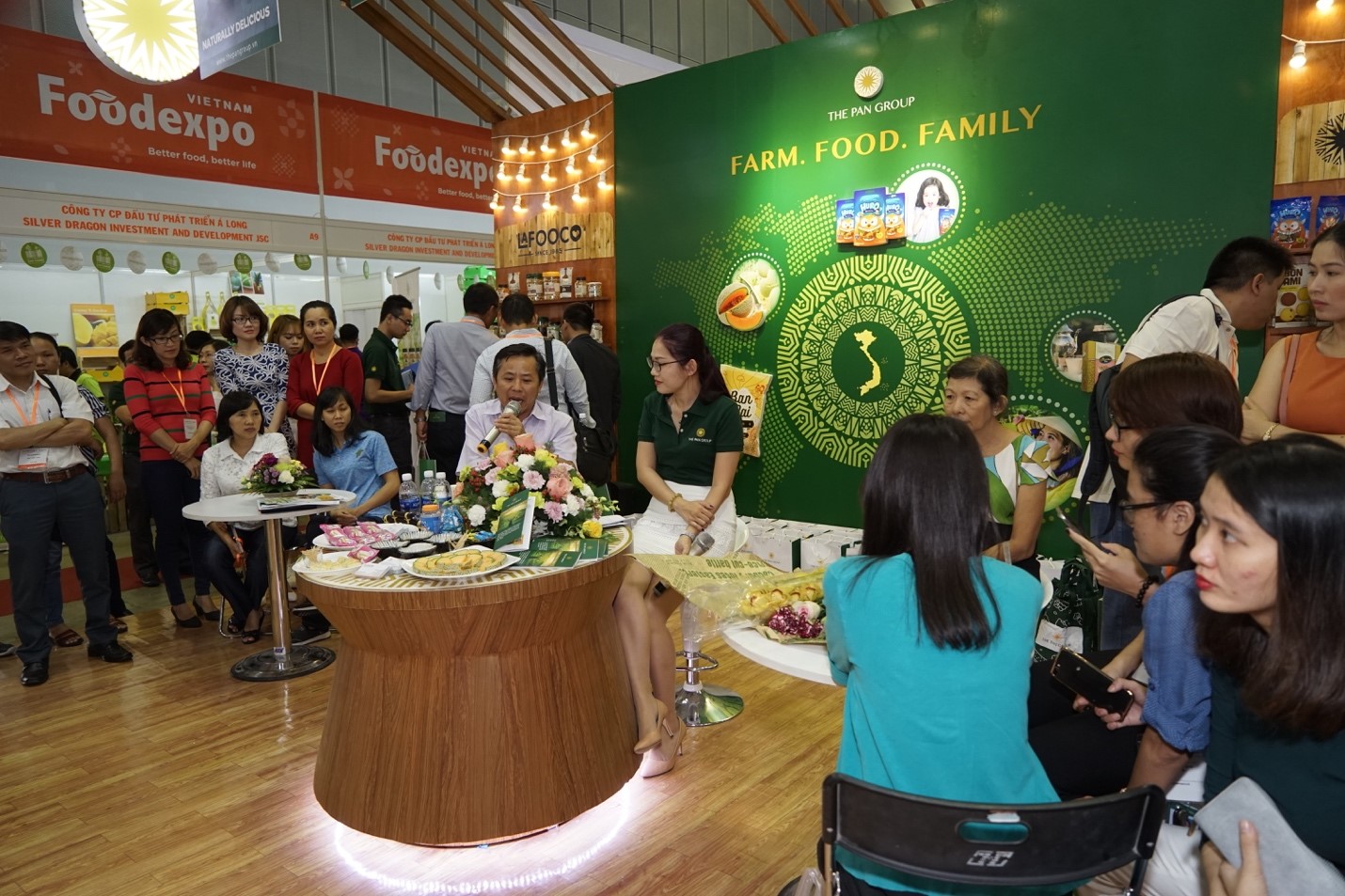 Interested crowds have signed up to receive invitations to PAN's talkshow on flower export to Japan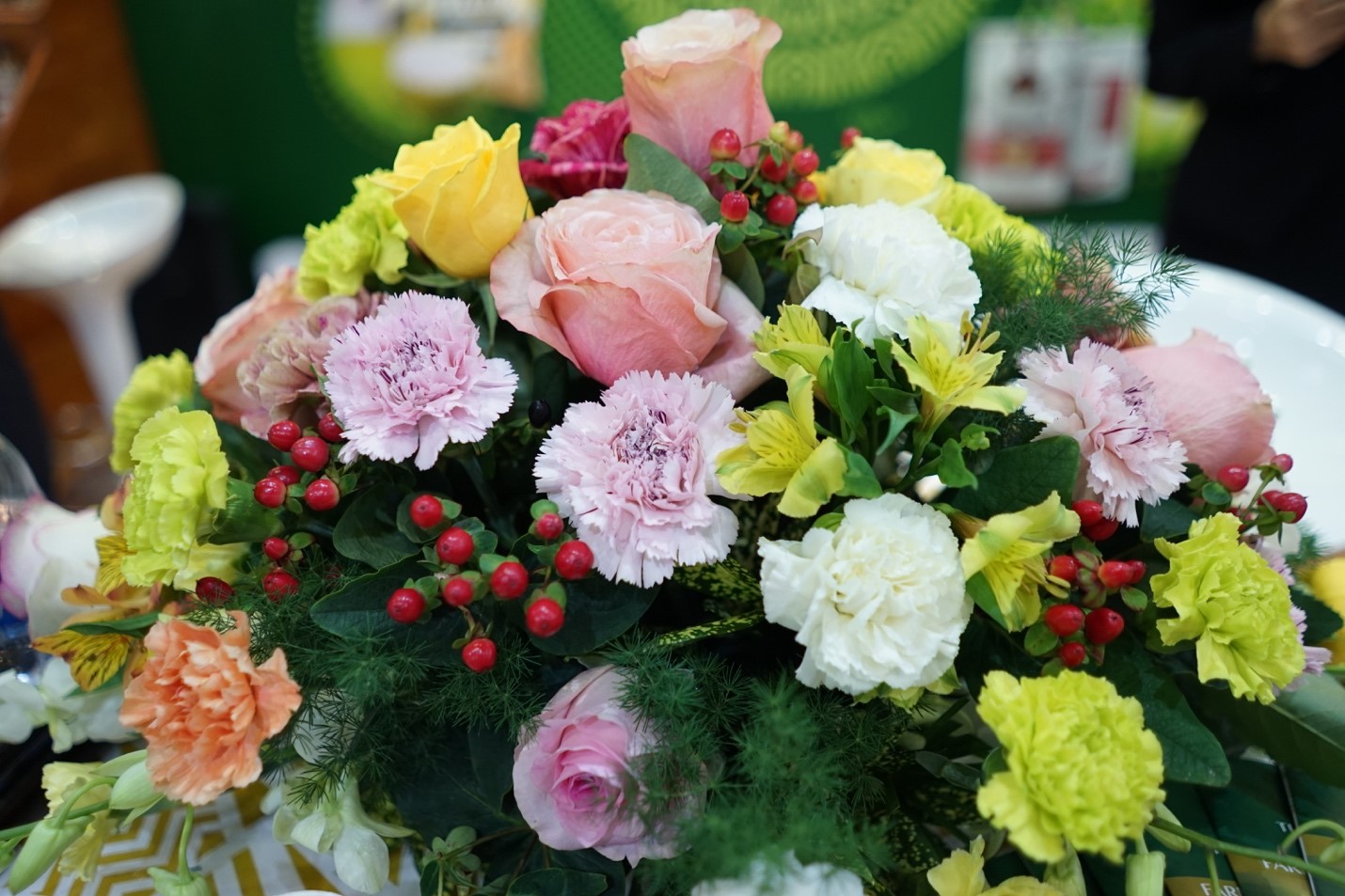 Daisies and roses for export in large sizes, unique colors are arranged right at Vietnam Foodexpo 2017
Flower export reaches the target "hundred branches as a"
Currently PAN-Saladbowl is producing according to customers' orders, the standards that customers demand are quite diverse, so the company usually plans production, harvest, trade ... before 1 year. In 2017, the company exported more than 1 million flowers to Japan and was highly appreciated by customers for the quality of its products. An estimated 8.5 million flowers will be exported in 2018. This figure will bring Vietnam to third place among flower exporters to Japan.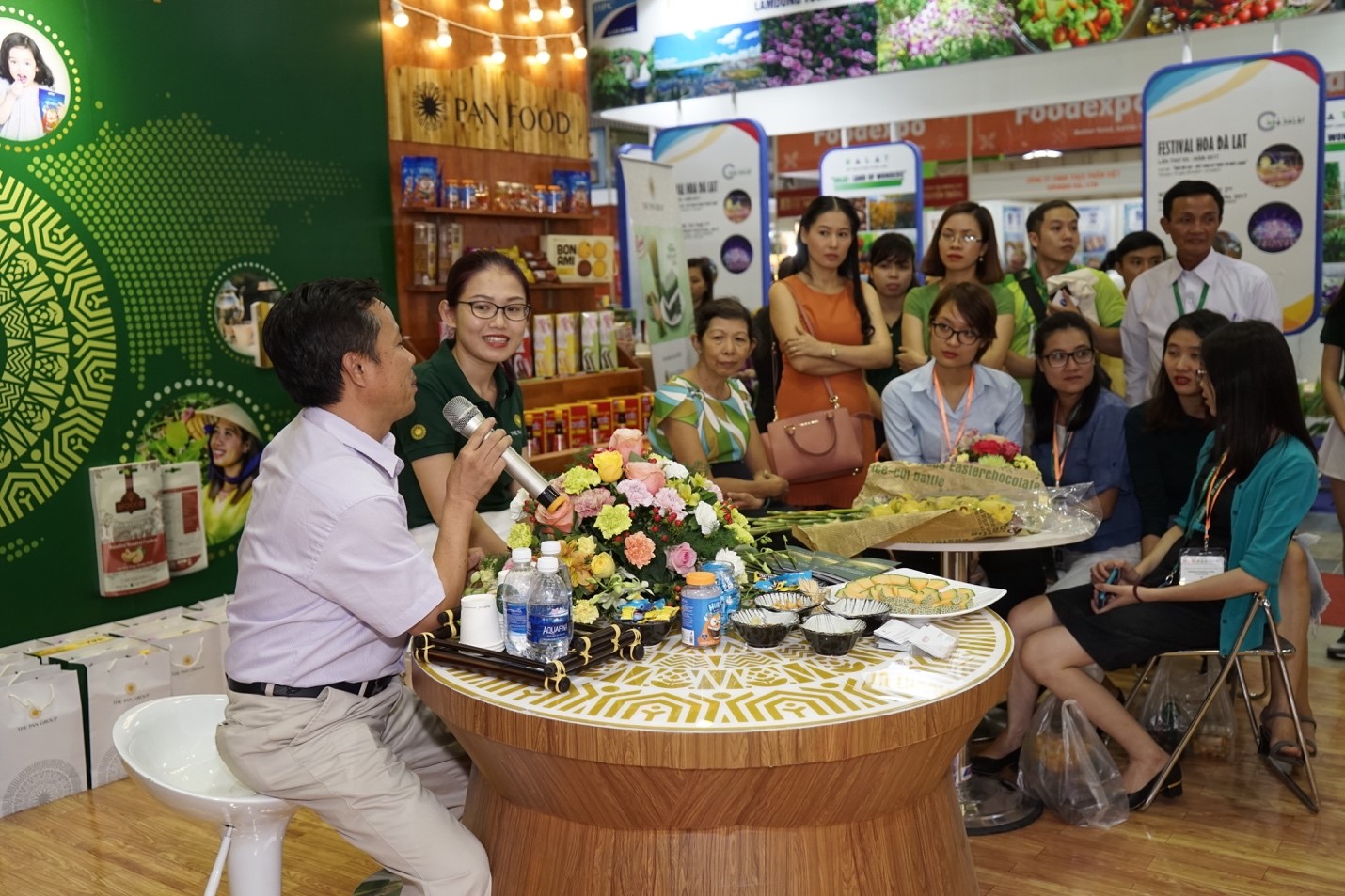 Mr. Lien answered questions of the audience about roses and daisies for export
"Though daisies are the national flower of Japan, climate and high labor costs make daisies growing in Japan less prosperous," said Nunome Takahiro, Technical Director of PAN-Saladbowl. In contrast, Vietnam has these advantages together with the advantage of distance has helped Vietnamese daisies exported more easily to Japan.
Japan is also well known as a demanding market for technology, so before going to Vietnam, Mr. Nunome Takahiro is quite skeptical about whether Vietnam is eligible for export large quantities of flowers to Japan with strict technical requirements: "hundred branches have the same quality".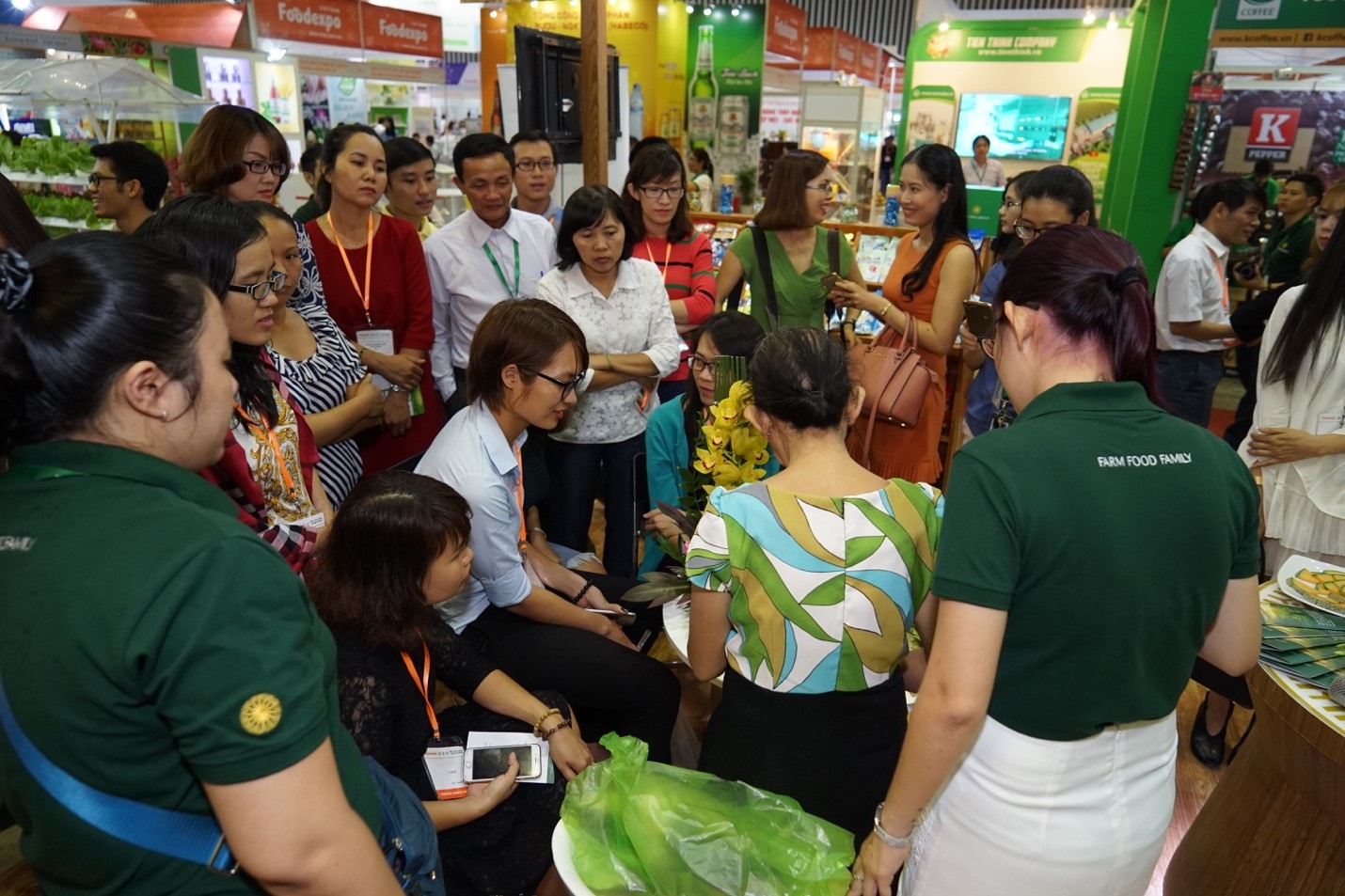 Japanese styled flower arrangement guide at PAN booth at Vietnam Foodexpo 2017
"So far, I am quite confident in the future development of flower export of Vietnam because of the ensured weather and technical conditions. If the flower production team is regularly trained in the future, the potential for export of flowers will be exploited very effectively, "said Mr. Nunome Takahiro.
In Vietnam, about 1 billion daisies are exported and the remaining 90% are consumed domestically each year. Vietnam daisies are not worse than any other people in the world in consuming daisies. It can be said, potentials for daisies development both inland and export are also very open. However, at PAN-Saladbowl, not only daisies but many other kinds of flowers are being developed. Following the success of the daisies, the company has started to export carnations to Japan. At present, the carnation project in Dalat has been developing for 2ha, mainly planting new varieties for future preparation.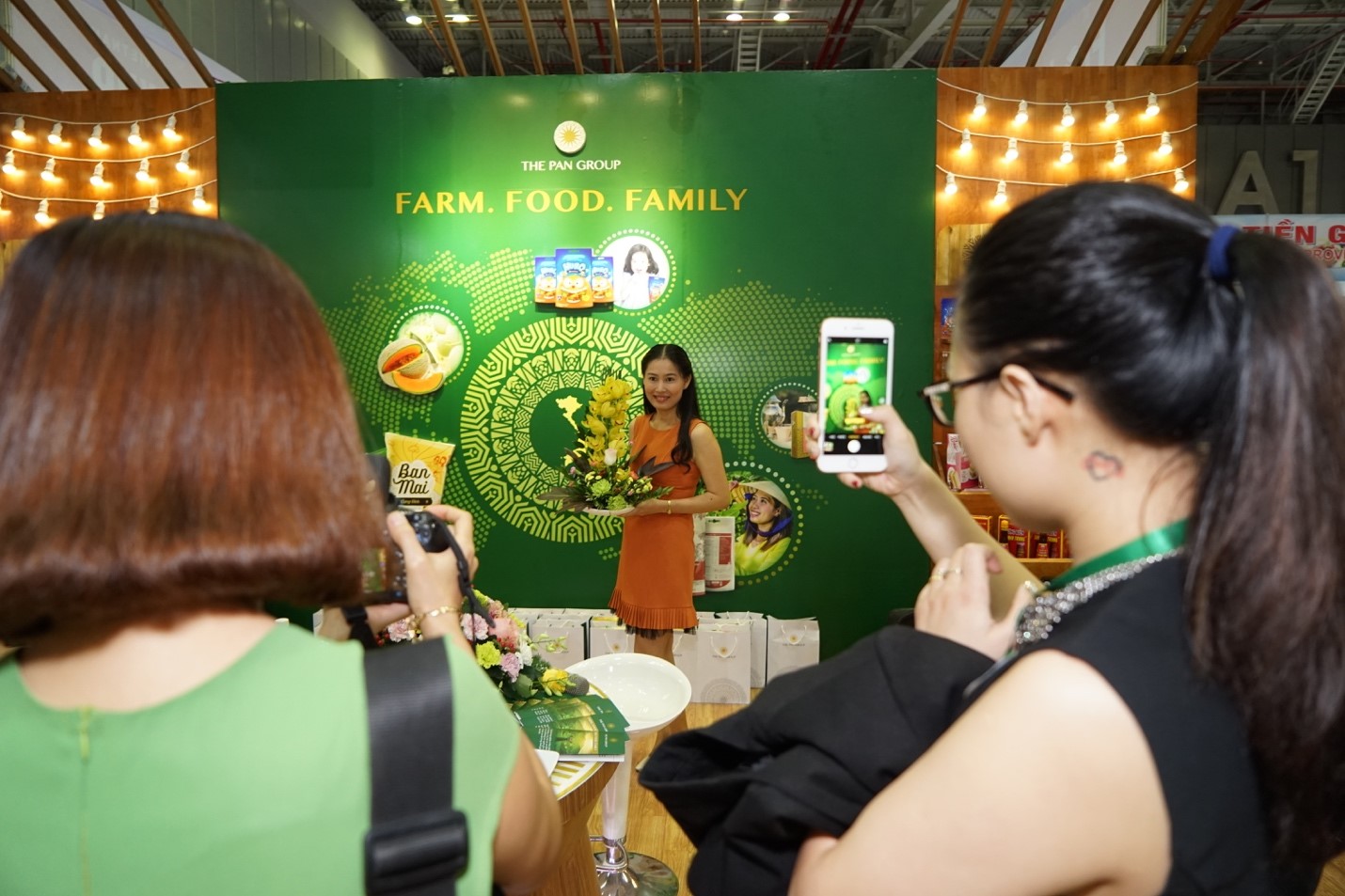 Some of the audience at Vietnam Foodexpo 2017 are very excited to arrange flowers and make photos of their products to show with their friends.
Daisies varieties and carnations at PAN-Saladbowl have been bought from famous breeders in the world such as (Fides, Deliflor, Dekker) so they are diverse in varieties and always meet demands and tastes of domestic and foreign customers.
Not only are the cultural image connecting Vietnam - Japan, the flowers of PAN - Saladbowl are being irrigated with the truth: "Enough sunshine flowers will bloom, enough wind pinwheel will turn, enough love happiness will fill".