At the exhibition, PAN Group continued to affirm the dream of preserving Vietnamese brands with the presence of five subsidiaries: Vinaseed, Bibica, PAN Food, Lafooco and 584 Nha Trang Fish Sauce, together with dozens of agricultural products, high-end food such as Ban Mai fresh rice, RVT fragrant rice, Japanese high-tech pickled cashews, cashew nuts for export and other kinds of nutritional biscuits using biotechnology.
Located right at the main entrance of the exhibition center, the PAN booth was designed quite impressively, reproducing the Farm-Food-Family strategy model under the same roof, using natural materials. It is like a modern, fresh and outstanding showroom which is not minor than booths of other countries and territories at the exhibition. Deputy Minister of Industry and Trade Do Thang Hai visited PAN booth on the opening day of the exhibition, experienced the Japanese-style noodles grown in Vietnam by PAN and listened to PAN Group's orientations, product stories and belief.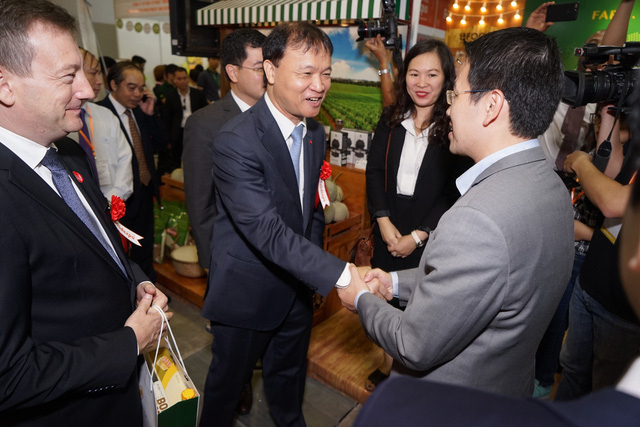 Deputy Minister of Industry and Trade Do Thang Hai visits PAN booth
PAN Group brought to Vietnam Foodexpo 2017 exciting talk-shows, including stories of traditional Vietnamese products such as transatlantic ocean outings across the world of cashew nuts, the story of Japanese net cucumber taking the hearts of gourmets, the beauty of Vietnamese daisies in the journey of exporting to Japan, or the secret of making traditional 584 Nha Trang fish sauce to have premium taste. Each story was full of enthusiasm of the profession, the concern to preserve the essence of agricultural products and food from good raw materials, application of science and high technology to have good quality and safe products to offer to the users.
Participating in talk-shows at the PAN booth, 1,000 customers were given the opportunity to receive and test high quality products that were previously preferred for export.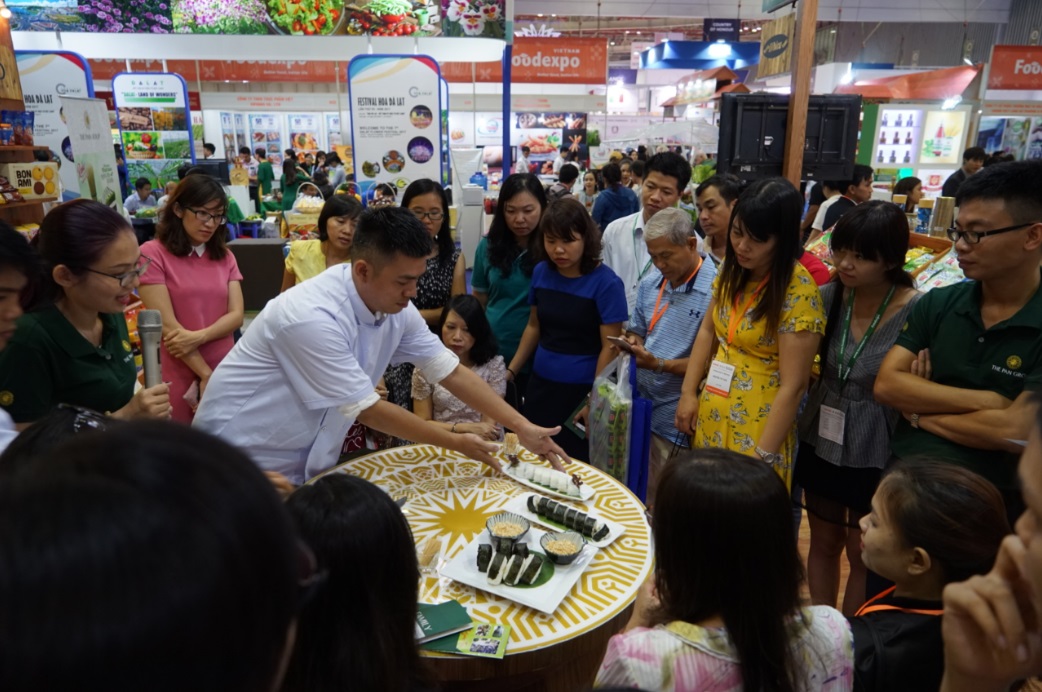 Talk shows at PAN booth attracted many visitors
Recreating the dream of Vietnamese brand and promising high-tech agriculture at Vietnam Foodexpo 2017, PAN again confirmed the message "Born to feed the world", developing and raising the position of Vietnam's agriculture with stories from the enthusiasm of traditional workers, who are concerned about the Vietnamese products, which are actually made from Vietnamese land, by the Vietnamese people and reserve full heart of the Vietnamese.
In recent years, consumers are often confused by information on dirty, unclear food. Understanding that, the PAN Group has set the mission of developing and enhancing its domestic position by providing high quality products, traceability of products in the domestic and foreign value chain.