The conference was organized by the Vietnam Trade Promotion Agency (VIETRADE) - Ministry of Industry and Trade in cooperation with the Food and Agriculture Organization of the United Nations (FAO) and Vietnam Prosperity Commercial Joint Stock Bank (VP Bank). This is the annual event, on the sideline of Vietnam Foodexpo.
Value Chain Investment: Open up market opportunities
Speaking at the conference, Deputy Minister of Industry and Trade Do Thang Hai stressed: "The Ministry of Industry and Trade together with other ministries and industries always encourages and supports food industry companies to invest and develop in the value chain to protect food safety, brand building and market development".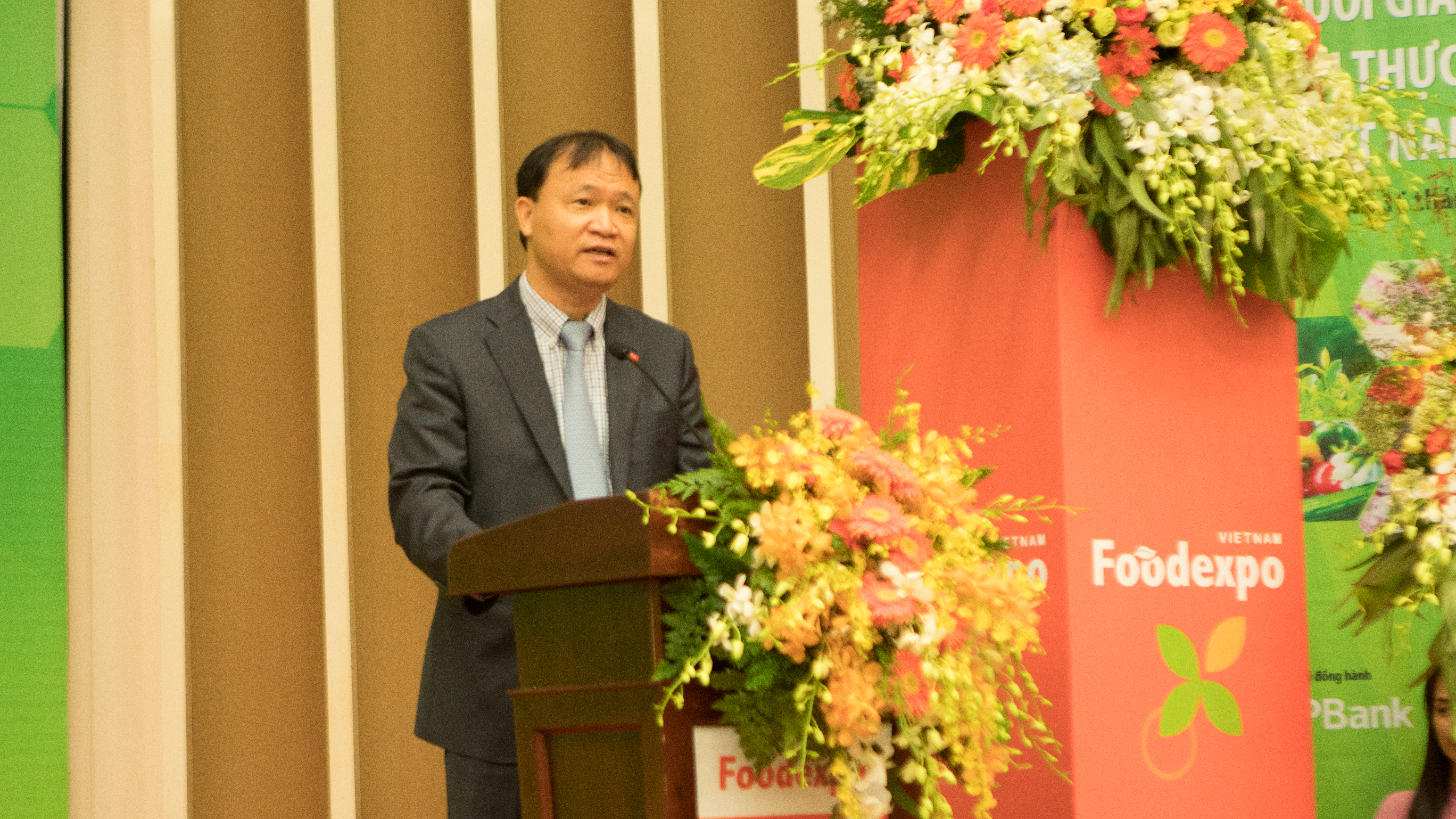 Deputy Minister of Industry and Trade Do Thang Hai addressed at the forum
Mr. Alexandre Bouchot, Counselor for Agriculture, French Embassy to Vietnam, said that when the EU-Vietnam Free Trade Agreement came into effect, Vietnam's agricultural products and foodstuffs would have more opportunities. Favorable access to the EU market was vast. However, to participate in this market, the development of products in the value chain was very important, helping companies ensure traceability, ensure quality standards on food safety and improve product value.
The intensive investment for each stage in the value chain is now being considered by many food businesses in Vietnam. More and more domestic and foreign invested companies in Vietnam have joined with big Vietnamese companies such as Satra, Vinmart, PAN Group ..., and big foreign supermarket chains which are present in Vietnam, such as CJ, AEON, etc., to invest in the development of processing chains of diversified food products with high added value.
Measures to "boost quality" for value chains
According to experts at the conference, not only the food processing industry but also the agricultural sector of Vietnam have to change the development strategy from the focus on production of large output and crude export to production on market and improve quality at all stages of the value chains.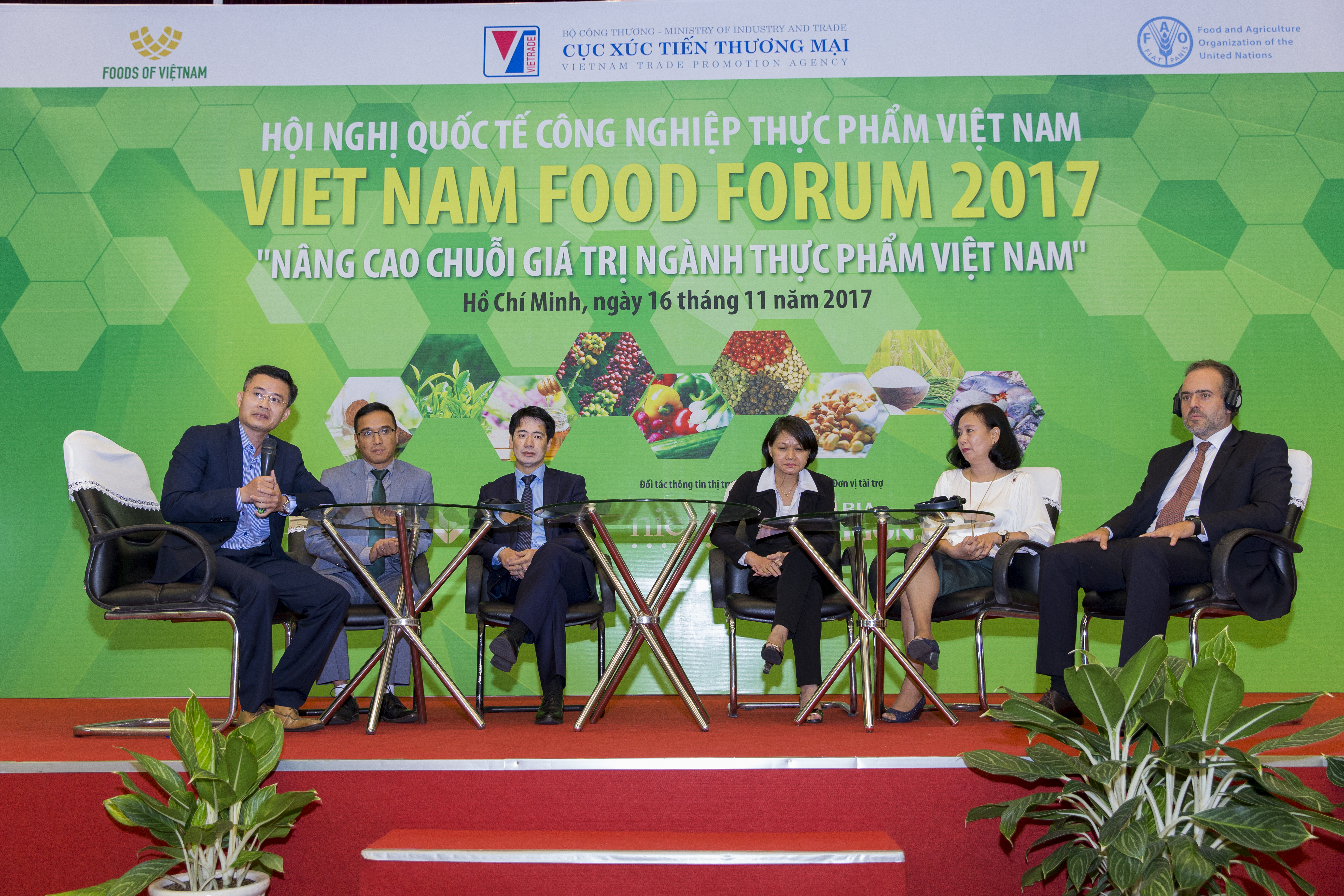 Experts at the conference
"Improving the food value chain is not just a matter of Vietnam, but even in developed countries in Europe, it often has to improve. In particular, businesses in the food production chain must pay attention to raising the value of profits for farmers, helping them become aware of their responsibility to ensure quality products. At intermediate stages from transportation, storage, processing, processing to quality control, ensuring the safety of consumers, "commented Alexandre Bouchot.
Le Ngoc Bao Tram, Senior Manager, Retail Measurement Group of Nielsen, said that to be successful, Vietnamese food companies should quickly grasp new consumer trends. Increasingly, new and better quality health care products have been created to differentiate for products and apply e-commerce in order to effectively impact consumers.
Nguyen Trung Anh, R & D Director of PAN Group, said that PAN always attaches great importance to investing in research, development, innovation, bringing many modern technologies and equipment from Europe into production, creating many beautifully designed products to attract consumers.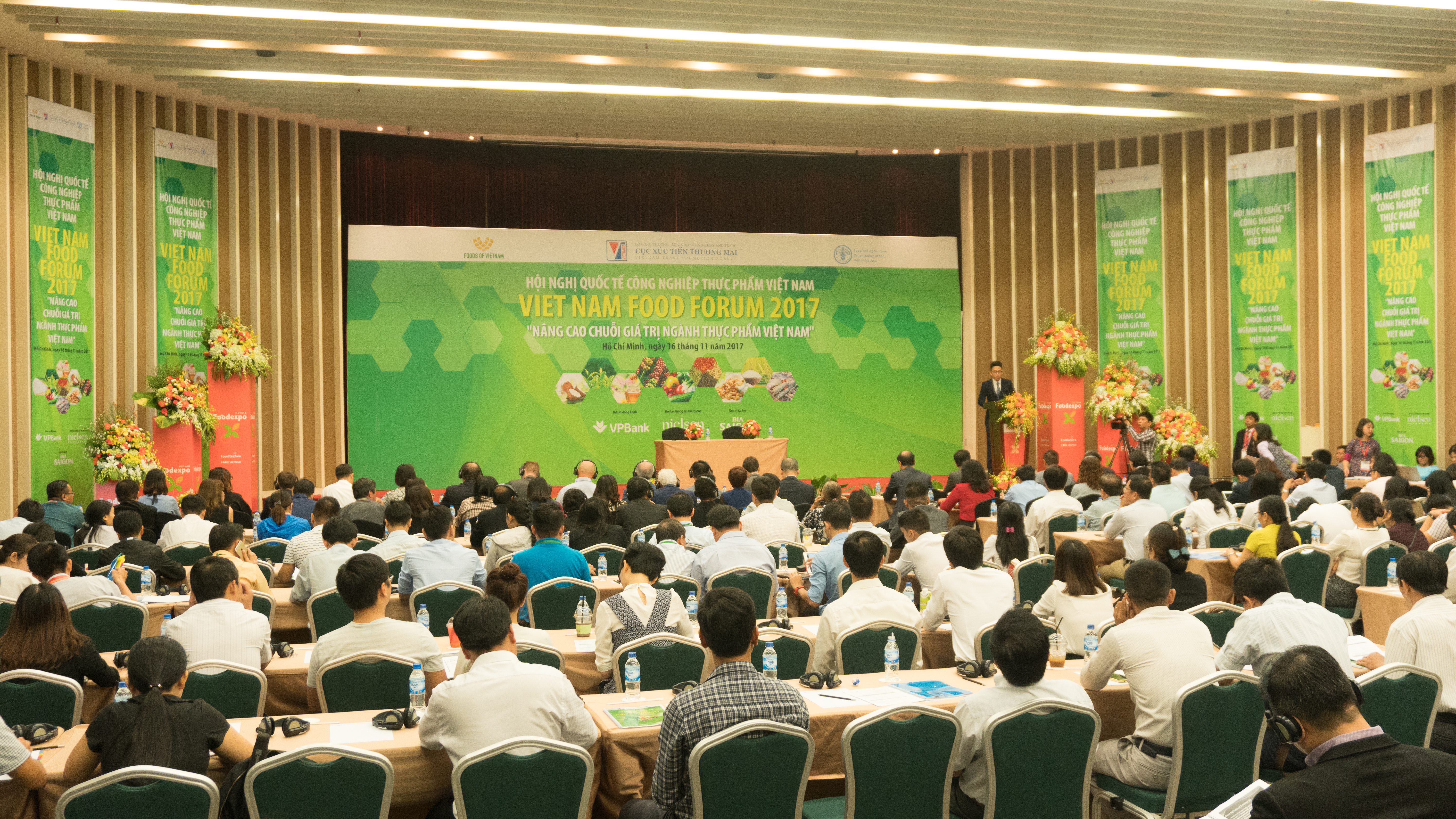 The forum attracted many participants
Besides investing to have good products, according to experts, Vietnam's agricultural products and foodstuffs should focus more deeply on building and developing brands. Ta Hoang Linh, Deputy Director General of the Vietnam Trade Promotion Agency under the Ministry of Industry and Trade, said that over the past time, based on the survey of companies' demands, the Vietnam Trade Promotion Agency regularly updated information on companies; advising businesses to design products that meet market needs; training for high capacity for businesses on the ability to negotiate and sign contracts with foreign partners ... For the commodity industry, this Agency is developing strategies to promote trade of National branded products.