According to Vietnam Customs statistics, in 9 months of 2017, seafood exports to Japan reached 946 million USD, an increase of 24.6%; coffee reached $ 164.5 million, up 7.8%, vegetables and fruits reached an outstanding number of $ 93.3 million, up 66.1%; candy and cereal products reached $ 30.3 million, up 13.2% over the same period in 2016.
Mr. Ta Duc Minh, Vietnamese trade counselor to Japan, said that Japanese consumers were familiar with the words "Anzen" and "Anshin", meaning "safe" and "peace of mind" in the use of all agricultural products and foodstuffs, including those made in the country or imported into Japan. Recently, with the price increase of food in the country, consumers tend to choose products aof good quality and reasonable price. Many supermarkets in Japan now also aim to import good quality and cheap agricultural products from Vietnam such as pangasius, chicken, shrimp, mango, banana, dragon fruit and other products.
Among Vietnam's main agricultural products and foodstuffs exported to Japan, fresh fruits and vegetables are subject to the tax rate of 0% after 5 to 7 years since the free trade agreement Vietnam - Japan (VJEPA) comes into effect. In addition, seafood is the biggest export sector for Vietnam. Japan will also reduce tariffs from an average of 5.4% in 2008 to 1.31% in 2019. Shrimp, crab products and some fish products enjoy a tax rate of 0% right from the date the agreement comes into force.
Seeking opportunities for Japanese people to use products originating in Vietnam than similar products of other countries along with the advantage of preferential tariff in VJEPA, Vietnam Trade Office in Japan cooperates with Japanese supermarkets such as AEON, Bic A, Donkihote, Kohyo ..., Japan's localities such as Ibaraki, Kanagawa, Gunma, Mie ... to introduce and promote goods in Vietnam.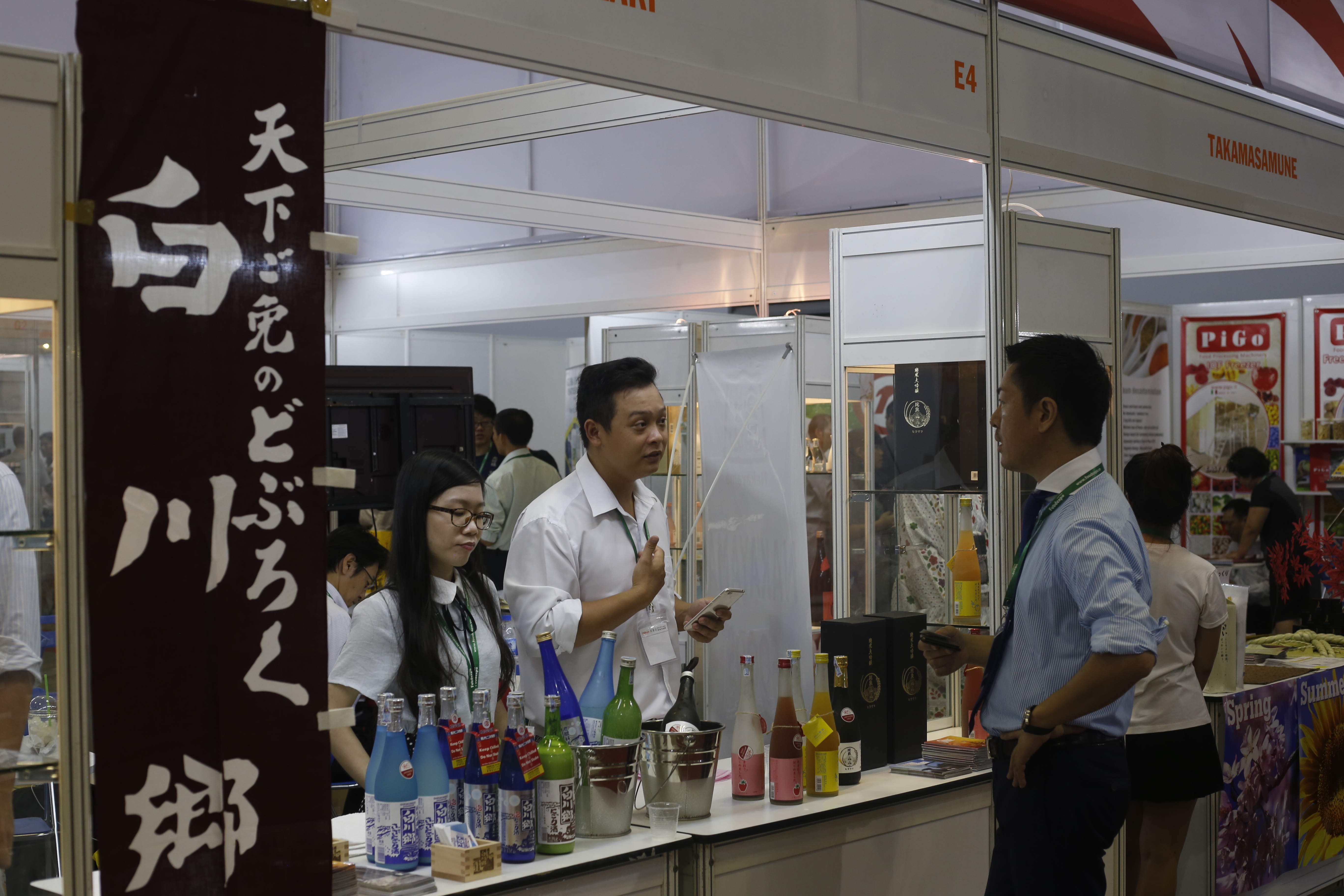 A booth of a Japanese company at Vietnam Foodexpo 2016
With the Vietnam International Food Industry Exhibition 2017 – Vietnam Foodexpo 2017" organized by Vietnam Ministry of Industry and Trade at Saigon Exhibition & Convention Center, from November 15-18, 2017, the Vietnam Trade Office in Japan together with Ibaraki prefecture (in association with Forval Corporation) will bring 18 businesses in Ibaraki, Japan to Vietnam, carrying 29 typical products of the province including beverages, agricultural products and processed foods to attend the exhibition.
These 18 companies are: Meiri Shurui Co., Ltd; Inaba Shuzo, Yoshikubo Brewing Co., Ltd; Hirose Company; Tsukinoi Shuzoten K.K; Nemoto Shuzo Co., Ltd; Nomura Jozo K.K; Daruma Shokuhin Inc .; Asaichiban Co., Ltd; Nemoto Co., Ltd; Nemotoen; Yoshidaya Co., Ltd; Takita Kogyo Co., Ltd; Hinodeya Co., Ltd; Tsukamoto Co., Ltd; Hitachi Agricultural Cooperative; Takagi Shoten Co., Ltd; Kashitora Co., Ltd. These are the long-standing traditional and well-known businesses of Ibaraki Prefecture.
In addition to exhibiting at the exhibition, with the support of the Ministry of Industry and Trade, the Vietnam Trade Office in Japan, the Vietnam Trade Promotion Agency, Forval Corporation, the Ibaraki businesses will also participate in business match-making events to find partners to cooperate in production, processing, supplying raw materials as well as looking for sales agents in Vietnam.
In particular, implementing the policy of the Ministry of Industry and Trade "to promote Vietnamese goods into the retail supermarket system of Japan" under the task of "Promoting Vietnamese companies to directly participate in the distribution network to 2020 " approved by the Prime Minister in Decision No. 1513 / QD-TTg on September 3, 2015, the Vietnam Trade Office in Japan also cooperates with VIENT company to send a business delegation including representatives of 6 large supermarkets in Japan (such as BIC A, Kohyo, Mamimart, Daiei ...) to Vietnam to attend Vietnam Foodexpo 2017 and survey some banana growing areas in Long An and Dong Nai province, aquaculture and processing areas in Can Tho city and tuna fishing are in Quy Nhon province. These activities are aimed at finding the supply source of agricultural products, seafood and processed foods that meet the requirements of quality and food safety standards to be sold in Japanese supermarkets.