Attending the opening ceremony of the exhibition, on the Vietnamese side, were Mr. Do Thang Hai - Deputy Minister of Industry and Trade, Mr. Truong Quang Hoai Nam - Vice Chairman of the Can Tho People's Committee, representatives of Ministries, provincial Departments of Industry and Commerce, Departments of Agriculture and Rural Development, Departments of Planning and Investment, Trade Promotion Centers and specialized agencies of provinces and cities. On behalf of international guests, there were Mr. Bertrand Lortholary, Ambassador of the French Republic to Vietnam, Mr. Matthiew Lefort - Commercial Counselor, Representative of the French Trade and Investment Agency (Business France) in Vietnam who are representatives of France as a Country of Honour at the exhibition; ambassadors, representatives of embassies, consulates, trade offices and economic and trade organizations of foreign countries and territories to Vietnam.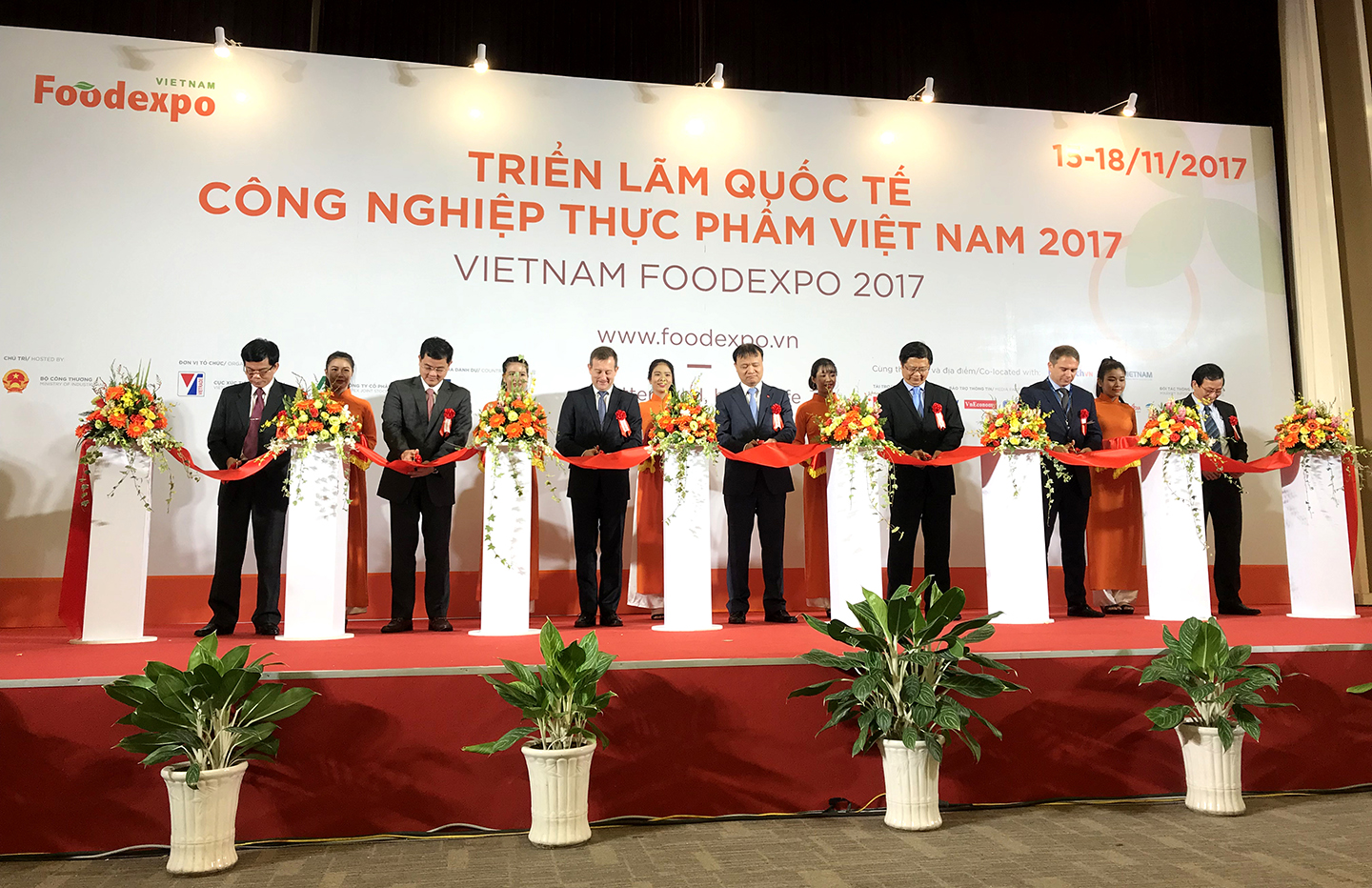 The ribbon cutting ceremony of Vietnam Foodexpo 2017
Speaking at the Opening Ceremony, Deputy Minister of Industry and Trade Do Thang Hai said that Vietnam's food industry is experiencing a rapid development, accounting for a significant proportion of the output of the industry in particular and gross domestic product (GDP) in general. Vietnam's food industry nowadays has a variety of high quality products not only essential for the national economy, but also well serving for domestic demands and exporting to many countries in the world.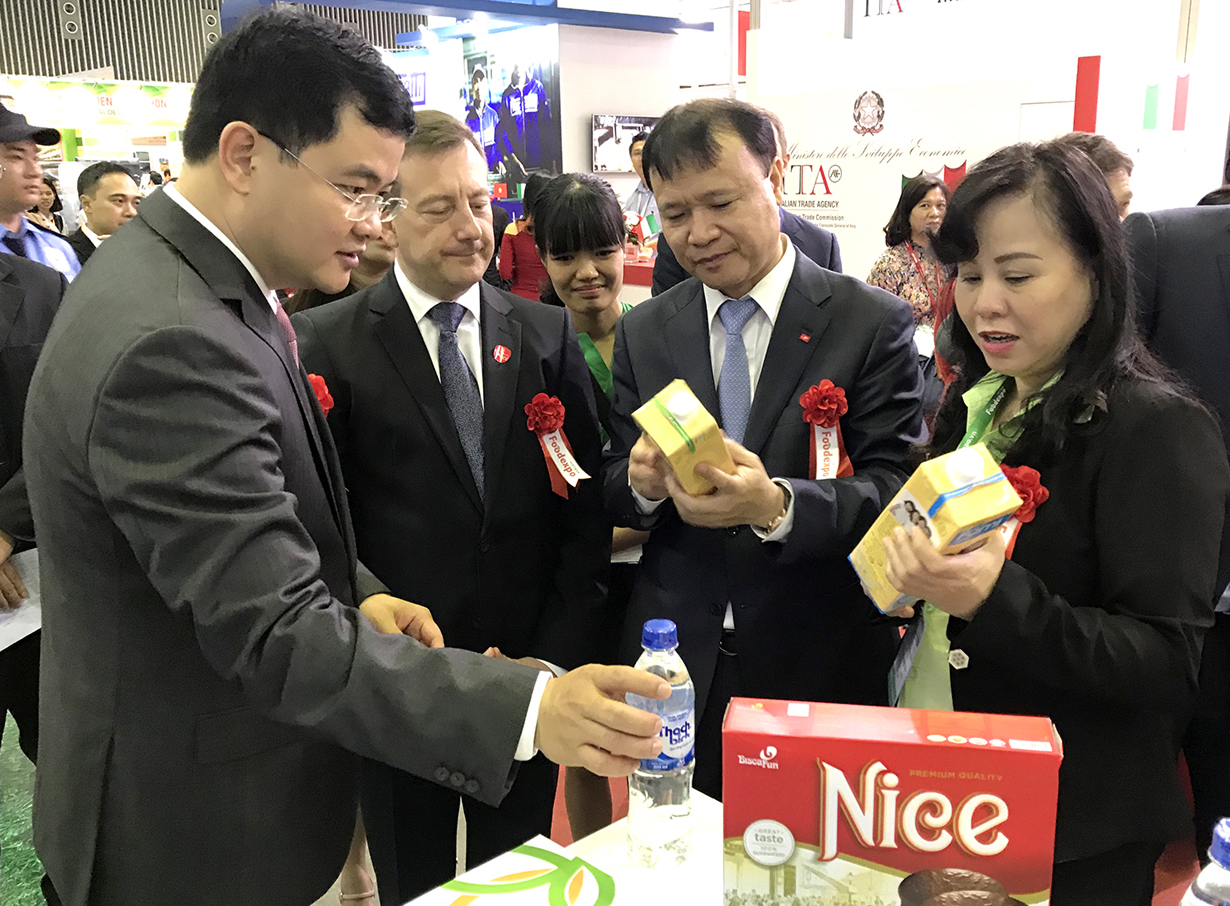 Deputy Minister of Industry and Trade Do Thang Hai (2nd from right side) and French Ambassador to Vietnam Bertrand Lortholary (2nd from left side) visit booths at Vietnam Foodexpo 2017.
In addition to product display and introduction, the Organizing Committee of the exhibition also conducts many activities to strengthen trade links between Vietnamese and foreign businesses. receives large foreign import delegations from the United States, Italy, Japan, Hong Kong, China ..., big local purchasing groups, domestic and foreign supermarkets such as Walmart, CJ, LOTTE , AEON, Central, Vinmart, SATRA, BIG C ... to trade at the exhibition; introduces updated information materials on the orientations for Vietnam trade and investment development in the field of food industry; organizes a series of informative conferences, seminars, programs and contests such as the Investment Promotion Conference in the field of food processing industry, the International Conference on Food Industry of Vietnam (Vietnam Food Forum 2017), Saigon International Cooking Contest 2017, signing ceremony of business cooperation contracts, culinary shows, Certification Awards of " Vietnam Foodexpo 2017 Impression"...
Vietnam Foodexpo 2017 welcomes a large number of domestic and foreign visitors
Vietnam Foodexpo 2017 is expected to receive a large number of more than 20,000 visitors, including international business delegations from 50 countries and territories. Right on the opening day of the exhibition, there were many delegations of traders, potential buyers of many localities in the country and abroad to visit and trade at the exhibition.
According to Deputy Minister of Trade and Industry Do Thang Hai, Vietnam Foodexpo 2017 will bring practical opportunities for businesses and visitors to approach products in line with the new trends of domestic and foreign food markets, innovative science and technology achievements on preserving and processing foodstuffs; create a favorable trade promotion environment for direct access to potential partners to popularize brands and expand markets; reasonably contribute to the strong and sustainable changes of the food industry in Vietnam in the process of deepening international economic integration; bring Vietnam to gradually become a safe, modern and internationally competitive food industry.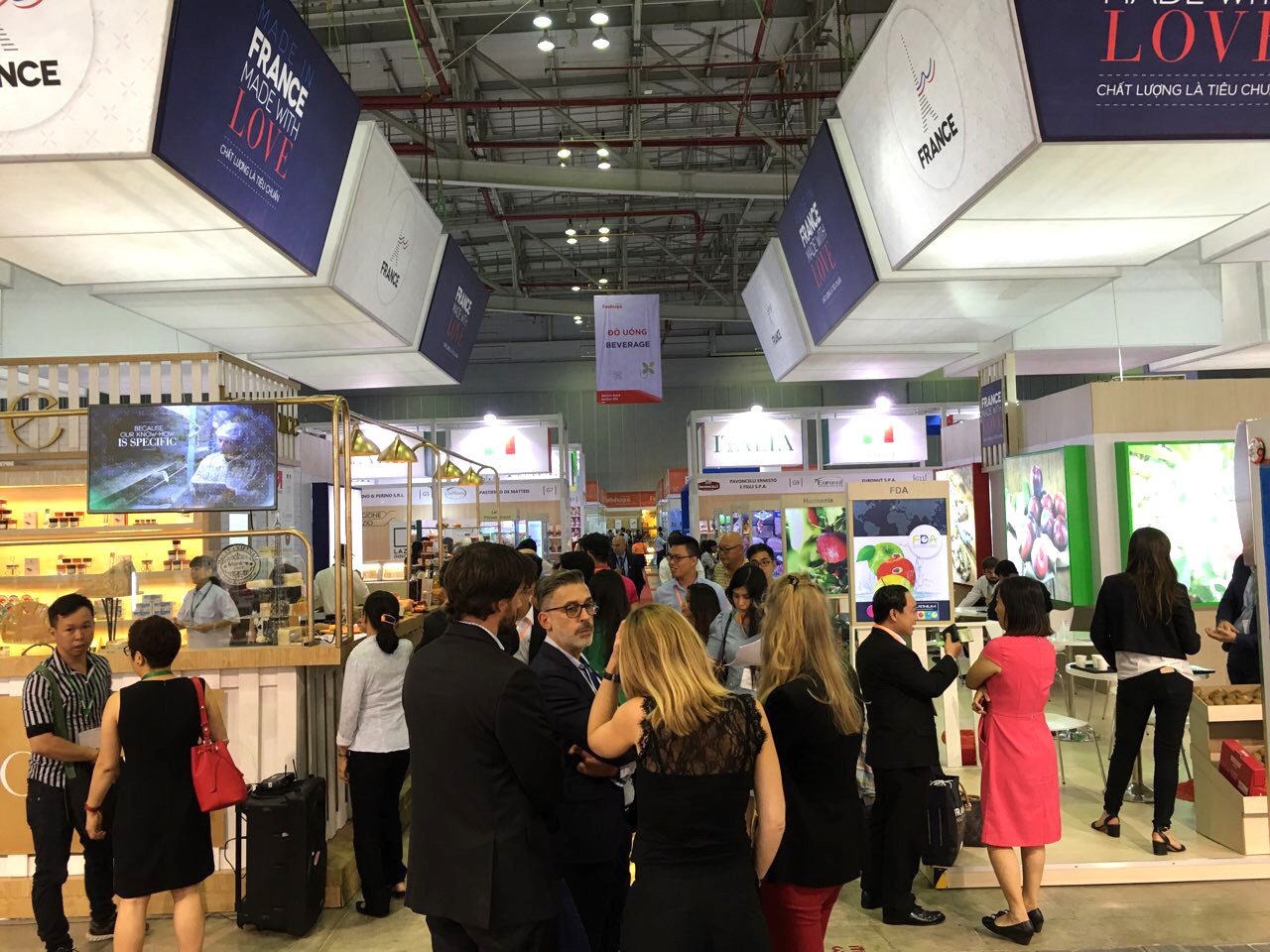 A corner of the French Pavilion at the exhibition
"The Ministry of Industry and Trade highly appreciates the large-scale presence of French agencies, organizations, associations and businesses in Vietnam Foodexpo 2017. As a Country of Honour, the French National Pavilion has got a good preparation, contributing to the success of the exhibition, "said Deputy Minister Hai.
H.E Bertrand Lortholary, Ambassador of the Republic of France to Vietnam, said: "The dynamism of the exhibition has also shown the dynamism of Vietnam in recent years. The large scale, variety of exhibits of Vietnam and many countries and territories at the exhibition promises a great success of this exhibition.
Right on the first opening day of the exhibition, many exhibitors said that they approached a lot of potential and prospect buyers and investors inside and outside the country, many business cooperation agreements were exchanged in details, which showed initial positive steps from the exhibition.
Vietnam Foodexpo 2017 will last until 18/11/2017.