Speaking at the conference, Mr. Ta Hoang Linh - Deputy Director General of the Vietnam Trade Promotion Agency, Deputy Director of the Exhibition, introduced the most important and outstanding information about Vietnam Foodexpo 2017 as a largest trade promotion event of the agricultural, fishery and food processing industry in Vietnam, happening from 15-18 / 11/2017 in Ho Chi Minh city.
Representatives of the Organizing Committee, Honorary State and enterprises showcase the outstanding programs and activities of Vietnam Foodexpo 2017.
According to Mr. Ta Hoang Linh, there are now a large number of over 450 domestic and international exhibitors, including a large number of prominent enterprises in the fields of agricultural products, foodstuffs and beverages and more than 600 booths on display area of ​​13,000 m2 at Vietnam Foodexpo 2017. These businesses come from 31 provinces / cities nationwide and 20 countries and territories including: Egypt, India, Australia , Cuba, Taiwan, Netherlands, Korea, Hong Kong, Hungary, Italy, Malaysia, Myanmar, Russia, Japan, France, Philippines, Singapore, Spain, Thailand and China.
At Vietnam Foodexpo this year, the French Republic is invited to be a country of honor. Mr. Vincent Floreani, Consul General, Consulate General of France to Ho Chi Minh City, said that this exhibition was a very important event for the French-Vietnamese relationship in the context that the Trade Agreement between Vietnam and EU will bring more prospects for two-way trade between the two countries, particularly in the agricultural sector.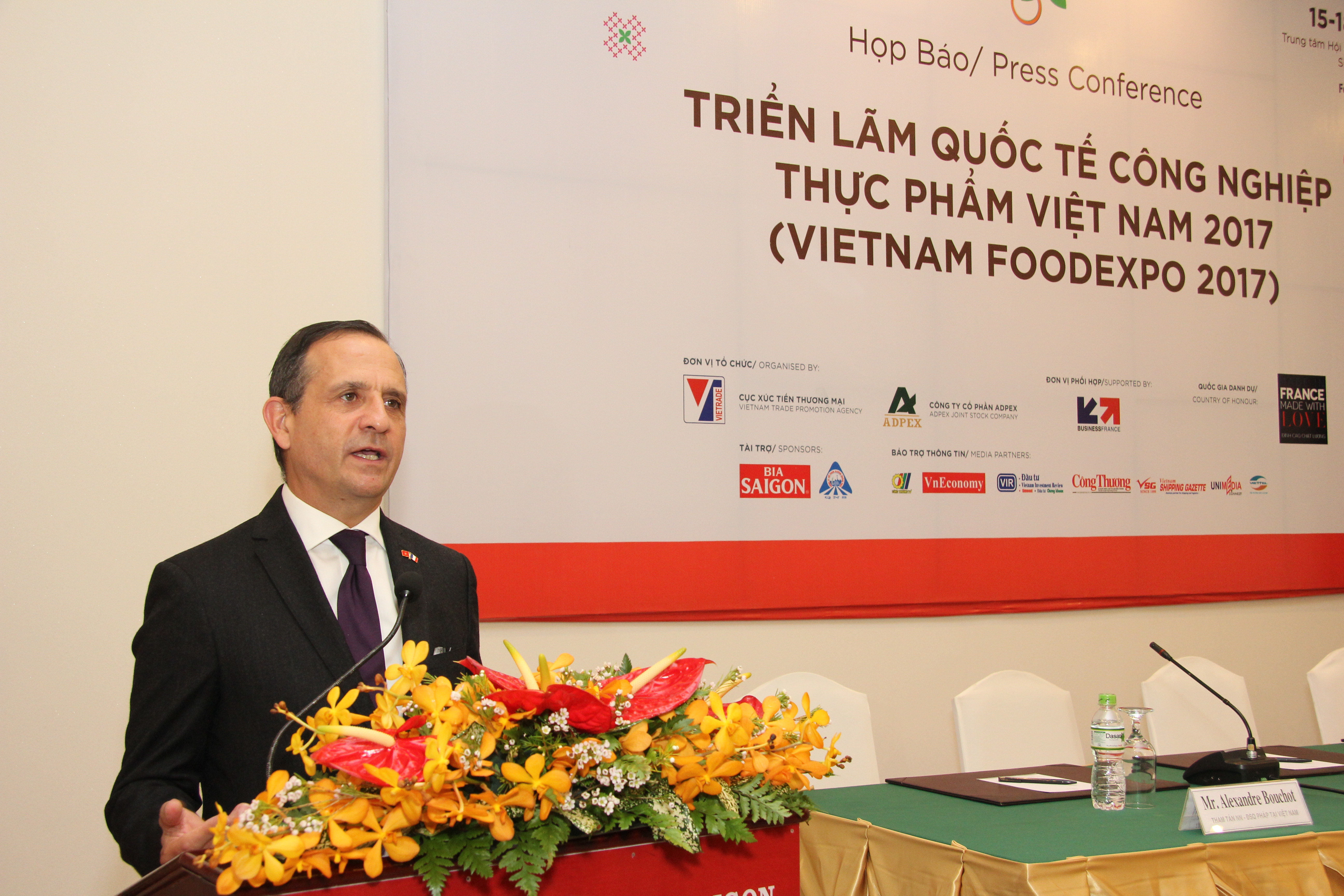 Mr. Vincent FLOREANI - Consul General, Consulate General of France to Ho Chi Minh City speaking at the press conference.
"In recognition of these issues, all departments in the French agricultural sector have been mobilized, including the ministerial level. Vietnam Foodexpo 2017 will be the occasion for Jean-Baptise Lemoyne, Minister of State, to accompany the Minister of European and French Foreign Affairs to attend the exhibition, visit the booth and open the seminar on French cuisine on the afternoon of November 16th (an event within the framework of the exhibition), "added Mr. Vincent Floreani.
With the prestige and value of the trade exchange of the exhibition in the past two years, many ecompanies having products of national brand names, leading Vietnamese enterprises in the food industry continue to bring products to the exhibition, among those are Quang Ngai, Habeco, Tigifood, Satra, Vissan, Lafooco, Bibica, Hai Giao Kotobuki, Dong Giao Sa Giang food, Tan Nhat Huong food, Nam Phuong fish sauce, K-Coffee, Thach Bich mineral water, Vinasoy soya milk, Luong Quoi coconut, Rang Dong plastic ... In addition, the exhibition held this year also attracts many large and small companies in the food industry for the first time to participate in the exhibition.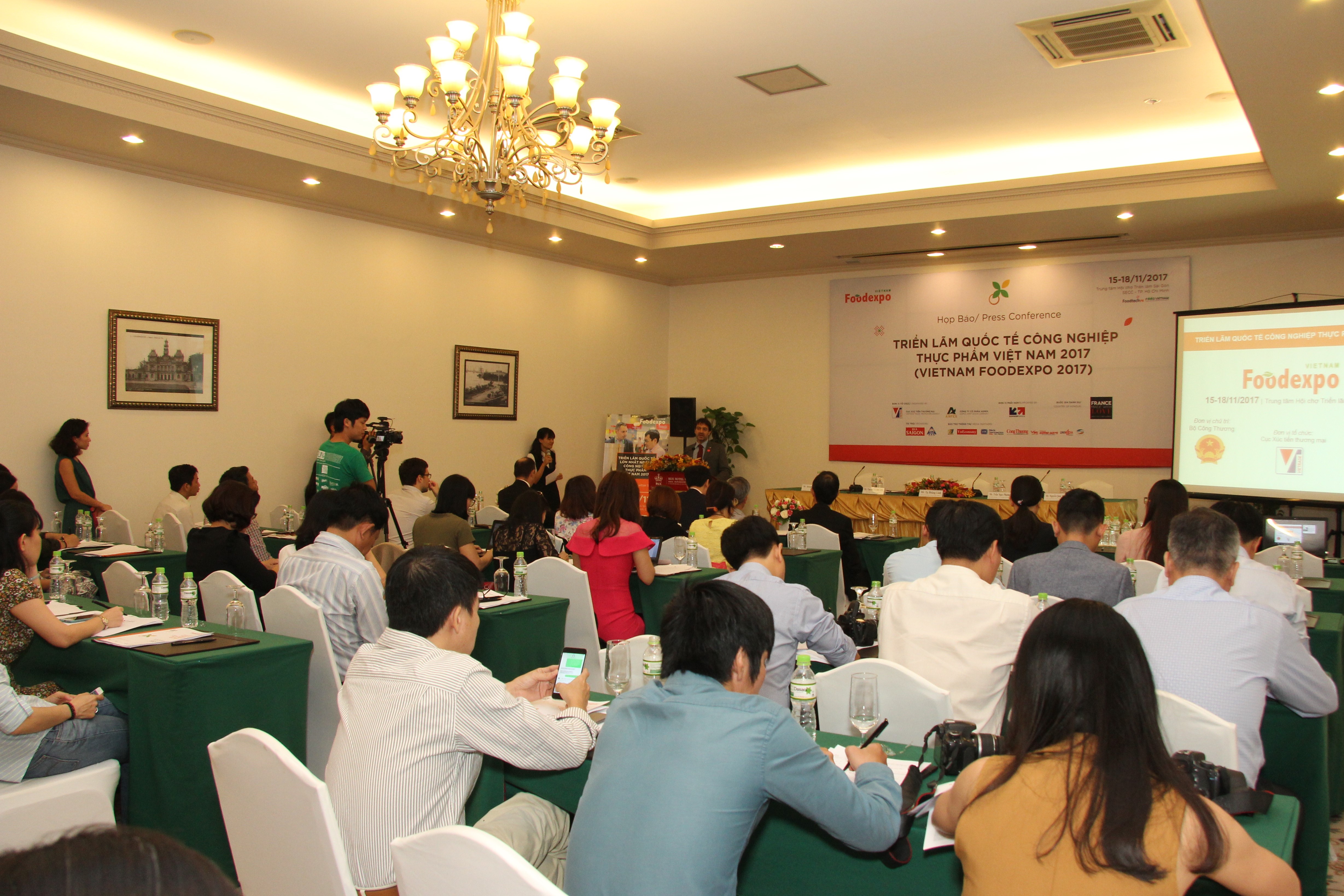 The meeting attracted the attention of representatives from nearly 60 news agencies in Ho Chi Minh City.
Mr. Nguyen Quoc Hoang - General Director of PAN Food Company (PAN Food), representative of PAN Group said: "We realize that Vietnam Foodexpo 2017 is a professional playground for businesses to introduce products. It is the place where culinary cultures meet and exchange their quintessence. At the exhibition, PAN will be present for the first time this year and bring products with Vietnamese typical taste produced by export standards with high quality, under fully closed value chain that we always pursue ".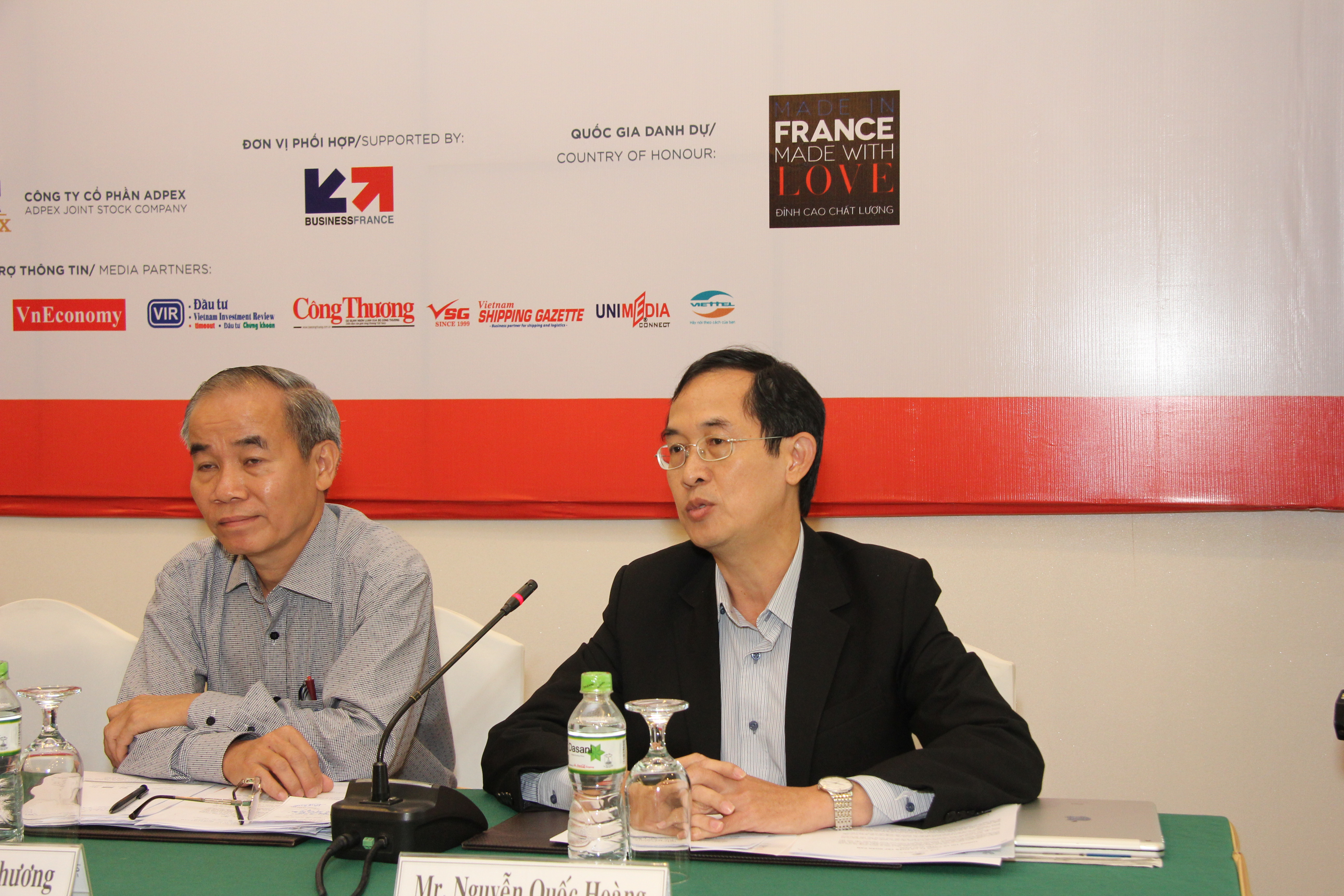 Mr. Nguyen Quoc Hoang - General Director of PAN Food (PAN Food), representative of PAN Group (right) shared the plan to join Vietnam Foodexpo 2017 to news agencies at the press conference.
In order to attract a large number of domestic and international visitors to visit and trade at the exhibition, to support the exhibitors get the most effective results, said Mr. Ta Hoang Linh, the exhibition organizers had been actively cooperating with many agencies, departments, organizations, industry associations, local trade promotion centers, the whole system of Vietnam Trade Offices in foreign countries ... in organizing Vietnamese and foreign delegations of businesses and entrepreneurs to the exhibition. According to the statistics of the Organizing Board, there are more than 1,000 foreign trade visitors who are importers, wholesalers, retailers and distributors from 50 countries and territories registered to the exhibition, Among them are many importers from USA, Japan, China, Korea, Hong Kong, Spain ...
Vietnam Foodexpo 2017 will officially open at 8h30 on 15/11 at Saigon Exhibition & Convention Center (SECC), District 7, Ho Chi Minh city.