This exhibition will take place from November 14th – 17th at the Saigon Exhibition and Convention Center (SECC), Ho Chi Minh City. The exhibition is hosted by the Ministry of Industry and Trade, directly implemented by the Vietnam Trade Promotion Agency under the framework of the National Trade Promotion Program.
Overview of the brief introduction meeting on Vietnam Foodexpo 2018
2018 is the fourth time Vietnam Foodexpo is organized. Over the past three years, Vietnam Foodexpo has proved to be a good environment to support businesses to introduce products, stimulate market demands and create opportunities to expand the variety of business and investment links in the food industry.
With an area of ​​13,000 m2, the exhibition attracts 600 booths of 450 companies from 31 provinces and cities nationwide and 23 foreign countries and territories abroad. On display will be various products including vegetables; drinks, tea and coffee; food ingredients; processed foods; food processing technology and equipment.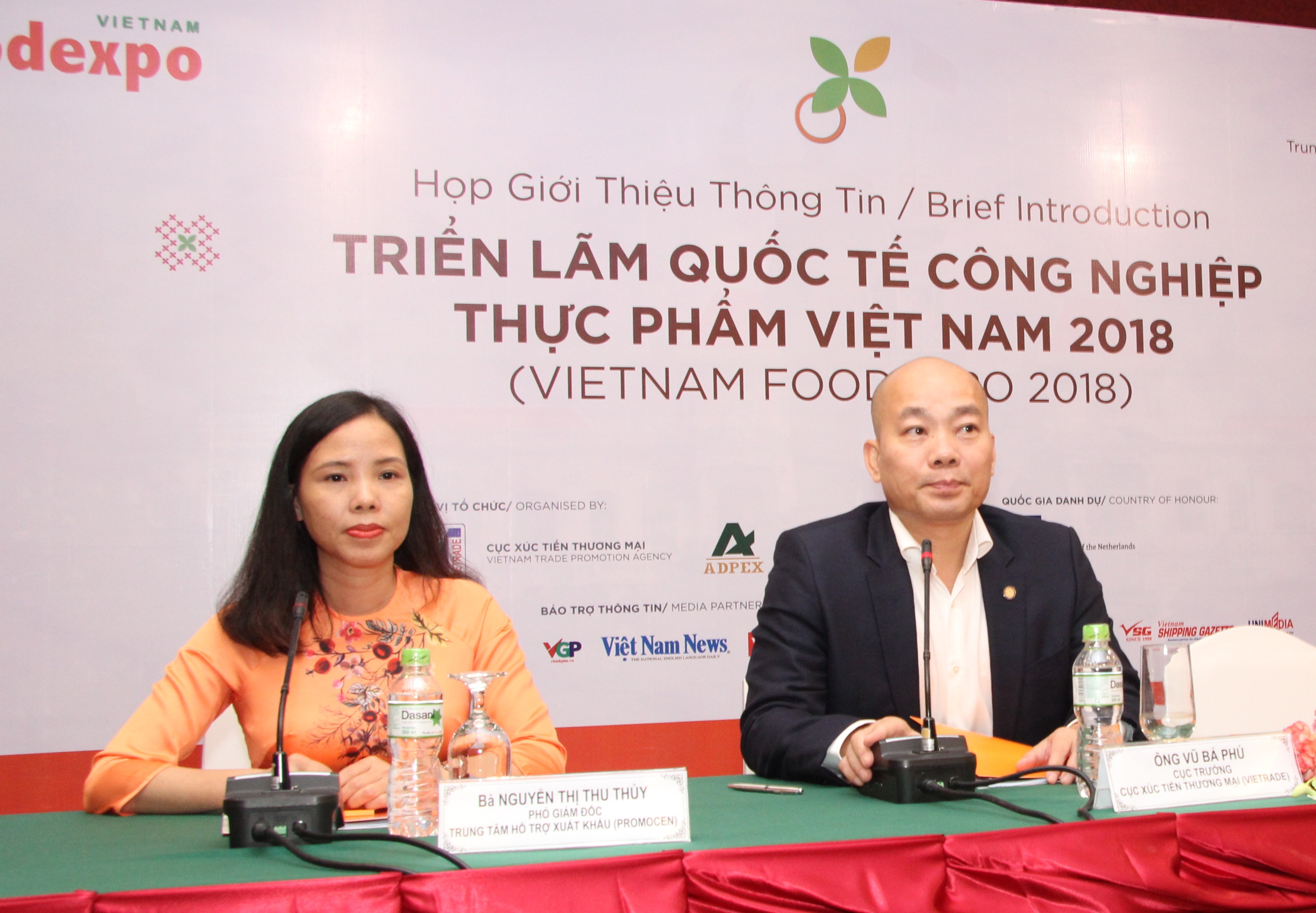 Mr. Vu Ba Phu - Director General of the Vietnam Trade Promotion Agency introduced innovations of Vietnam Foodexpo 2018
"The organizing board is actively coordinating with domestic and international organizations to help create a more efficient Vietnam Foodexpo in connecting visitors and exhibitors. By participating in the exhibition, they will be strengthened their capacity as well as their competitiveness in the domestic and export market", said Vu Ba Phu, Director General of the Vietnam Trade Promotion Agency.
Speaking at the meeting, Mr. Carel Richter, Consul General of the Netherlands in HCM City said that: The Netherlands is honored to be selected as an honorary country at Vietnam Foodexpo 2018. Dutch businesses will bring special and traditional agricultural and food products to the exhibition. In addition, the Netherlands will organize a working group with experts from the Food Safety Administration to share experiences in applying information technology in agricultural and food trade, food chain establishment and food safety management.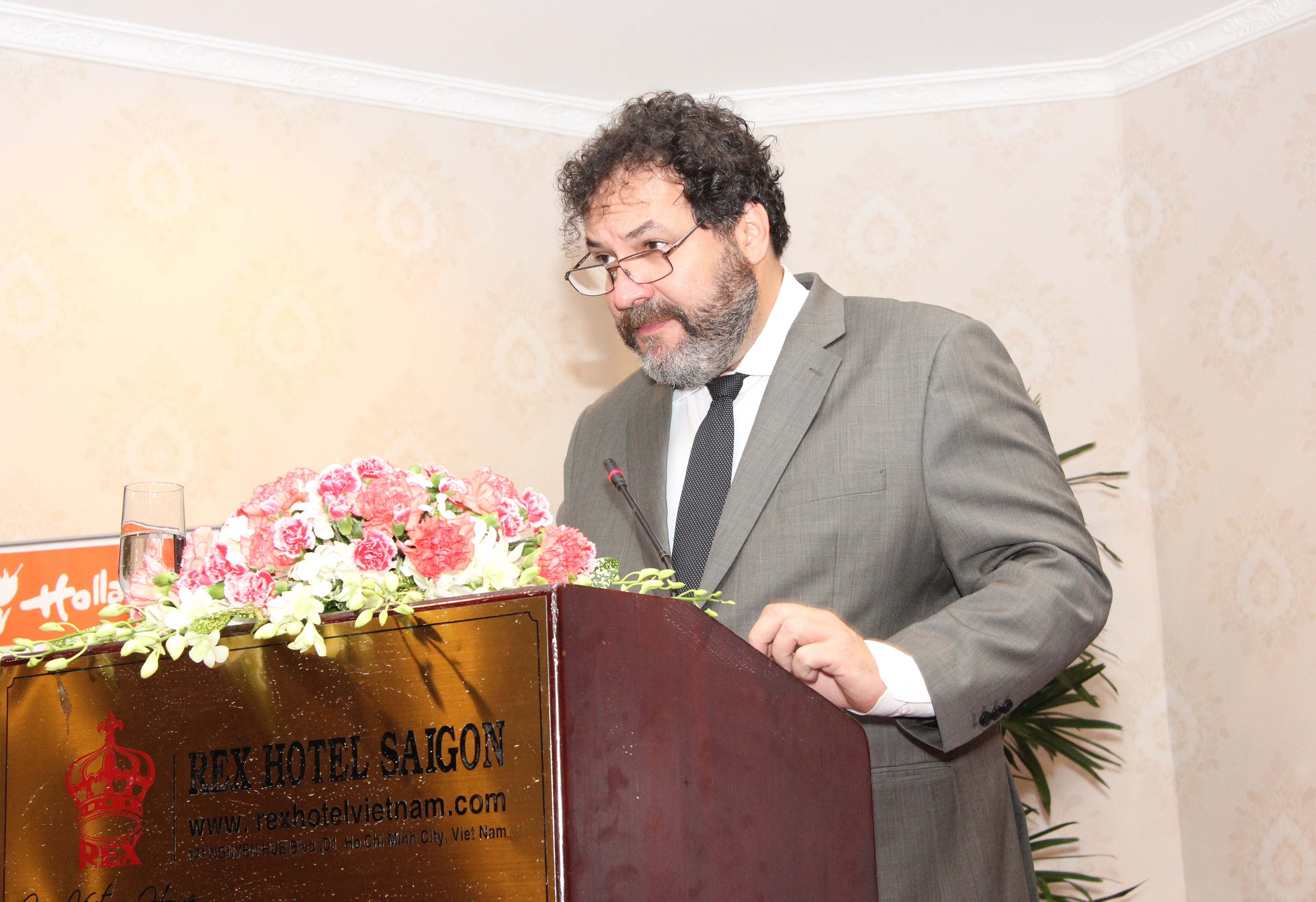 Mr. Carel Richter - Consul General of the Netherlands in HCM City shared the preparation work of the Holland pavilion at the exhibition
At Vietnam Foodexpo 2018, besides displaying and introducing products of companies, there are many other activities such as direct trade talks between Vietnamese and international companies and receiving foreign trading and buying delegations, on-the-spot export consultancy at the request of companies, organizing big sideline events such as the International Conference on Food Industry in Vietnam combining Business Matching Event with Aeon (Japan), CJ (South Korea), Central Group (Thailand), Vinmart, SATRA (Vietnam) ..., Seminar on Investment Promotion in the field of food processing industry of Vietnam, Saigon International Cooking Contest, signing ceremony of business contracts, food shows, Vietnam Foodexpo 2018 Impression Award, etc.
According to Pham Thiet Hoa, Director of the HCM City Investment and Trade Promotion Center (ITPC), Vietnam Foodexpo has become an international brand of Vietnam. Last year, when Vietnam Foodexpo was happening, there were many foreign buying delegations visiting ITPC to ask for supporting to connect with the city's agricultural and food businesses. "Throughout the exhibition, these delegations learned about Vietnamese products in general and Ho Chi Minh City products in particular. There are many contracts signed from Vietnam Foodexpo", Hoa said.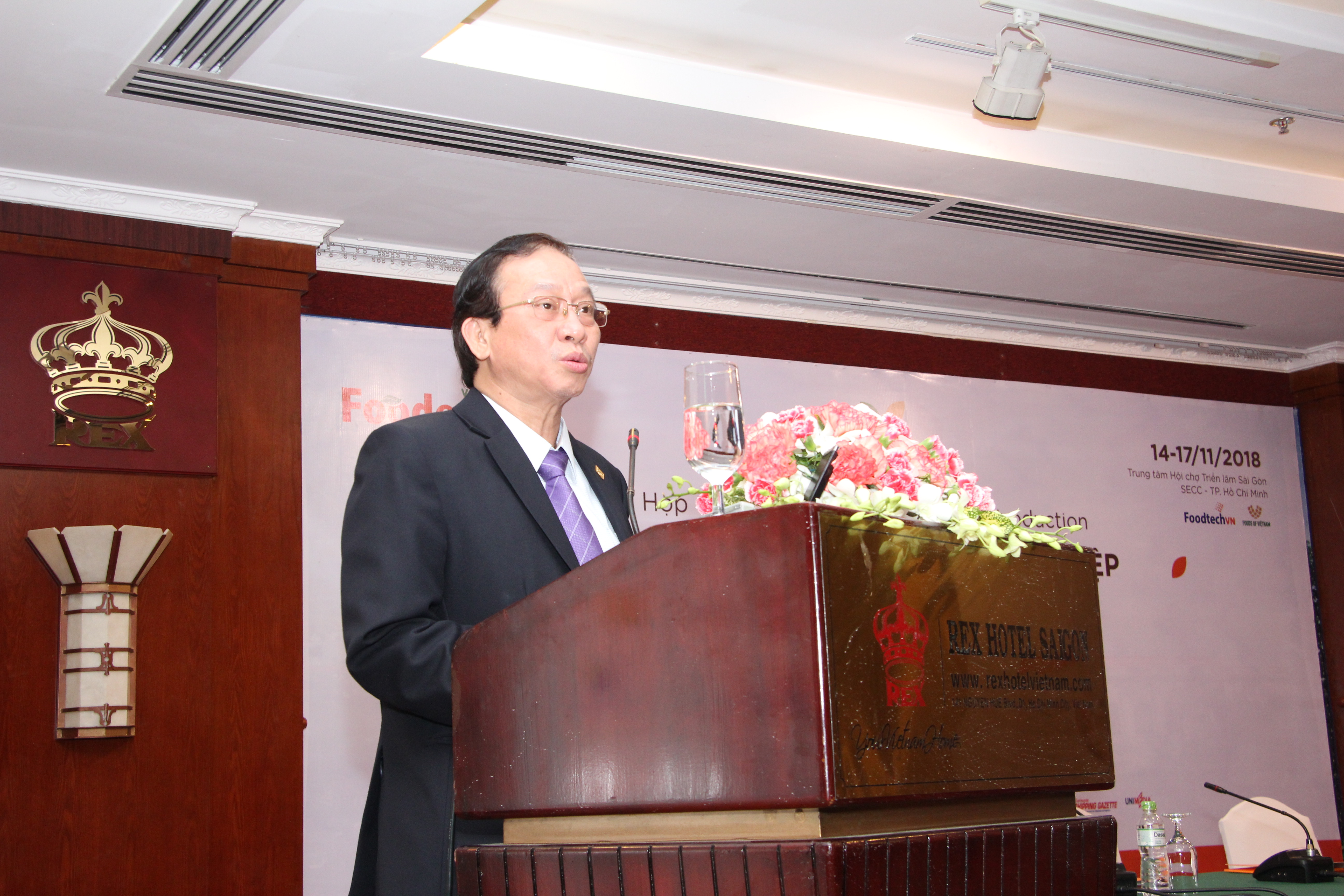 Mr. Pham Thiet Hoa – ITPC introduces the participation of HCMC businesses in Vietnam Foodexpo
Tan Vuong Food Company Limited is one of the many companies participating in all editions of Vietnam Foodexpo. According to Ms. Vo Thi Phi - Director of the company, this is a specialized agricultural and food exhibition which is the biggest in scale, most famous and most prestigious in Vietnam. "The exhibition has created many opportunities for our business to cooperate with other potential local and foreign business partners", Phi said.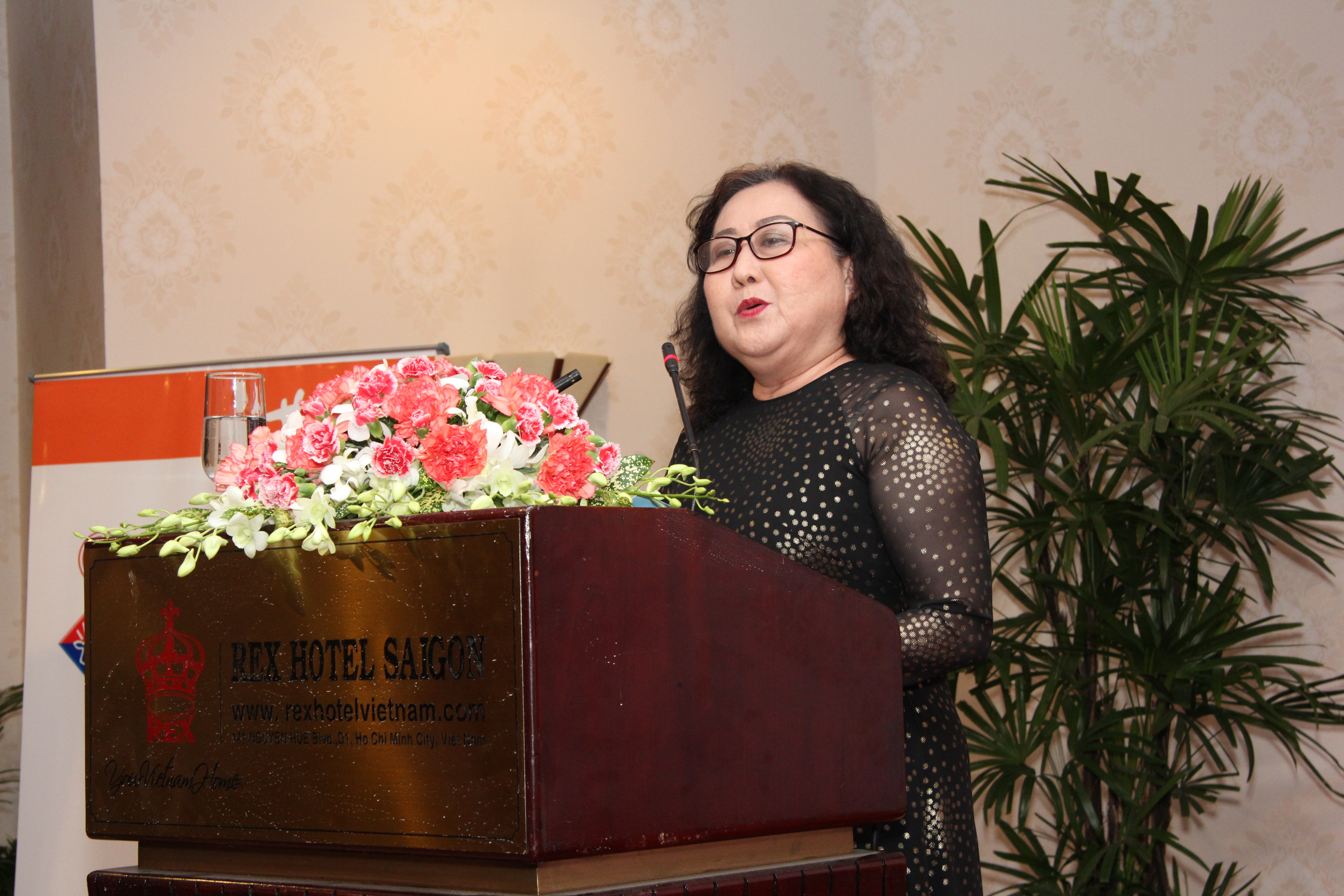 Ms. Vo Thi Phi - Director of Tan Vuong Food Co., Ltd shared at the meeting on the preparation for participation in the exhibition of the company.
Vietnam Foodexpo 2018 will officially open at 9:00 on November 14th. The first 3 days of the exhibition will be for trade visitors, the last day of 17/11 for both trade visitors and public.