Attending the opening ceremony, on the Vietnamese side, there were Mr. Do Thang Hai - Deputy Minister of Industry and Trade, representatives of Ministries, associations, Departments of Industry and Trade, Departments of Agriculture and Rural Development, Departments of Planning and Investment, trade promotion centers, specialized agencies of provinces and cities throughout the country. On behalf of the international guests, Ms Elsbeth Akkerman - Extraordinary and Plenipotentiary Ambassador of the Kingdom of the Netherlands to Vietnam, Mr. Freek Vossenaar, Special Representative of the Ministry of Agriculture, Nature and Food Quality of the Netherlands - representative of honorary country of the exhibition; foreign ambassadors, representatives of embassies, consulates, trade offices and economic and trade organizations in Vietnam.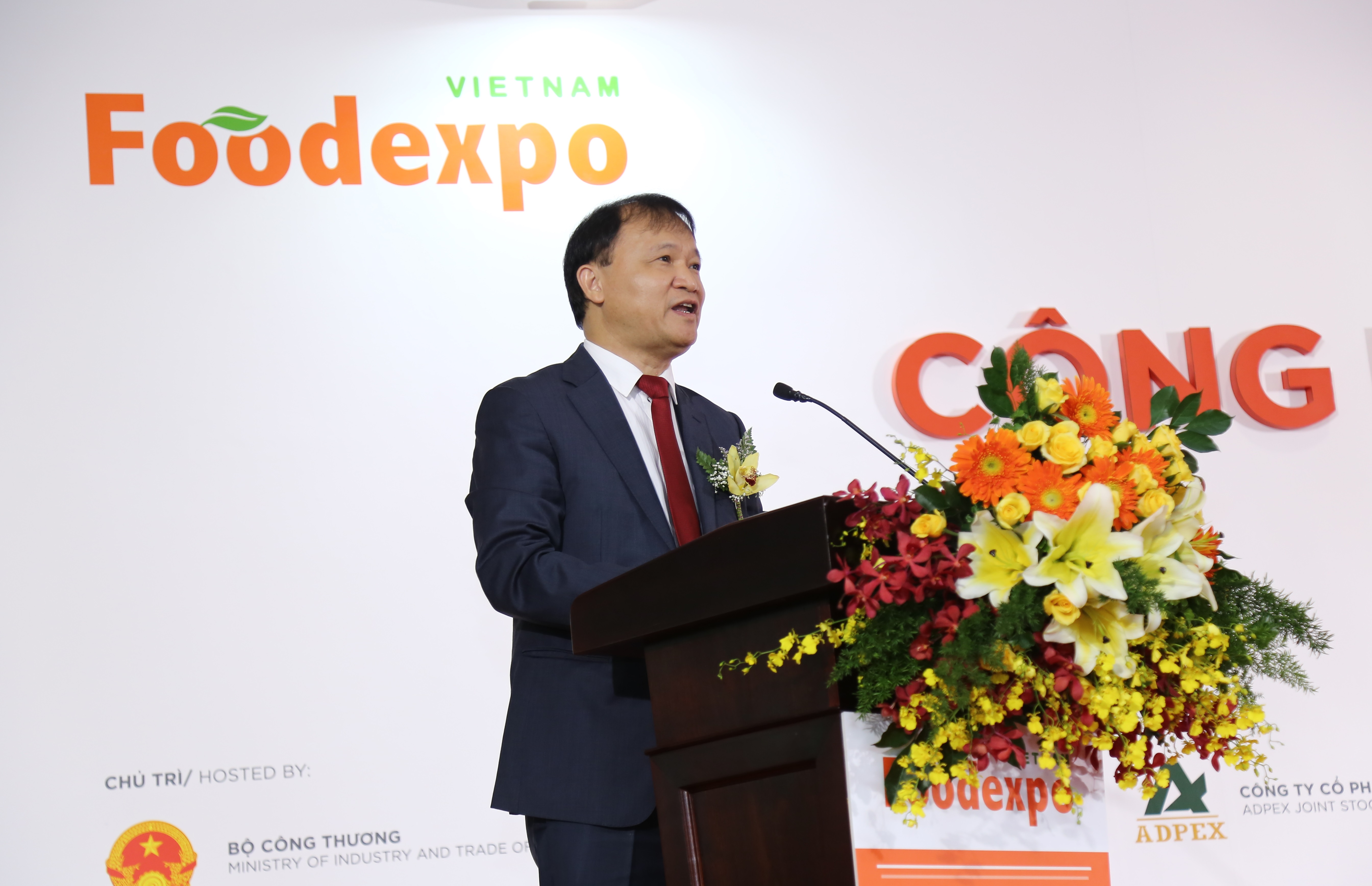 Deputy Minister of Industry and Trade Do Thang Hai delivered the opening speech at Vietnam Foodexpo 2018
Speaking at the Opening Ceremony, Deputy Minister of Industry and Trade Do Thang Hai said that over the past 20 years of establishment and development, Vietnam's food industry - one of the key industries of the country - has had active changes in the overall production and business process, meeting more efficiently domestic consumption and export demands, contributing significantly to stabilize the market, social security and of the country's economic growth.
Deputy Minister Do Thang Hai said that in order to help Vietnamese food industry companies to better promote their internal capabilities, to grasp and take advantage of the bilateral and multilateral free trade agreements, athe Vietnam Ministry of Industry and Trade is in charge of coordinating with relevant agencies to organize the annual Vietnam Foodexpo. This is one of the outstanding trade promotion activities for the industry, aiming to create a professional trading and investment forum gathering hundreds of companies with thousands of key trademarks and agricultural products of Vietnam, together with world food elites and a variety of modern and advanced food processing machines.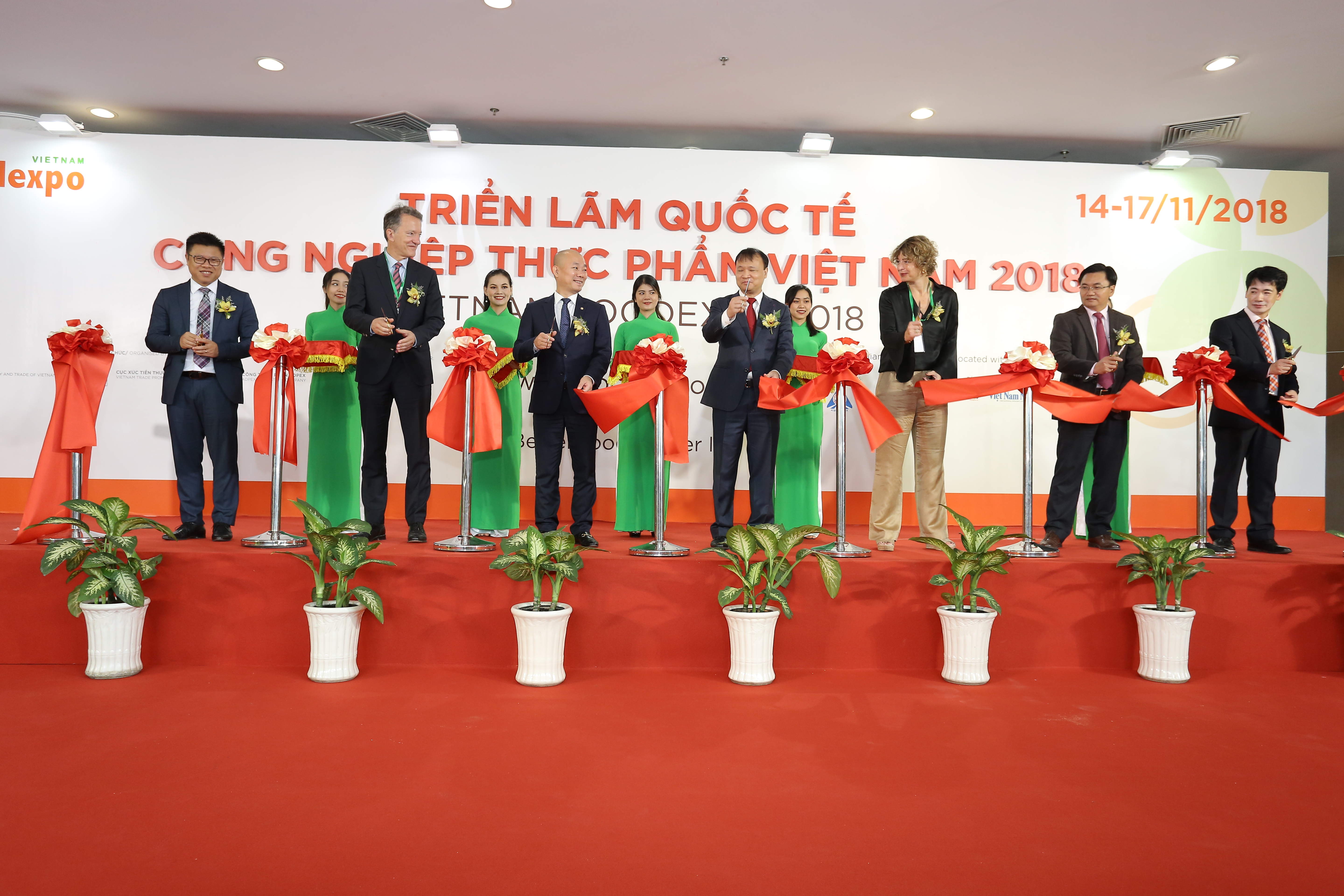 The ribbon cutting ceremony of Vietnam Foodexpo 2018
Vietnam Foodexpo 2018 continues to attract a large number of 450 exhibitors from 31 provinces and cities across the country and 23 foreign countries and foreign territories exhibited in 600 booths on all 13,000 m2 of the exhibition area. One highlight of this exhibition is the biggest number of participating countries and territories. In addition, the exhibition focuses on businesses that have organic products such as rice, pepper, cinnamon, etc to convey the message of Vietnam as a country with the ability to produce sustainable food.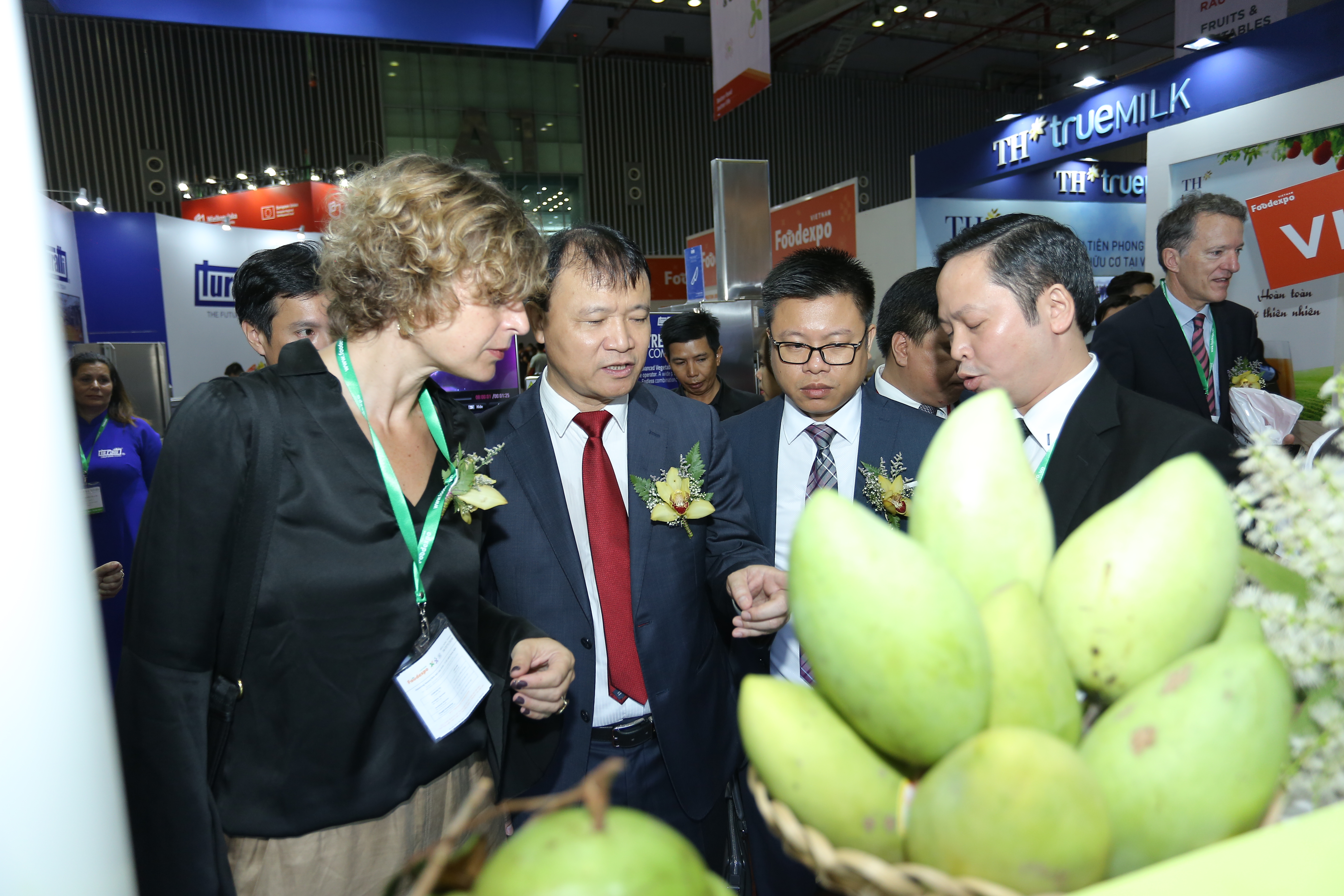 Deputy Minister of Industry and Trade Do Thang Hai (second from left) and Dutch Ambassador to Vietnam Elsbeth Akkerman (leftmost) visited booths at Vietnam Foodexpo 2018
Along with displaying and introducing products, the Organizing Committee of the exhibition also carried out many activities to strengthen trade links for businesses. It is expected that there will be thousands of contacts, direct transactions between Vietnamese businesses with foreign buyers and investors arranged at the exhibition. There will be a lot of foreign importers coming from the United States, Japan, South Korea, China, Latin America ..., purchasing groups, hypermarkets inside and outside the country. Vietnam Foodexpo 2018 is also the exhibition which will receive the biggest number of foreign trade delegations.
This year, the Netherlands is invited as the honorary country of Vietnam Foodexpo 2018. With a wide range of typical traditional agricultural and products, Dutch Pavilion is one of the interesting highlights of the exhibition. According to Ms. Elsbeth Akkerman, Extraordinary and Plenipotentiary Dutch Ambassador to Vietnam, the Netherlands and Vietnam, has a long and strong relationship in the field of agriculture and food security. "I feel very honored that the Netherlands can show in this exhibition what we can devote to Vietnam's expectations of contributing to national, regional and global food security challenges", said Ms. Elsbeth Akkerman.
Vietnam Foodexpo 2018 continues to have a number of significant conferences, seminars, programs and contests such as the Investment Promotion Seminar in the food processing industry, the International Conference on Vietnam Food Industry 2018, Saigon International Cooking Contest, Business Cooperation Contract Signing Ceremony, Food Shows, Vietnam Foodexpo Impression Award, etc.
Ms. Nguyen Thi Hien - Deputy Director of Quang Ninh Department of Industry and Trade said that this year Quang Ninh province continued to bring more than 100 unique local products. "With its prestige and international stature, Vietnam Foodexpo 2018 will be the bridge to help Quang Ninh products enhance the brand value," said Nguyen Thi Hien.
Vietnam Foodexpo 2018 is expected to receive a large number of over 20,000 visitors, including international business delegations from dozens of countries and territories. On the first day of opening, there were many delegations of traders, potential buyers of many localities in the country and abroad to visit and trade at the exhibition.
The exhibition will open daily from 9.30 - 17.30 and last until 17/11.