The seminar is one of important sideline events of the Vietnam International Food Industry Exhibition 2018 – Vietnam Foodexpo 2018.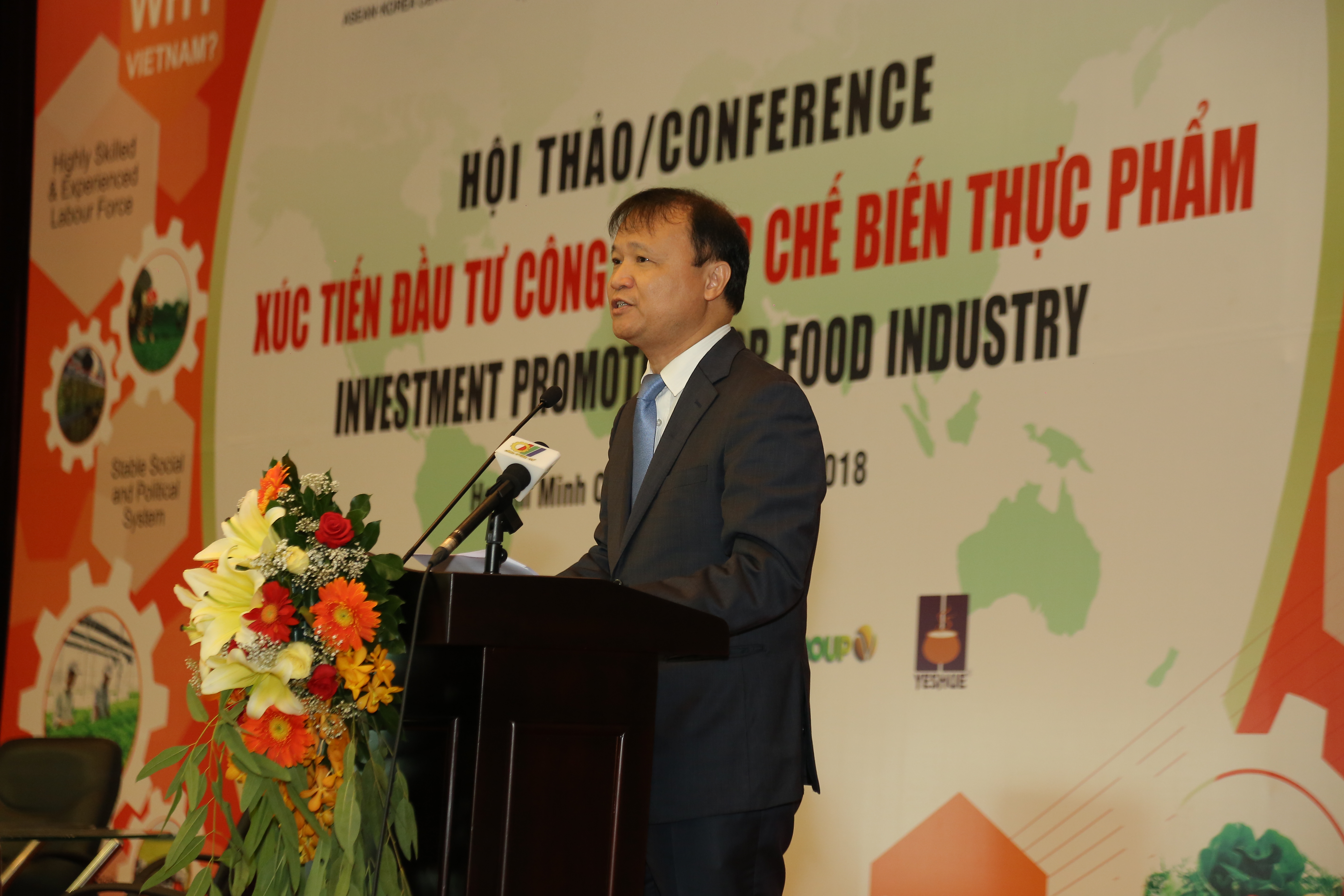 Deputy Minister of Industry and Trade Do Thang Hai addressed at the seminar
Speaking at the seminar, Deputy Minister of Industry and Trade Do Thang Hai emphasized that the agro-forestry and fishery processing industry is one of the major industries selected by the Vietnamese government to prioritize for development in the period by 2025 with a vision to 2035. Accordingly, the Vietnamese government will prioritize increasing the rate of processed agricultural and aquatic products, applying international standards in the process of production and processing, thereby building the brand and competitiveness of domestic products.
Over the past years, Vietnam's food processing industry has steadily grown with an average increase of 6.82% per year from 2013 to 2017 for processed food and 9.76% for drinks. In the first 10 months of 2018, the industrial production index of processed food and beverages continued to grow at a rate of about 8% compared to the same period last year.
However, Vietnam's food and beverage market is still very potential. Recent continuous growth has shown that there is still plenty of room left for businesses to take advantage of. At the seminar, many national and international experts affirmed that technological challenges, value chain practices and food safety in the food processing industry of Vietnam were opening up more opportunities for foreign investors.
Analyzing opportunities for foreign investors in the food processing industry in Vietnam, Lee Hyuk - Secretary General of the ASEAN Center - Korea, and former Korean ambassador to Vietnam, said that Vietnam had a strategy of attracting more competitive and sustainable FDI when the country no longer focused on cheap labor and other tax incentives as before. Instead, Vietnam is making great efforts to reform legal regulations on business investment, train skilled labors, strengthen intellectual property protection, create a friendly business environment and encourage businesses to invest in research and development (R & D) to improve product quality. This is the "gravity" for investors to consider creativity and innovation. That is the reason why there are 4,200 Korean companies present in Vietnam. "I believe Vietnam will continue to grow and be an attractive destination for foreign investment," said Lee Hyuk.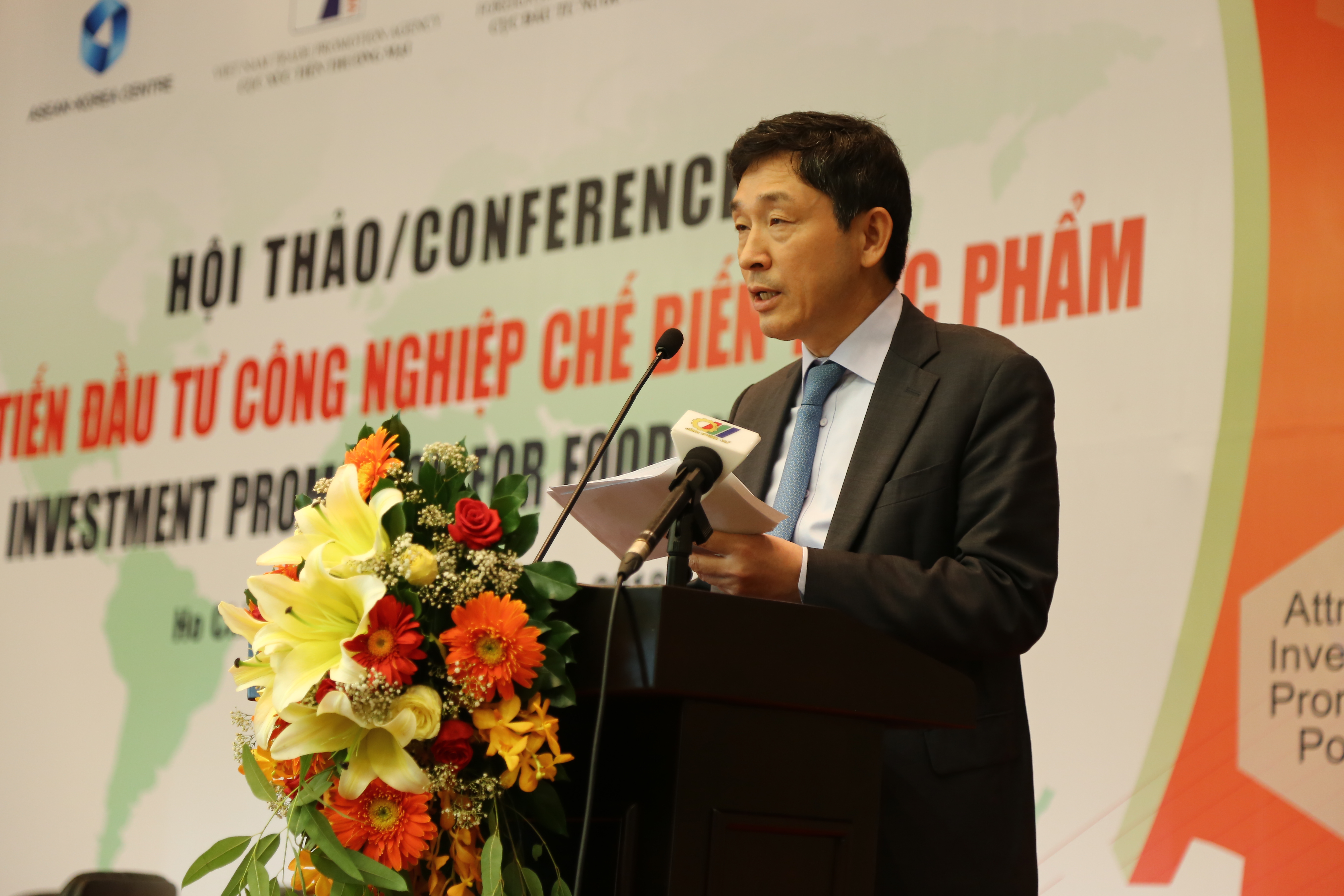 Mr. Lee Hyuk - Secretary General of the ASEAN Center - Korea, Former Ambassador of Korea to Vietnam, analyzes opportunities for foreign investors in the food processing industry of Vietnam
According to the World Bank, Vietnam has 10% of the population in the middle class. This ratio will increase sharply so consumption of safe food will be great. Regarding FDI, Vietnam has attracted over 22,000 projects with a total registered capital of over USD 336 billion, led by Korea, Japan and Singapore. However, there are only 770 projects worth USD 11.2 billion (excluding M & A and equity). From a policy perspective, Vu Van Chung, Deputy Director General of the Foreign Investment Agency under the Ministry of Planning and Investment, said: "Vietnam has a lot of preferential policies in this field. Most of investment projects in agricultural processing sector are in the highest incentive areas such as corporate income tax of only 10-15% (normally 20%); Preferential land rental... The investment licensing procedures are implemented within 15 days and increasingly simplified. Currently Vietnam is implementing a pilot project: Government processes online investment licensing procedures.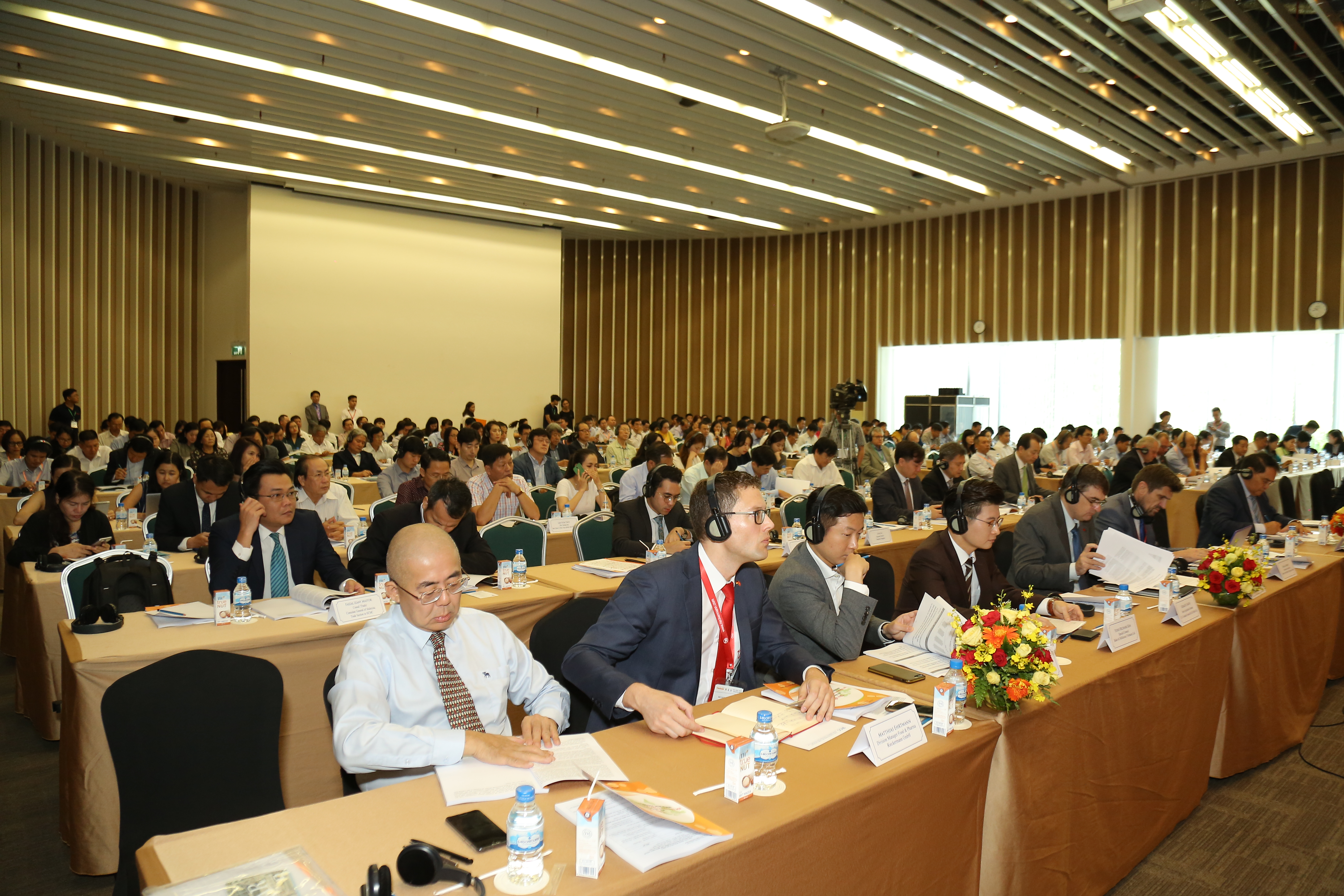 Seminar scene
Jean Jacques Bouflet, Vice President of the European Chamber of Commerce in Vietnam, said: "After the EU-Vietnam FTA is implemented, many businesses from the EU will come to Vietnam for investment. Along with that, the "stream" of technology, business management, production management as well as modern machinery for agriculture - food processing will "flow" into Vietnam'.