Among the OCOP products of Quang Ninh on display at Vietnam Foodexpo 2017, there are many famous agricultural products such as Dong Trieu rice, fish sauce, Co To seafood, Binh Lieu noodles, Ba Chay yellow tea, attracting many visitors who are interested in exploring and setting business cooperation.
Ba Be is a mountainous commune in the northeast of Quang Ninh Province with 94.3% of the forest land area. The climate is tropical monsoon, the mountains are cool, the year-round temperature ranges from 21 to 23 degrees C; The average humidity of 83% here is suitable for yellow tea tree growing. Being a wild species in the forest of Ba Che with high value medicinal value, Ba Che tea are welcomed by several traders. Three-color flower Ba Che tea has got dark yellow color, typical fragrant aroma and bitter taste. This type of tea helps drinker to sleep well, regulate blood pressure so it is preferred by local people. Currently, the flower tea is consumed mainly in Quang Ninh, Hanoi and neighboring provinces. At Vietnam Foodexpo 2017, Quang Ninh wants to promote trade for the brand name Ba Che gold tea as well as many other agricultural products and other specialties of the province.
In the framework of the exhibition, Quang Ninh authorities and companies have worked with a number of potential partners and organizations to look for opportunities to expand the market for OCOP products in the province.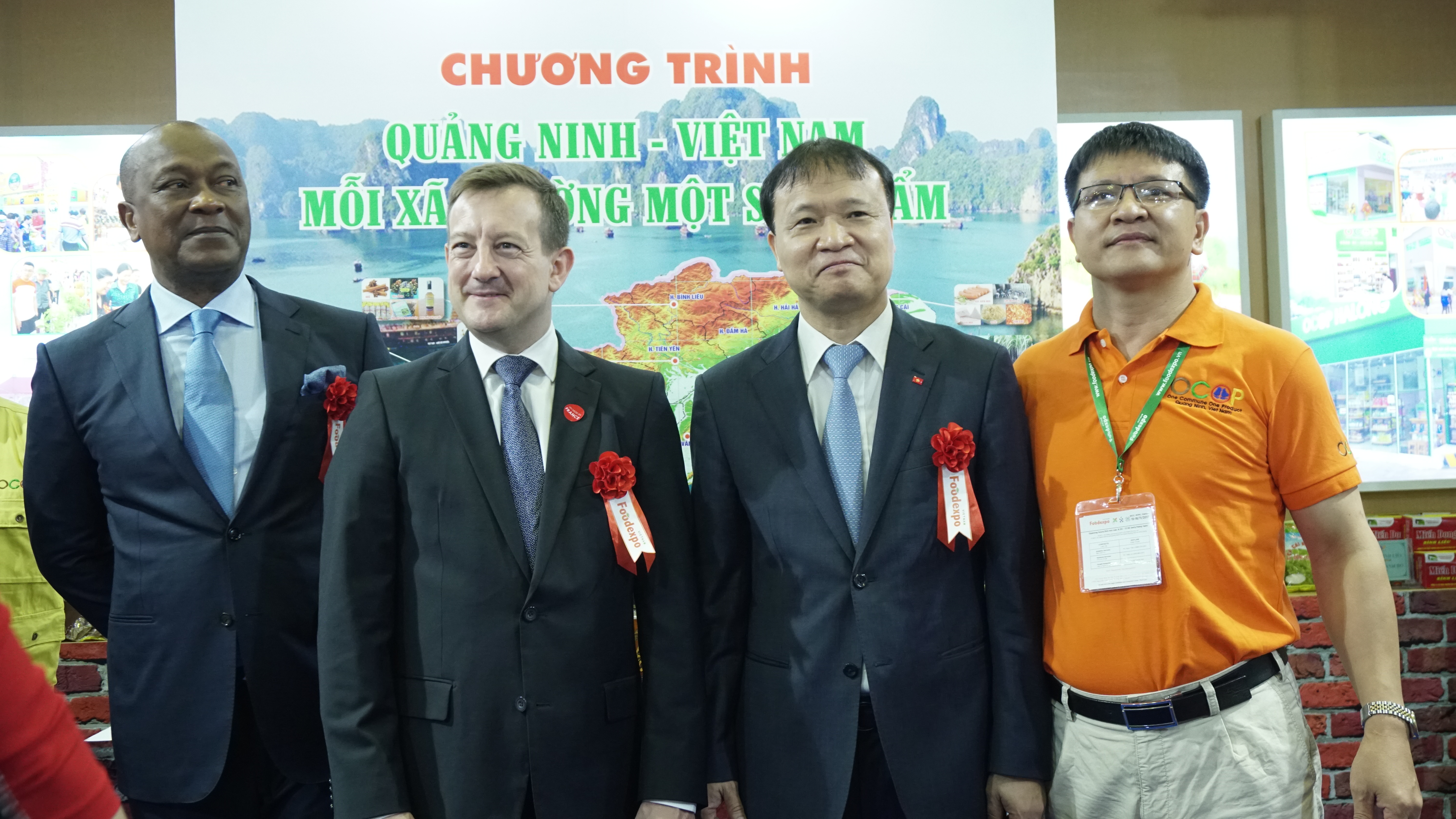 Deputy Minister of Industry and Trade Do Thang Hai (2nd from right) and guests visited Quang Ninh Pavilion at Vietnam Foodexpo 2017.
According to statistics of the Ministry of Agriculture and Rural Development, there are 11,000 communes and wards with many typical products which can be promoted as OCOP, not to mention hundreds of thousands of famous villages. There are more than 4,700 advantaged agricultural products, belonging to six product groups, of which food group has more than 2,500 products, more than 1,000 beverage products, 230 herbal products, nearly 600 products are rural service group which have already registered for OCOP standards. The major markets for these products are mainly domestic.
In recent years, Quang Ninh has been concentrating its resources to promote trade in OCOP products, with the participation of Vietnam Foodexpo as one of its activities. Mr. Dang Huy Hau, Vice Chairman of Quang Ninh province said: "Quang Ninh is actively addressing issues: Seriously implementing the OCOP cycle to attract the participation of producers; Continue to study, formulate and apply mechanisms and policies for the program. Support for small and medium companies and cooperatives. Promote large-scale product development to meet the output for large orders and product quality, support product standardization, intellectual property protection. Strengthening trade promotion activities ".