Rang Dong Plastic JSC is one of the enterprises who are awarded national brand for their products. Thanks to good quality products, professional designed pavilion attached with the national brand logo, Rang Dong Plastic JSC attracted many customers to visit and trade. Deputy Minister of Industry and Trade Do Thang Hai and representatives of domestic and international agencies and organizations visited Rang Dong Plastic Pavilion on the opening day of the exhibition.
Rang Dong Plastic JSC has more than 60 years of experience in the field of complex packaging, serving the food processing, beverage, seafood, cosmetic and pharmaceutical industries. Rang Dong Plastic JSC not only introduced packaging products but also agricultural products such as agricultural films, greenhouse films, industrial applications such as Strech hood films, stretch films and many others and received positive feedback from interested visitors to its pavilion.
A representative of Rang Dong Plastic JSC said: "With the advantage of the standardized factory, imported technology and machines from advanced countries such as 5-7 layer blowing machines imported from Germany, 9 color printers imported from Italy and many other machines from Japan, Taiwan, Korea..., products of Rang Dong Plastic JSC have superior quality than the same products in the market. They also meets the standards of anti-mold, non-toxic, antioxidant, high physical impact resistance, anti-osmosis ... so they can create belief and satisfaction for the company's customers" .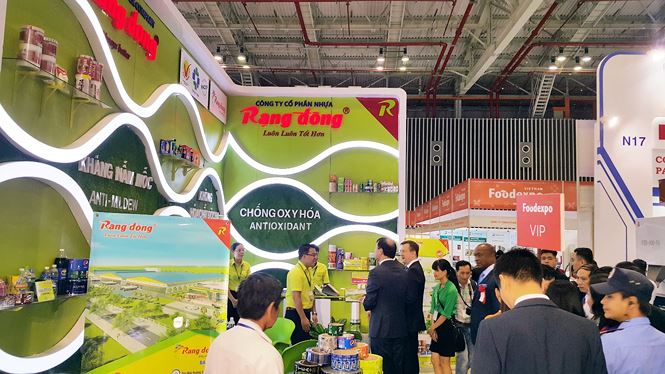 Thanks to the exhibition, Rang Dong Plastic JSC products have been known more and more by domestic and foreign clients, creating a strong driving force for the company to grow in both quantity and quality.
Rang Dong Plastic JSC is continuously developing its export markets to countries such as USA, Japan, Korea, Netherlands, Taiwan, Middle East, Nigeria, Thailand, Myanmar and other European countries. The company is aiming to "Build Rang Dong Plastic JSC into a leading brand in Vietnam, in the Asian region and the world in the field of thin film, imitation leather and soft packaging".