The business matching seminar was ended with more than 350 transactions, 15 trade tables with specific items in the field of food and beverages. There were 3 principle contracts negotiated at the seminar and about 81 potential transactions were further agreed after that such as appointments, business visits ... 45 other transactions were possible to develop business cooperation.
The Walmart Group (USA) is the most prominent company with hundreds of Vietnamese companies registered to meet. However, in order to become a supplier to this big retail giant, Vietnamese businesses need to comply and meet certain standards, including globally recognized certifications and some other conditions. Therefore, even at the seminar, Walmart could only choose to work directly with 28 suppliers. As a result, there were 10 potential partners that Walmart appreciated and were likely to become the official supplier for this group over the next 1-3 years. In addition, there were four other companies that could be considered on some directions of cooperation in the future.
Although Vinmart participate in the seminar for the first time, it attracted around 61 transactions for fresh food and processed food. Vinmart achieved good trading results with nearly 20 potential partners who could take deeper cooperative steps and be able to sign contracts. Even at the seminar, Vinmart also directly signed a contract with a company from Can Tho city.
SATRA participated in the program for many years. This year, SATRA needed to connect with suppliers of fast food, local good food and drinks. After the seminar, SATRA would select and work in detail with about 21 potential partners out of 50 transactions, 11 other partners to determine the direction for specific cooperation. Especially, at the seminar, SATRA discussed on principle contract with a company from Binh Phuoc province.
LOTTE has been a constant participant in the program over the past few years. This year, LOTTE welcomed about 40 businesses to trade dried food, fresh and non-food products. LOTTE representative said there were 5 potential partners and 13 possible partners. LOTTE continues to look forward to meeting with more partners, especially direct suppliers of related items.
At Vietnam Foodexpo 2017, Big C Vietnam (a member of the Central Group) made nearly 80 transactions, of which 13 potential partners could sign contracts, 1 company from Tay Ninh province directly signed a principle contract with Big C.
Participating in the seminar, CJ Cau Tre (a member of CJ Vietnam) had about 25 in-depth deals. CJ Cau Tre has scheduled to visit 6 Vietnamese factories to discuss more specifically to sign contracts to buy products. 3 other suppliers will be considered by CJ Cau Tre for futher specific for the mutual benefits of the stakeholders.
From the United States, LB International Foods is a purchaser of items: fresh fruits, frozen fruits, dried fruits, juices, cashew nuts, black tea. It received the greatest attention of suppliers and manufacturers in Vietnam. However, according to LB, many Vietnamese manufacturers have not met the basic requirements to access the US market such as FDA, AMCHAM Test, GAP. According to the report, LB International Foods made about 33 transactions, of which 6 potential partners could come to the contracts and 7 partners could be considered for future cooperation.
For the first time at Vietnam Food Forum, PIRIZONfrom Myanmar was one of the importers who received great attention from Vietnamese food and drink suppliers. Myanmar is a potential new market with Vietnamese businesses. The import standards of this market are considered by PIRIZON to be not high and suitable for Vietnamese companies. PIRIZON is the company having the longest transaction time at the seminar and appreciated the connection efficiency of the program. PIRIZON also expressed their desire to participate in seminar held next year.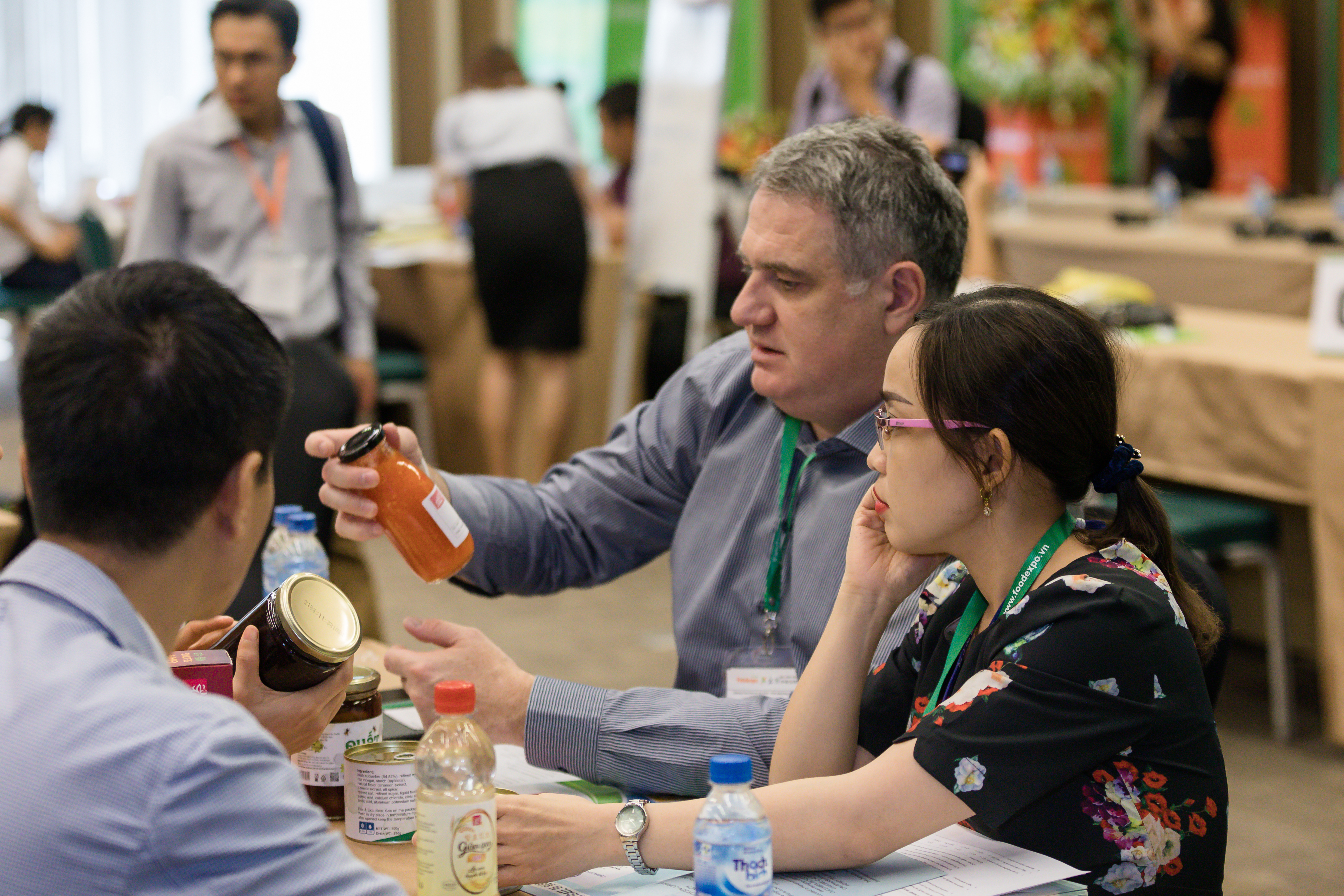 GLOBEX is a buyer from Canada with about 15 transactions. Although the number of transactions was not high because GLOBEX limited its purchasing need on coconut products, but GLOBEX expressed deep thanks to the organizing committee for thoughtful arrangement of the trade program to provide opportunities for them to connect with suppliers in Vietnam. At present, the company is purchasing similar products in Sri Lanka but looking for suppliers in Vietnam as well with products of similar quality but more competitive price. This company also wants to be matched with other Vietnamese suppliers by the Organizing Committee after the seminar, especially with coconut and nuts businesses. According to the report, GLOBEX could sign contracts with two Vietnamese suppliers right after the seminar.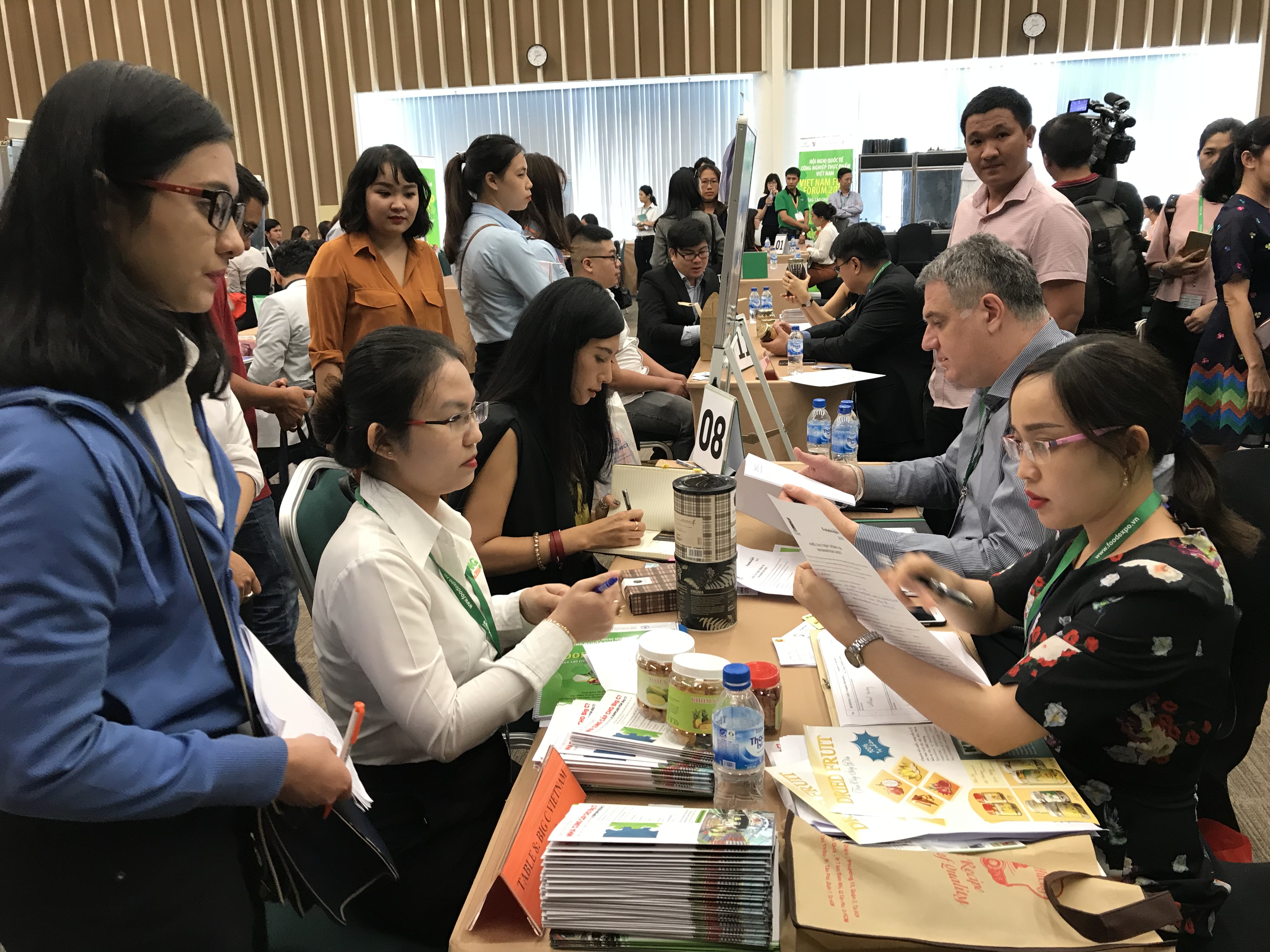 All Vietnamese businesses attending the seminar appreciated the effectiveness of the program in connecting and creating opportunities for them to introduce their products and opening the potential for cooperation with supermarkets, purchasing groups at home and abroad; At the same time, it is expected that commercial transaction seminars will continue to be held so businesses can expand their access to importers and supermarkets.