"In order to achieve the objective of sustainable development of the industry, the Ministry of Industry and Trade has coordinated with other ministries, industries, associations, organizations and companies to focus on many activities, implement solutions particularly in the market development, product quality improvement, brand building and development in order to incrementally increase the export value of Vietnamese food on the world market, "said Do Thang Hai, Deputy Minister of Industry and Trade at the Vietnam Food Forum 2017, which took place on November 16th 2017 in Ho Chi Minh City.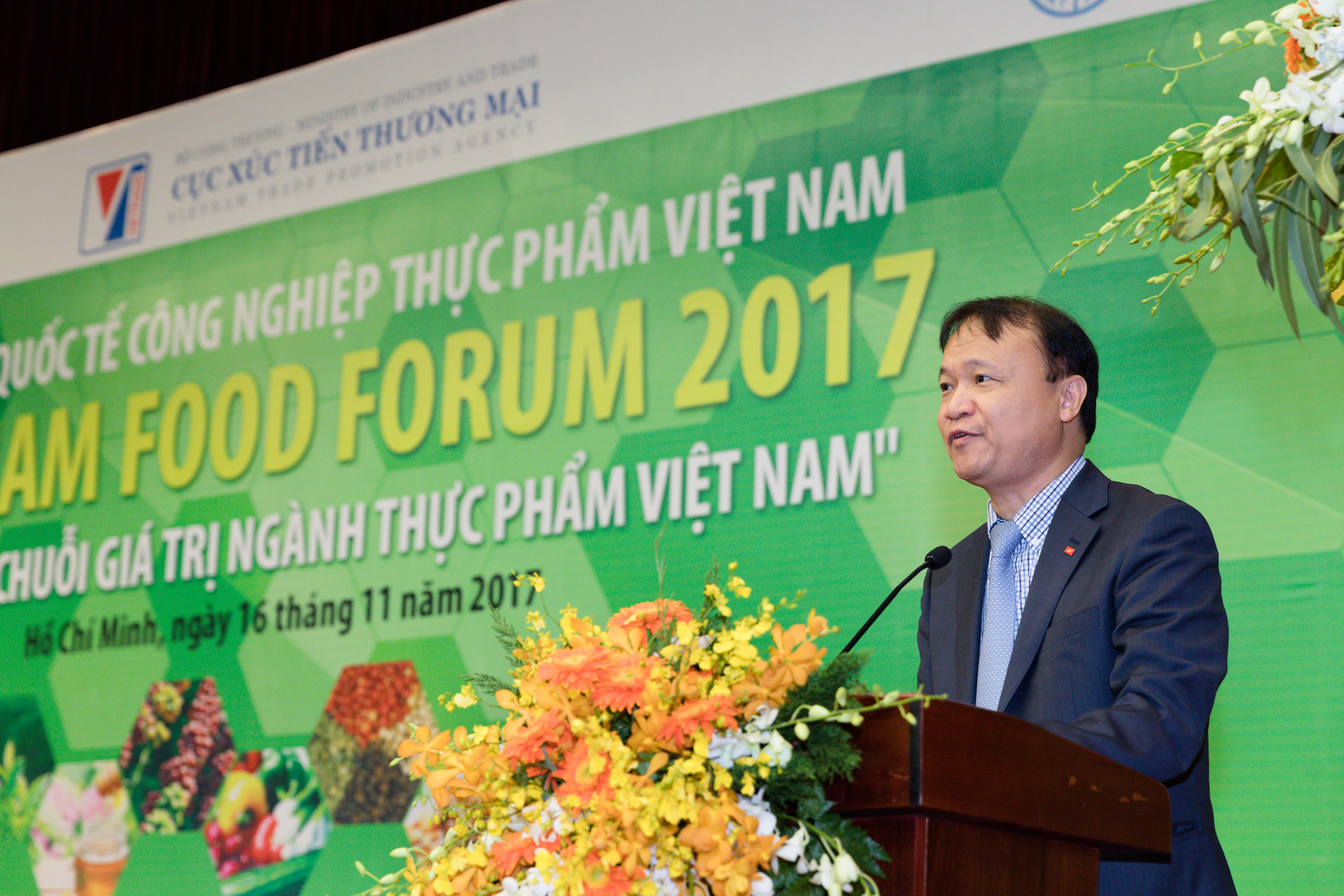 Deputy Minister of Industry and Trade Do Thang Hai addressed at the forum
According to the market research company Nielsen, global consumers in general and Vietnam expect higher and higher for quality and prestigious food products. Le Ngoc Bao Tram, Senior Manager, Retail Measurement Group of Nielsen, said that with the improvement in economic life, the middle class consumer in Vietnam was increasing in number and demand who had demands on experiencing new products, branded products, paying more attention to healthy products. In fact, "organic", "detox" and "home-made" food products were topping the list of topics discussed on social networks.
In the context of deep international economic integration and increasingly complex competitive environment, many Vietnamese companies operating in manufacturing, processing and trading in the field of food indusstry are well aware of the importance of continuous improvement of internal force, technical improvement, application of advanced technology to renovate and upgrade the product quality to reach and meet more diverse needs of consumers.
In recent years, Vietnam's food industry has emerged as a good example of the creation, development and launch of high value-added products. Vinamilk, for example, is promoting the organic trend in FMCG; Heineken Vietnam grasps the trend of new products by introducing the Cider product line emerging in the world market for use in the Vietnamese market. There are companies that merely change to more attractive design or packages more also cause negative revenue growth last year turn to positive growth this year. However, there are still a large number of Vietnamese companies still struggling to find the market for products in the form of raw materials or raw processing, not really deeply invest to raise added value for products. In fact, the export of agricultural products and foodstuffs of Vietnam has increased over the years, but the raw products still account for nearly 90% of the total turnover.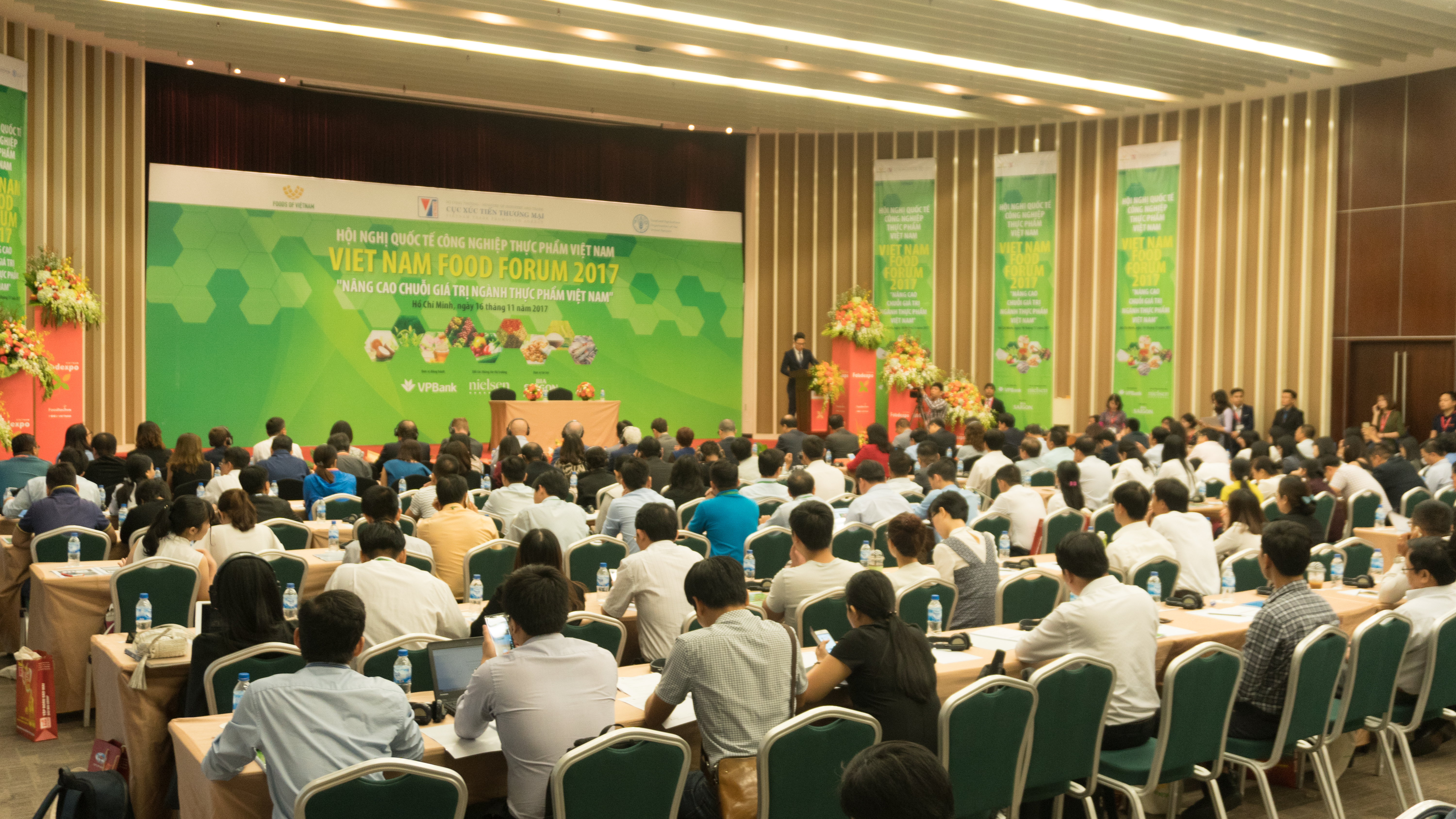 Conference Scene
Mr. Nguyen Trung Anh, R & D Director of PAN Group, said: "To enhance the position of Vietnamese food, each member participating in the food supply chain from farmers, producers, distributors needs to make every effort to create products with stable and safe quality to meet the needs of consumers. Especially it is essential to have good cooperation between the members in the chain.
With many years of experience researching and developing the food market, Leon Truji of Colombia's Nation Mark said that in parallel with product development, Vietnam's food industry needs join forces to build a national food brand to increase awareness of the world with Vietnamese food. And that the Ministry of Industry and Trade (Vietnam Trade Promotion Agency) recently focused on building and promoting the activities of the National Food Brand Program is one of strategic directions, consistent with the current situation and future development trend of Vietnamese industry.