Gathering the largest number of professionals, businesses, investors in the food industry
"The Vietnam Trade Promotion Agency (VIETRADE) - Ministry of Industry and Trade (MOIT) has been mobilizing the involvement of the entire Vietnamese trade offices abroad, closely collaborating with domestic and international business support organizations, 63 provinces and cities nationwide and food business community to continue to hold the 3rd Vietnam International Food Industry Exhibition ", said Mr. Bui Huy Son, Director General of Vietrade - the exhibition organizer.
Although there are nearly 3 months until the exhibition, but according to the event organizer, 400 businesses from 18 countries and territories have registered to exhibit at 600 booths on a total area of ​​13,000 square meters. Among whom there are many well-known companies in the food industry. Thousands of domestic and international visitors, importers, wholesalers, retailers ... have also made appointments to visit the exhibition via online and offline registration channels of the exhibition.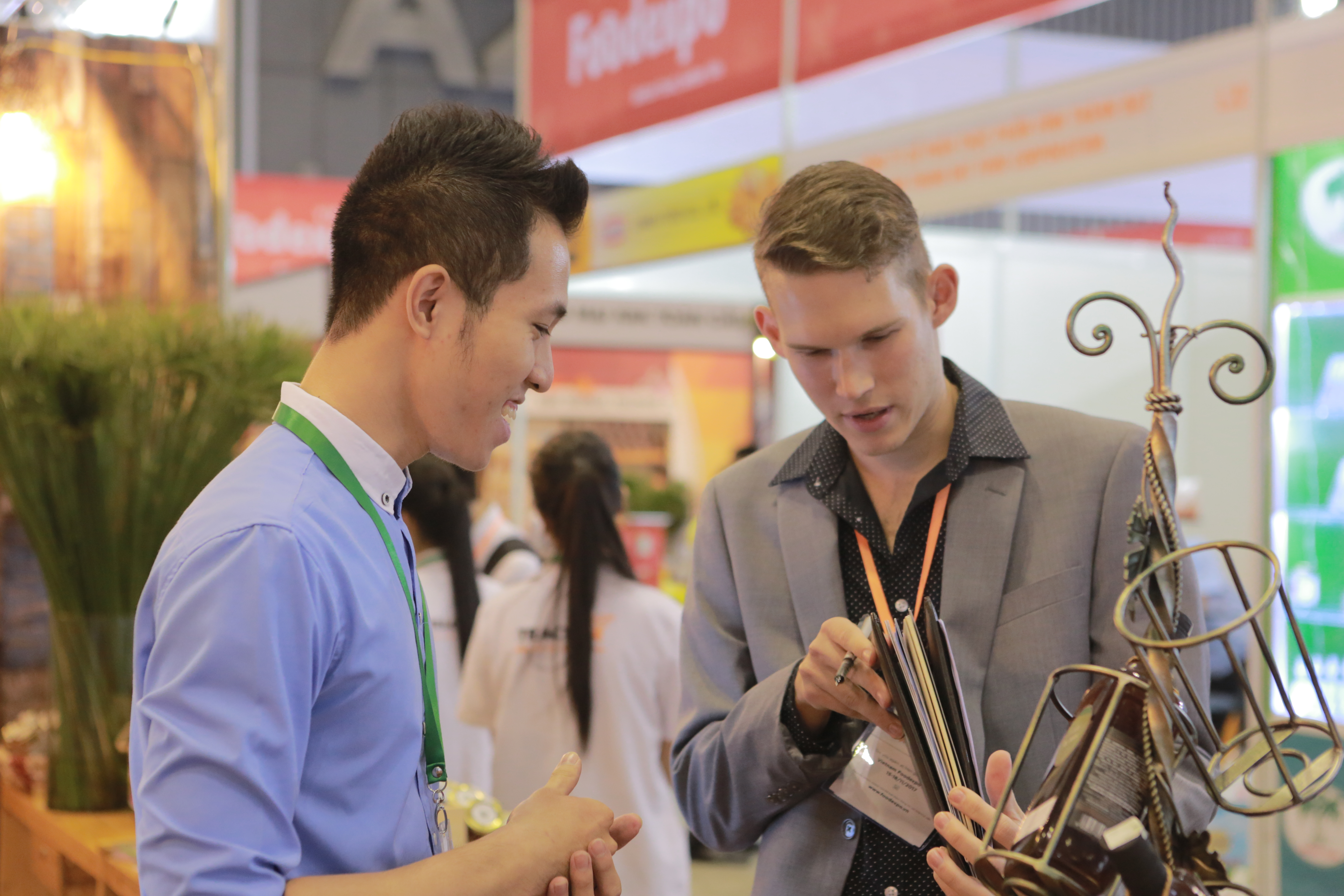 A panorama of Vietnamese food supply
Vietnam Foodexpo is considered by many experts as the most comprehensive exhibition in the food industry, with the presence of thousands agricultural products and food brands all over Vietnam, from raw materials to deep-processed products with high added value. In particular, Vietnam Foodexpo is also a place where visitors can experience the colorful world of Vietnamese tropical food, among which there are some ranked as top exports in volume in the world; learn about the thriving supply capacity of Vietnamese companies; simultaneously expand business and investment opportunities.
In the upcoming edition, booths at Vietnam Foodexpo will continue to be arranged scientifically into sub-sector regions, covering a total area of ​​10,000 m2 of SECC floor, including: Fruit and vegetables (fresh, dried, canned, frozen); Seafood (frozen, canned and processed); Beverages (beer, drinks); Tea and coffee; Food ingredients (rice, nuts, spices, additives, sauces ...); Processed foods (confectionery, milk, dairy products, canned and processed foods, healthy foods); Food processing technology equipment. Visitors can easily and conveniently look for items on demand.
Valuable trade promotion channel of the food industry
Not only contributing to the overall presentation of the dynamic development of the Vietnamese food industry, actively promoting strengths, images and brand communication for businesses, products and services in the food industry, Vietnam Foodexpo also facilitates the access, expansion and development of domestic and foreign consumption markets by match-making business with promising wholesalers, retailers, importers and investors. At the same time, throughout the years, the exhibition has been motivating companies to innovate technology, increase productivity, quality, safety in production, processing and trading of agricultural products, food and beverage.
"Through Vietnam Foodexpo, we can meet more partners, sign valued contracts and develop new distribution channels beyond the domestic market. This year, our company also booked two special designed booths right from the first opening day for registration of the exhibition", shared Ms. Nguyen Phuong Linh - Director of Bonie Bee Co., Ltd.
Mr. Luu Quoc Dung, Director of Organic Dragon Fruit Co., Ltd of Binh Thuan province, visited the Vietnam Foodexpo last year. "I had the opportunity to see many kinds of advanced machines and equipment of the world right in Vietnam, instead of having to go abroad to search for. At the same time, I could better understand the trends of vegetable production in Vietnam and in the world. This helped our business have a clear orientation in developing internal capabilities to enhance market competitiveness. "
In addition to business match-making activities for businesses and entrepreneurs at the exhibition, there will be a series of trade promotion activities on the sidelines of the exhibition such as: Vietnam Food International Conference 2017, Sai Gon International Cooking Contest 2017, Business Cooperation Contract Signing Ceremony, Culinary Shows, Vietnam Foodexpo 2017 Impression Award...