This is contributing to boost the domestic food market to develop healthily, better serving the needs of domestic consumers for quality, hygienic and improved goods; simultaneously promote Vietnam gradually to emerge in the world market as a diversified food supply.
In the face of the above trends, the Vietnam International Food Industry Exhibition – Vietnam Foodexpo – was launched in 2015. It has actively accompanied annually with businesses since then, and become a value bridge between local producers and traders of agricultural products and foodstuffs with foreign importers, distributors, traders and investors. At the same time, Vietnam Foodexpo has been also a good platform for domestic businesses to explore opportunities for mutual cooperation.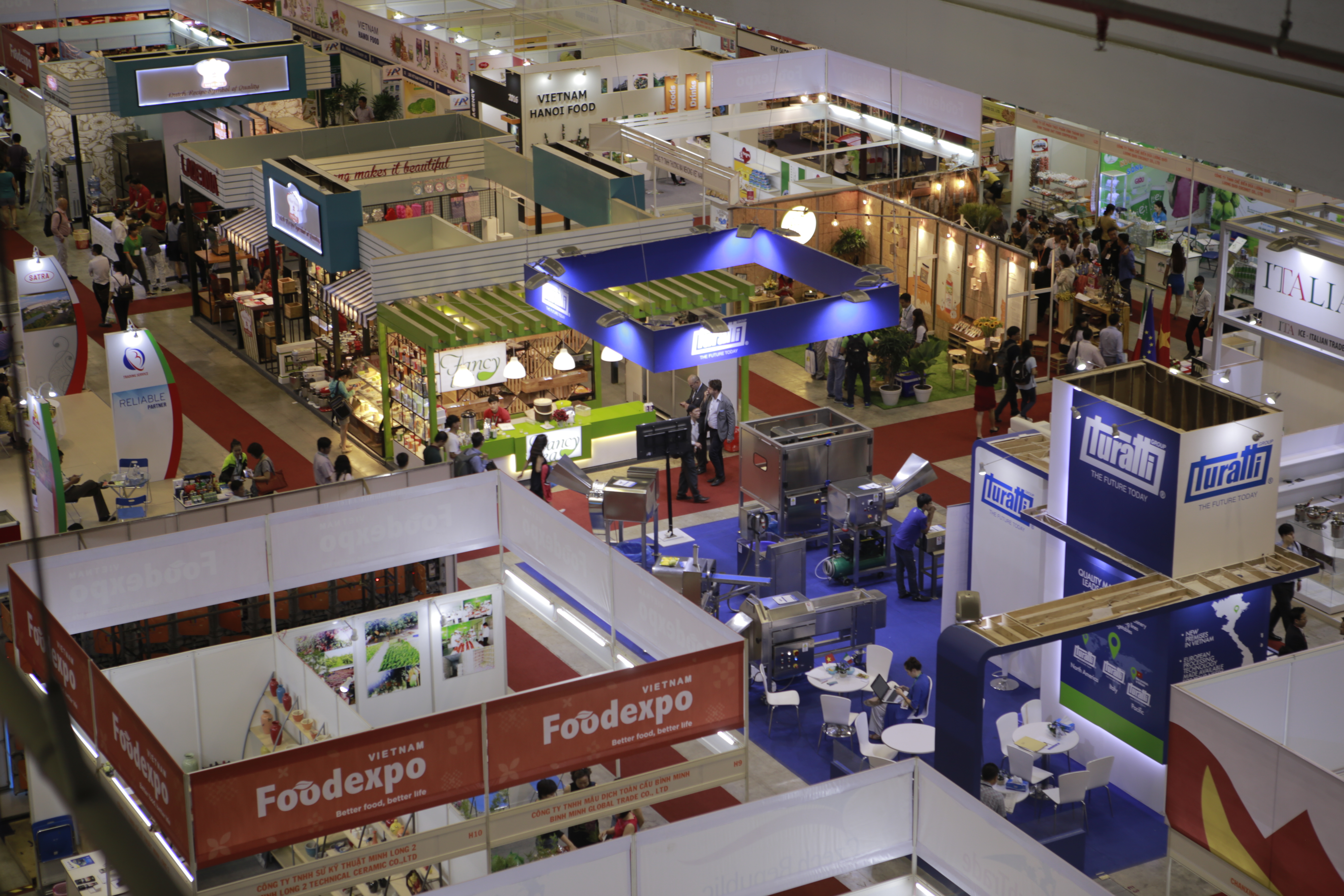 A corner of Vietnam Foodexpo 2016 viewed from above
Luong Quoi Co., Ltd is one of many Vietnamese companies who have been participating in all Vietnam Foodexpo editions to date. Mr. Nguyen Truong Thinh – Sales Deputy Director of the company shared: "After each time participating in Vietnam Foodexpo, our company has been able to increase the number of customers as well as annual sale revenue in the domestic market and export. The exhibition has also motivated us to develop and introduce high quality products from Ben Tre coconut basing on modern technology. "
Mr. Bui Huy Son, Director General of the Vietnam Trade Promotion Agency (VIETRADE), representative of Vietnam Foodexpo organizing board, said that in this year's edition, from November 15th - 18th 2017 at Saigon Exhibition and Convention Center SECC), District 7, Ho Chi Minh City, Vietnam Foodexpo will have many innovations to continue to demonstrate its important gateway role in helping visitors, investors, customers in and outside the country to quickly and effectively approach potential partners with good products, while gaining insights into emerging trends in the domestic and international food industry.
Vietnam Foodexpo 2017 will optimize its display space to gather thousands of experts in the industry, hundreds of exhibitors who have good products, fast and practically meet the increasing demand of consumers in and out the country. In particular, the exhibition encourages exhibitors to develop and introduce new products, innovative products with unique designs, high processing levels, useful value to consumers and society, Mr. Son shared.
According to the organizers of the exhibition, up to now, many Vietnamese and foreign food and beverage companies have registered to appear on this one approaced trading platform to introduce products, promote food brands and look for prospective business and investment opportunities. Among them are famous food brands such as Quang Ngai Sugar, Vinasoy Milk, Thach Bich Mineral Water, Sabeco Beer, Habeco Beer, Sa Giang Food, Tan Nhat Huong Food, Dong Giao Food, Bibica Confectionery, Hai Ha Kotobuki Confectionery, Nam Phuong Fish Sauce, K-Coffee, Phuc Sinh Coffee, Tien Giang Tigifood, VinEco, Mekong Fisheries, CJ- Cau Tre, Vedan Vietnam ...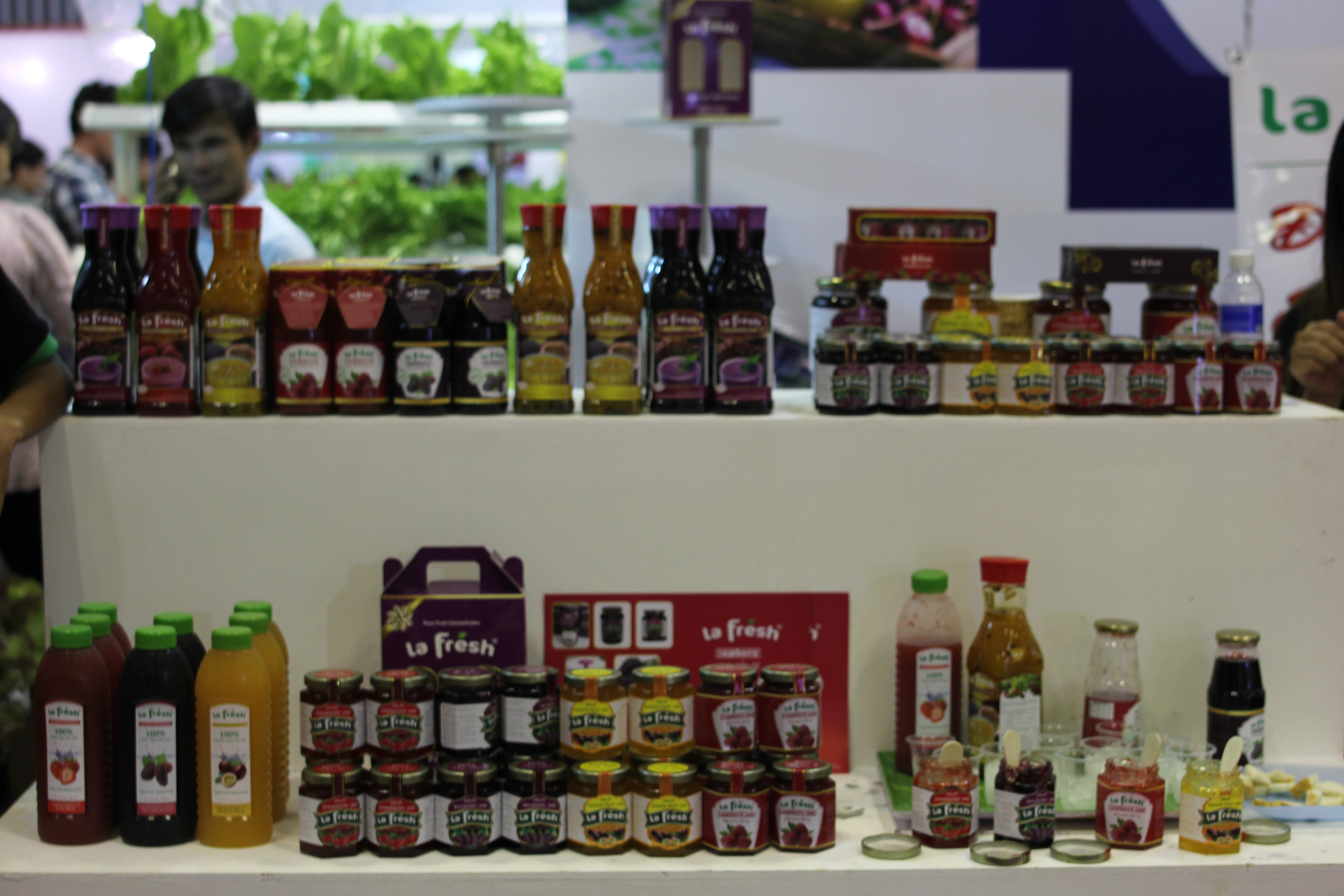 Products displayed at a booth at Vietnam Foodexpo 2016
Vietnam Foodexpo 2017 will be a gathering place for a comprehensive display of all aspects of the food industry's inputs and outputs, creating diverse trade opportunities.
Attending the exhibition, visitors can easily and conveniently experience a wide variety of food items at scientifically-segmented display areas: Vegetables (fresh, dried, canned, frozen ); Seafood (frozen, canned and processed); Beverages (beer, water); Tea and coffee; Food ingredients (rice, nuts, spices, additives, sauces ...); Processed foods (confectionery, milk, dairy products, canned and processed foods, processed foods, healthy foods); Food processing technology equipment.
In parallel with the trade show and business match-making activities, Vietnam Foodexpo 2017 will feature a series of conferences and seminars on hot topics in the food industry, Saigon International Cooking Contest, Contract Signing Ceremony, Vietnam Foodexpo 2017 Awards, etc.