Speaking at a seminar on the strategy for branding Vietnam's food industry, held in Hanoi June 2017, Mr. Tran Quoc Khanh, Deputy Minister of Industry and Trade, affirmed: "The food industry is one of the great potential industries of Vietnam, not only meets domestic demands but also exports to many countries in the world. Vietnam's food is gradually being recognized and creating a good image in the world".
The Ministry of Industry and Trade has presided over the annual Food Industry International Exhibition (Vietnam Foodexpo) since 2015. The exhibition is a typical trade promotion activity for Vietnamese food industry, contributing to the recognition and consumption of Vietnamese agricultural products and food more widely on the world's dining tables.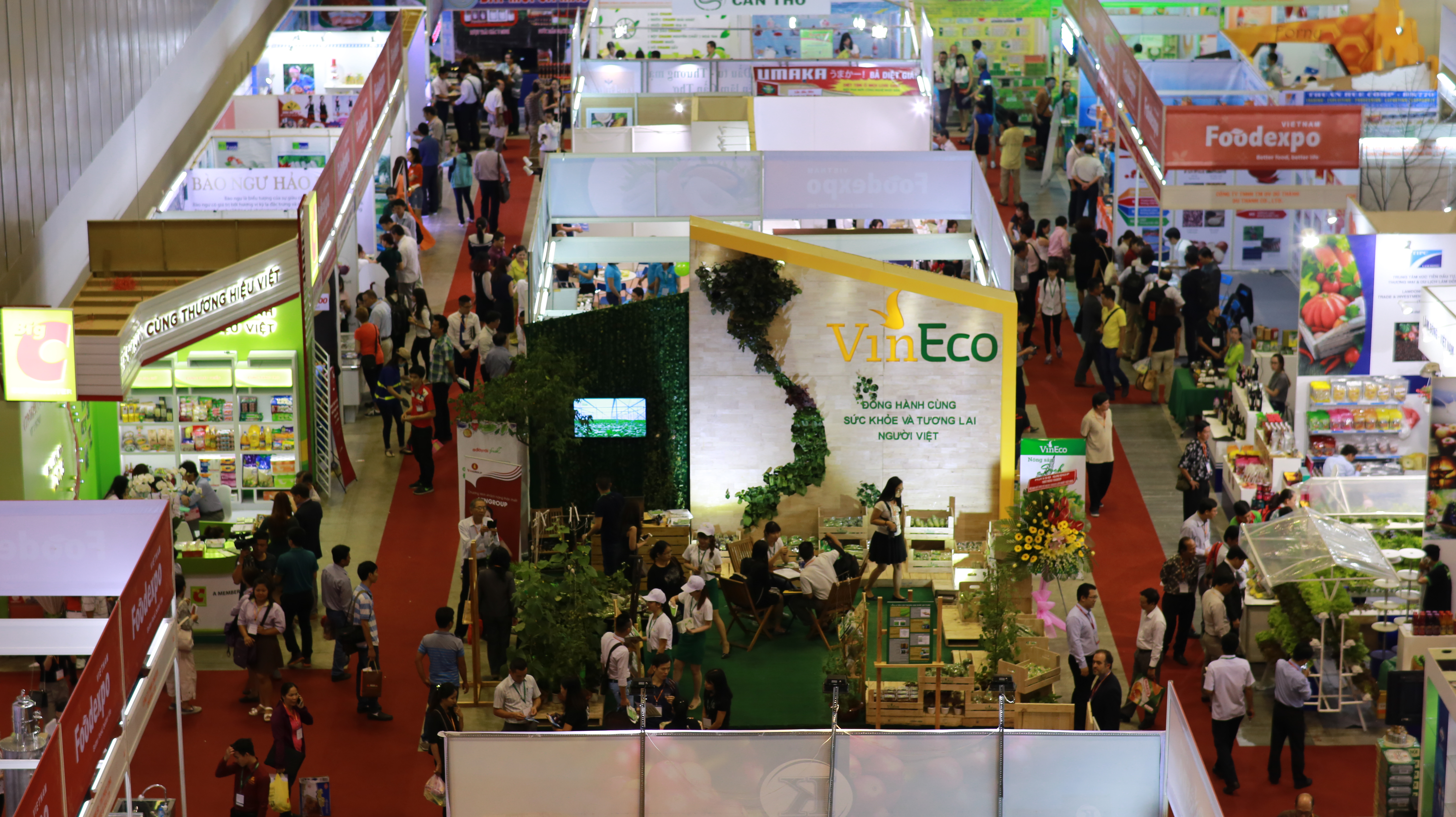 A corner of Vietnam Foodexpo held in 2016
This year, more than 400 food and agricultural suppliers will be exhibiting at nearly 600 booths of Vietnam Foodexpo 2017 - the largest international trade event in the Vietnamese food industry of the year, taking place from November 15th – 18th 2017 at Saigon Exhibition & Convention Center (SECC), District 7, Ho Chi Minh City.
Mr. Bui Huy Son, Director General of the Vietnam Trade Promotion Agency (VIETRADE) who is assigned by the Ministry of Industry and Trade to organize the exhibition, said: "With its confirmed prestige, Vietnam Foodexpo has become the most comprehensive one-stop trade platform, with thousands of agricultural products and food brands all over Vietnam, from raw materials to deep-processed products with high added value. In particular, Vietnam Foodexpo is also a place where visitors can experience the colorful world of Vietnamese tropical food, among which there are some ranked as top exports in volume in the world; learn about the thriving supply capacity of Vietnamese companies; simultaneously expand business and investment opportunities.
In the upcoming edition, booths at Vietnam Foodexpo will continue to be arranged scientifically into sub-sector regions, covering a total area of ​​10,000 m2 of SECC floor, including: Fruit and vegetables (fresh, dried, canned, frozen); Seafood (frozen, canned and processed); Beverages (beer, drinks); Tea and coffee; Food ingredients (rice, nuts, spices, additives, sauces ...); Processed foods (confectionery, milk, dairy products, canned and processed foods, healthy foods); Food processing technology equipment. Visitors can easily and conveniently look for items on demand.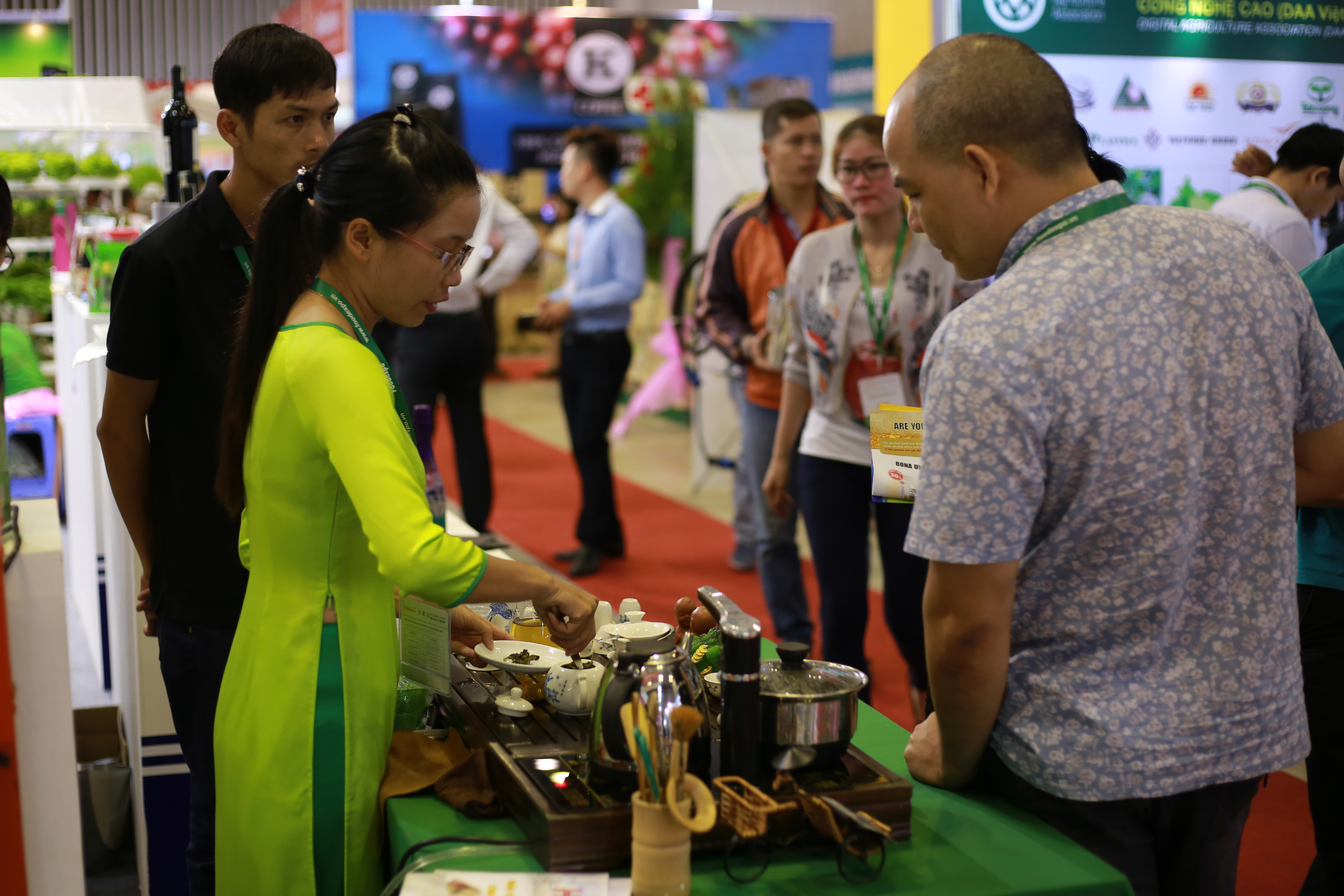 Thousands of valuable transactions were made at Vietnam Foodexpo
Vietnam Foodexpo 2017 will recognize the return of big names in Vietnamese food industry such as Quang Ngai Sugar, Hanoi Beer, Sai Gon Beer, Lafooco, Bibica, Hai Ha Kotobuki Confectionery, Dong Giao Food, Sa Giang Food, Tan Nhat Huong Food, Nam Phuong Fish Sauce, Mekong Seafood, K-Coffee, Phuc Sinh Coffee, Thach Bich Mineral Water, Vinasoy Soya Milk, Tien Giang Tigifood, VinEco Vegetables... At the same time, a large number of small and medium companies operating actively in the industry and start-ups who have strategic thinking and have invested seriously to bring Vietnamese agricultural products and foodstuffs to the world market will not miss the chance of being present at the Vietnam Foodexpo 2017 to showcase key and highly competitive products. In addition, many provinces and cities across the country will also bring to the exhibition their typical local agricultural products and food.
Not only focusing on traditional display activities, Vietnam Foodexpo 2017 will also effectively support trade exchange, investment promotion, distributor and importer match-making activities in order to create the most favorable conditions for foreign and domestic visitors to the exhibition.
In 2016, Vietnam Foodexpo received thousands of potential buyers from 38 countries and territories, including many key export markets of Vietnamese agricultural products and foodstuffs such as America, EU, China, Northeast Asia...
Mr. Philippe Kechichian, a businessman from Portugal said: "At Vietnam Foodexpo, I was able to select Vietnam's most prestigious businesses and products, learned about their factories, production capacity and concluded purchasing agreements".