It is known that Luong Quoi Coconut Processing Co., Ltd joined Vietnam Foodexpo in 2015, 2016 and now continues to register for the exhibition held in 2017. Can you tell us the reason why Luong Quoi has decided to participate in Vietnam Foodexpo?
Luong Quoi Co., Ltd specializes in processing valuable products from Ben Tre coconuts. These are special food products that are unique, convenient in use and beneficial for the health of consumers. Our company always focuses on and looks forward to seeking opportunities to promote our brand, brings the company's products to consumers faster, contributing to the development in the domestic and foreign markets.
Vietnam Foodexpo is a large exhibition, held professionally by international standards, brings together many leading enterprises in the food industry in Vietnam, attracting the attention of businesses in the industry as well as customers domestically and internationally.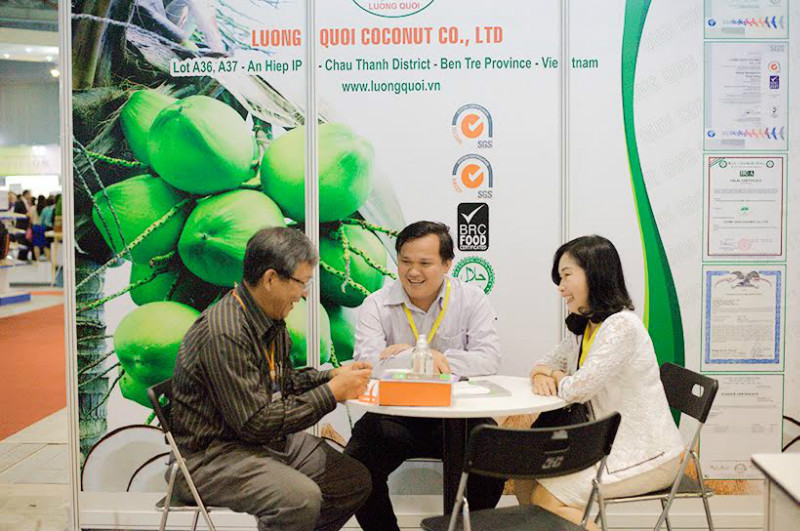 Luong Quoi Co., Ltd's Booth at Vietnam Foodexpo 2016
Being present at Vietnam Foodexpo for the first time right its first edition in 2015, Luong Quoi's booth attracted the attention of both local and foreign companies, brokers, distributors and importers in the industry. In addition, the company also had the opportunity to meet and exchange directly with final consumers to receive evaluations, with view to completing and diversifying our products in relevance to timely consumption trends. After each time joining Vietnam Foodexpo, Luong Quoi Co., Ltd could increase the number of customers as well as sales revenue. Our company has realized that Vietnam Foodexpo fully meets the desire of our company. With these positive results, our company will continue to be present at Vietnam Foodexpo 2017.
Could you share your plan to join Vietnam Foodexpo 2017?
Beside the products which have become familiar with and trusted by customers, we will introduce 2 new products at Vietnam Foodexpo 2017. They are coconut water and Tetra pak canned coconut milk. These products are manufactured under modern technology researched and invested n by Luong Quoi Co., Ltd, with aim to bringing customers with products that are kept for freshest flavor, conveniently packaged and environment friendly.
In 2017, Luong Quoi Co., Ltd has decided to rent two booths in the exhibition area and prioritizes the open booth design to maximize space for product display, while ensuring sufficient space to trade with a big quantity of visitors. In parallel with the retail customer groups, we continue to target our customers as wholesalers, distributors, HORECA channel customers, etc., and focus on businesses who have the import demands of coconut products.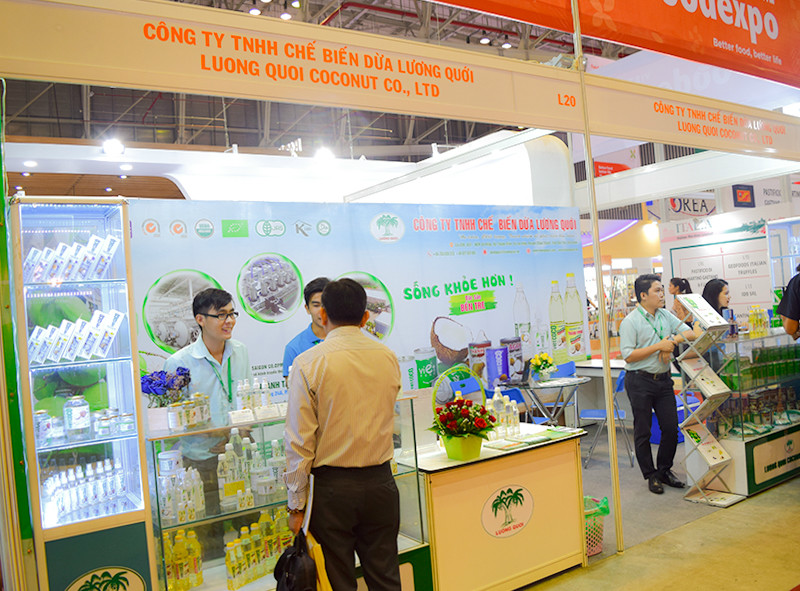 Two-sided open booth of Luong Quoi Co., Ltd
What do you think Vietnam Foodexpo 2017 needs to do to continue to bring practical values to businesses?
We would like Vietnam Foodexpo 2017 to inherit the existing advantages and promote more professionalism, contributing to create a favorable trade promotion environment for businesses in the food industry in Vietnam in general and Luong Quoi Coconut Processing Company Limited in particular to directly meet with potential partners to introduce products, promote brands and expand markets.
It is recommended that the Vietnam Foodexpo's Organizing Board continues to actively contact overseas Vietnamese Trade Offices / Embassies to expand the presentation of the exhibition and to invite more overseas food distributors, potential partners to visit and interact with Vietnamese businesses at the exhibition, thus helping them to have better access to their export partners.
Thank you, Sir!