This important event has international stature, comprising not only Vietnamese exhibitors from more than 30 provinces / cities nationwide but also a great deal of foreign exhibitors from 15 countries and territories.
Many experts in the food industry say, "The easy and effective way to develop the local market and bring Vietnamese food overseas is to appear at Vietnam Foodexpo."
In 2016, the exhibition attracted the participation of 402 exhibitors with thousands of food brands from 16 countries, hundreds of correspondents of news agencies and more than 10,000 domestic and foreign visitors. Vietnam Foodexpo this year continues to maintain its large scale with 600 booths with a total exhibition area of ​​up to 10,000 m2.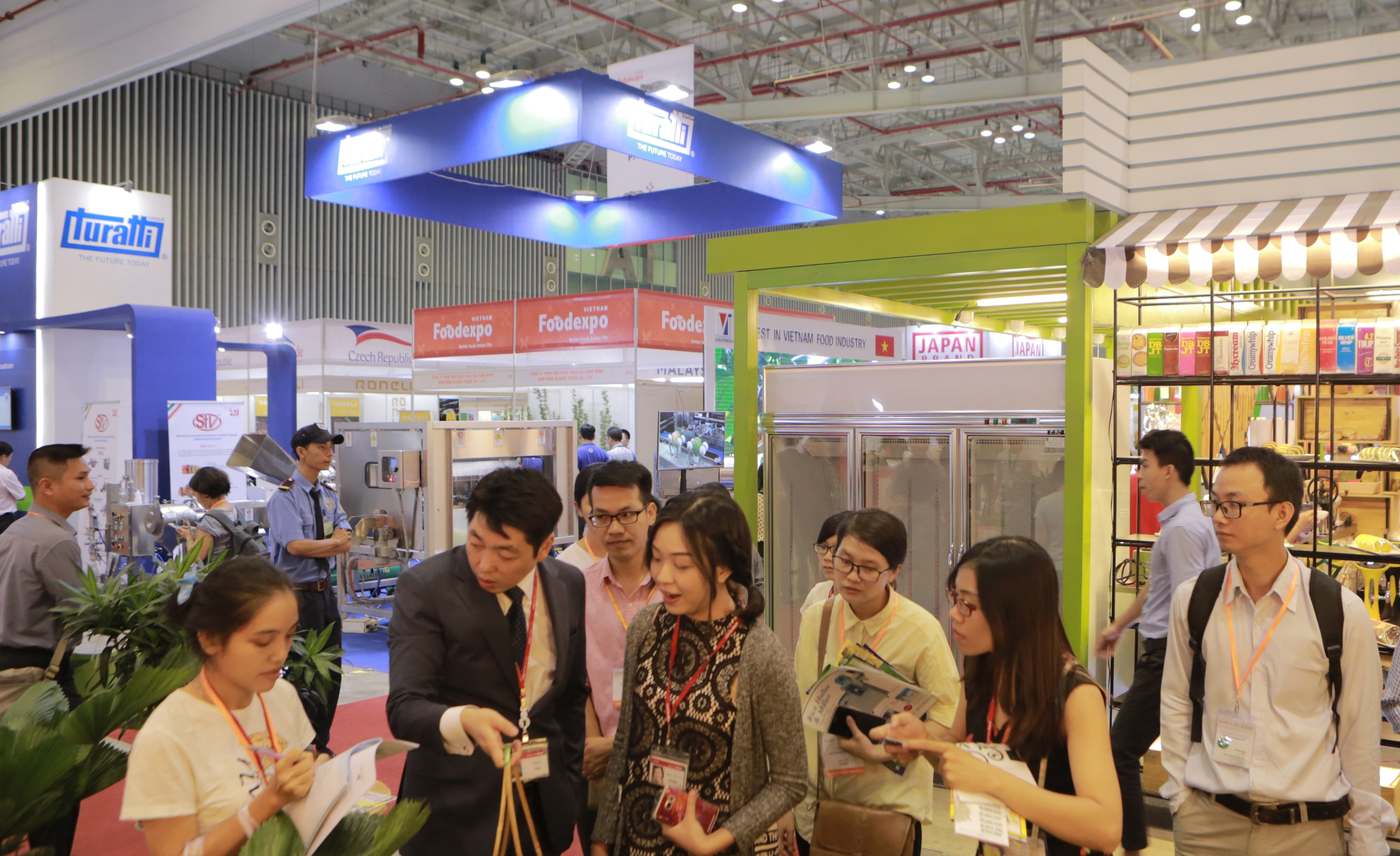 One corner of Vietnam Foodexpo 2016
Although there's plenty time until this year-end when Vietnam Foodexpo will be held for the third time, the exhibition has attracted a considerable number of small and large local and foreign food brands to book for their booths. Vietnam Foodexpo has become a familiar exhibition brand to many delegations of visitors, who are foodstuff purchasers at home and abroad. One of the many reasons why Vietnam Foodexpo always has a special attraction is that it is organized professionally and has proved to be the largest and most comprehensive showcase of the food industry of Vietnam – an emerging country in the world for abundant food supplies.
Mr Bui Huy Son – Director General of the Vietnam Trade Promotion Agency (VIETRADE), representative of the exhibition Organizing Board said: "Businesses can easily find and identify the movement trends of the food industry in Vietnam at this big international event. VIETRADE has been carrying out a series of activities to invite domestic and foreign distributors, importers, wholesalers and retailers to the exhibition. Therefore, we are confident that with the quality and prestige affirmed over the years, Vietnam Foodexpo 2017 will bring more opportunities for displaying, introducing and exchanging products, meeting, business matchmaking between Vietnamese exhibitors and food partners nationally and internationally".
Exhibition areas at Vietnam Foodexpo 2017 will be arranged on the subject lines, including: Vegetables (fresh, dried, canned, frozen); Seafood (frozen, canned and processed); Beverages (beer, beverage); Tea and coffee; Food ingredients (rice, nuts, spices, additives, sauces ...); Processed foods (confectionery, milk, dairy products, canned and processed foods, processed foods, healthy foods); Food processing technology and equipment.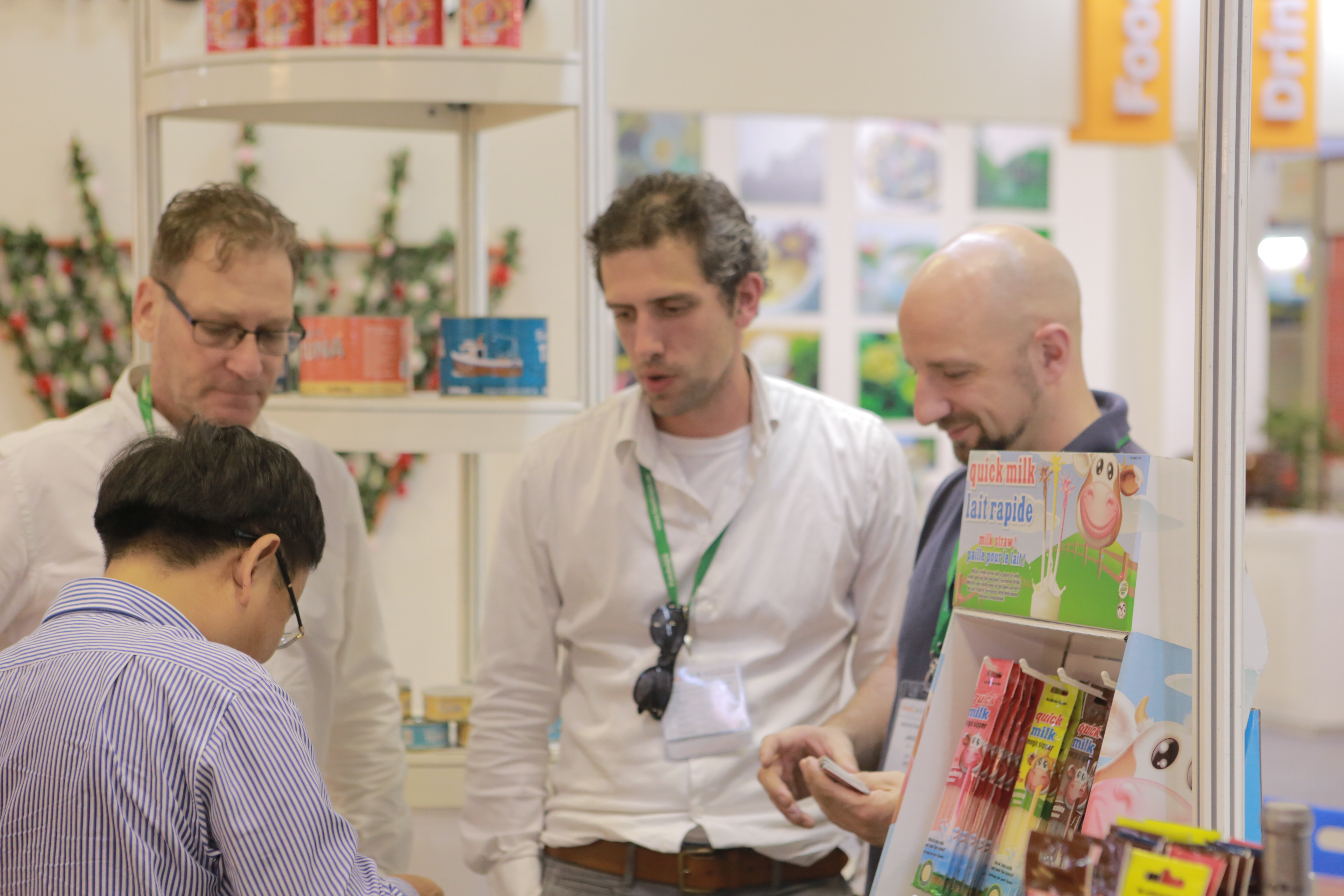 A transaction at Vietnam Foodexpo 2016
Organized in the framework of the National Trade Promotion Program 2017, Vietnam Foodexpo 2017 offers a number of incentive policies on booth costs and effective communication supports for local exhibitors. Therefore, many small and medium companies of the domestic food industry will be able to participate favorably, taking advantage of this prestigious exhibition to demonstrate their creativity and supply capacity before an abundant sources of visitors. Businesses also have the opportunity to meet and cooperate with larger ones to expand the market for their products.
"Attending Vietnam Foodexpo has given us more information on the food industry in general and the industry we trade in particular. Thanks to the exhibition, we also met many partners, signed valuable contracts and developed new distribution channels beyond the domestic market. This year, our company booked two special designed booths right on the first day the exhibition was announced for registration", shared Nguyen Phuong Linh - Director of Bonie Bee Co., Ltd.
According to the exhibition program, there will be a series of trade promotion activities on the sideline, such as the International Conference on Vietnam Food Industry (Food Vietnam 2017), Saigon International Cooking Contest 2017, Specialized business match-making programs, Business cooperation contract signing ceremony, Culinary shows, Certification Ceremony of "Vietnam Foodexpo 2017 Impression Award" ...