Organizer: Could you share about the highlights of Streamer Compact?
Costanza Frezzato: This is a spinning machine model of spirulina from vegetables that allows the transformation of vegetables, tubers and fruits into healthy vegan noodles, a new hot trend that is beginning to spread in the world food industry.
Continuously for 4 days at the exhibition from 15-18 /11/2017, at the booth number E9-16, Turatti Group have performed directly to many visitors how to spin vegetables, fruits , make up the delicate noodles, with a thickness of about 1mm or as flat as flat yarn. With this state-of-the-art device, the Turatti Group affirms to be able to create endless combinations of super-fine fiber shapes for a variety of products such as carrots, sweet potatoes, potato roots, turnips, watercress, pumpkin, etc.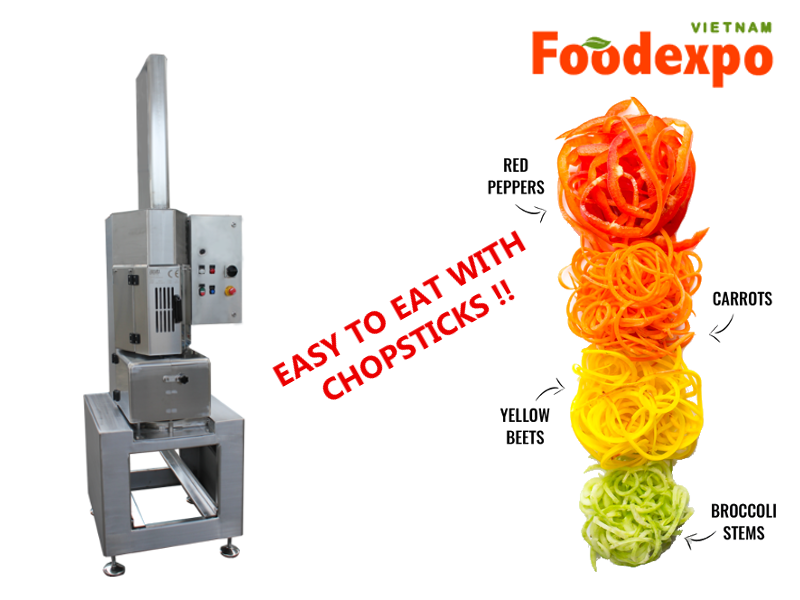 Organizer: In addition to the Streamer Compact, what activities will Turatti have in Vietnam Foodexpo 2017?
Mr. Costanza Frezzato: Along with noodle machine for vegetables, roots and fruits, Turatti Group also brings to Vietnam Foodexpo 2017 other modern agricultural products, such as mango peeling machine, vegetable cutting machine, vegetable washing machine, fruit and vegetable packaging machine ... After a thorough market research, Turatti has found that these machines respond very well to the increasing demands of Vietnamese agro-food companies.
Organizer: Can you share about Turatti's results from participating in Vietnam Foodexpo?
Costanza Frezzato: The Turatti Group has participated in Vietnam Foodexpo for two consecutive exhibitions in 2016 and 2017. The exhibition is where the Group is able to access the fastest and most convenient food businesses in Vietnam and the Asia-Pacific region to introduce the company's advanced agricultural machinery and food processing technologies. In both editions of Vietnam Foodexpo, Turatti has achieved great results and is especially impressed by the number of visitors who are highly interested in our machines on display at the exhibition.
Along with Turatti, at this year's Vietnam Foodexpo, many companiess from other foreign countries and Vietnam introduce thousands of domestic and foreign modern machines, equipment and products, to produce and process food products of high quality, high added value and competitive prices, assist Vietnamese agricultural and foodstuff companies in developing sustainable exports in the context that the country's economy is deeply integrated into the global economy. The exhibition is an effective way for food processing companies in Vietnam to approach and study efficient experience of the competitive production and demanding markets of the world.