To "go ahead", at the Vietnam International Food Industry Exhibition 2016 (Vietnam Foodexpo 2016) held from November 16th - 19th 2016 in Ho Chi Minh City city, 32 Italian businesses joined to introduce products, did business match-making and find partners... Besides 11 wine companies, there were many companies engaged in production and processing of food such as pasta, mushrooms, cheese, coffee, bacon and those in food machinery and technology.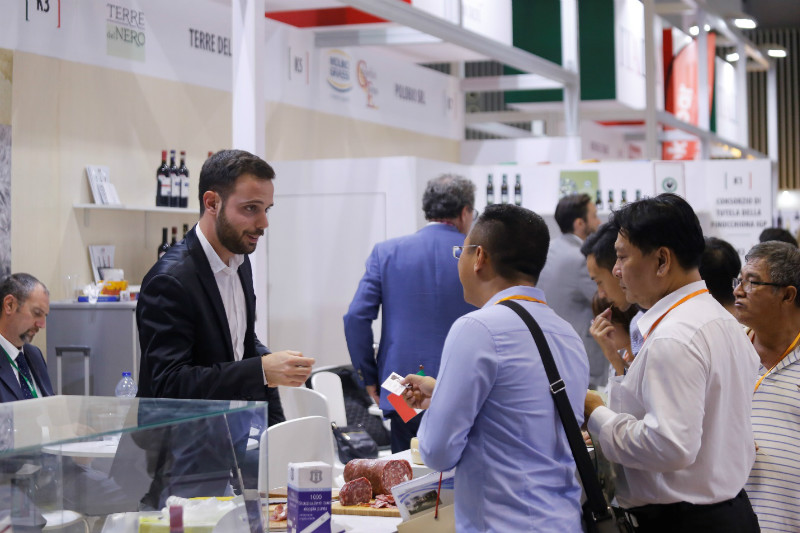 1 Italian booth at Vietnam Foodexpo 2016
Mrs. Carlotta Colli, Consul General, Consulate General of Italy to Ho Chi Minh City said that, in the context that EVFTA is coming into force, Italian companies are interested in investing in and expanding market in the field of food and beverages in Vietnam.
"As a country in the world's top agricultural and food industry, we are very interested in Vietnam market," Mrs. Carlotta Colli said.
According to Mrs. Carlotta Colli, the two governments signed a strategic cooperation agreement in many areas in 2013, in which food and beverage sector is an important cooperation content. Consulate General of Italy to Ho Chi Minh City and Italian Trade Commission is providing accurate and specific information for companies to make decisions on investment and market expansion in Vietnam.
Mr. Paolo Lemma, ICE Counsellor assessed that, Vietnam market for meat. meat products and milk products were really potential. Vietnam had a large consumption market, and consumers were in the process of changing tastes, so Italian companies were especially interested in this issue. "Exports of Italian dairy and cheese products to Vietnam are growing, but not commensurate with the potential perhaps because of different tastes, but hopefully in some more time, exports of these products will increase", Mr. Paolo Lemma said.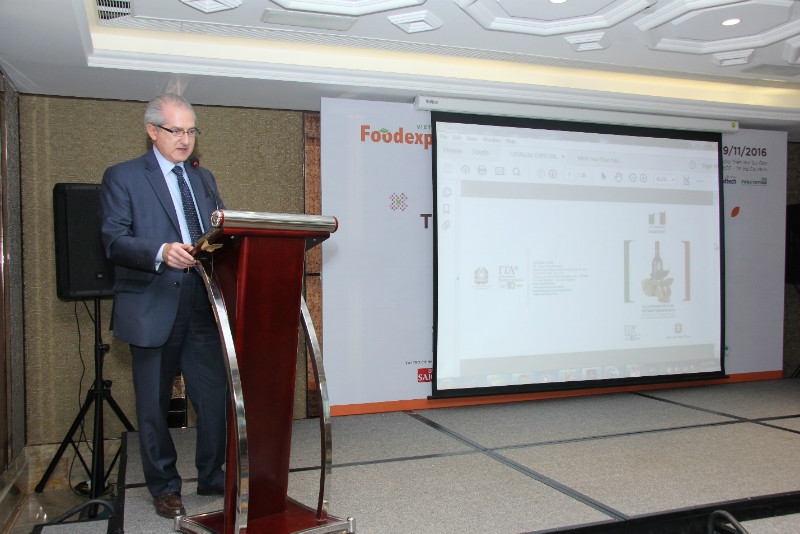 Mr. Paolo Lemma, ICE Counsellor
Not only Italy, other European countries also have quite urgent steps, so as not to be "late comers". In January 2016, following the bilateral agreement allowing Polish apples to be exported to Vietnam, the first Polish apple container entered in Ho Chi Minh City. After 9 months, about 3,000-5,000 tons of Polish apples were marketed in Vietnam. This was just the initial step of Polish companies in doing market research and improving the way of sales to Vietnam. Polish apples is expected to account for 10% of Vietnam apple market.
According to data of the Statistical Office of Poland, in the first 8 months of this year, export of Polish agricultural products to Vietnam reached USD 77.8 million, up 10% over the same period last year. If this trend continues to increase, exports of Polish agricultural products to Vietnam will reach USD 130 million by the end of this year, accounting for 12% of total food exports of Europe.
Mr. Mariusz Boguszewski, Economic Counselor of Polish Embassy to Vietnam said that, the growth was due to Polish businesses to stay ahead of opportunities from EVFTA, which was considered as a new step for European businesses. EVFTA includes several measures facilitating trade and bilateral investment, especially customs procedures, administrative and quarantine issues.
"EVFTA will bring benefits for Vietnamese companies and consumers because a variety of safe, nutritious and high quality food will be available on the market. The agreement also opens up opportunities for Vietnamese businesses to access European market, commented Mr. Mariusz Boguszewski.
Mr. Mariusz Boguszewski said Vietnam was an important economic partner and the largest trade partner of Poland in ASEAN. Vietnam's position in trade relations with Poland was increasingly strengthened, especially Polish government recently chose Vietnam as one of five potential markets in the world. Polish government encouraged and supported domestic companies to enter Vietnam market, the first step was licensing. "The Polish government will implement a series of programs to promote Polish products in Vietnam in the coming time," said Mr. Mariusz Boguszewski.
Poland was 1 of 4 European countries already having businesses and food products present in Vietnam Foodexpo 2016 to boost trade promotion and link investment opportunities in the food industry.
There is a new information showing the efforts of European countries to enter Vietnam market, especially in the field of agriculture, food, drinks. That is, at the beginning of last October, in Hanoi, the Vietnam Trade Promotion Agency (MOIT) and the Centres for the Promotion of Imports from Developing Countries of the Netherlands (CBI) and EU-Mutrap Project signed a memorandum on cooperation in implementation of the Vietnam National Food Strategy Program. This partnership will create a momentum for the operation of the program in its next phases.