The Organizing Board of the Vietnam Foodexpo 2017 talks with Mr. Luong Ba Thai, representative of Viet Café Development Joint Stock Company, an exhibitor with machines, equipment and processing technology attracts many visitors at the exhibition.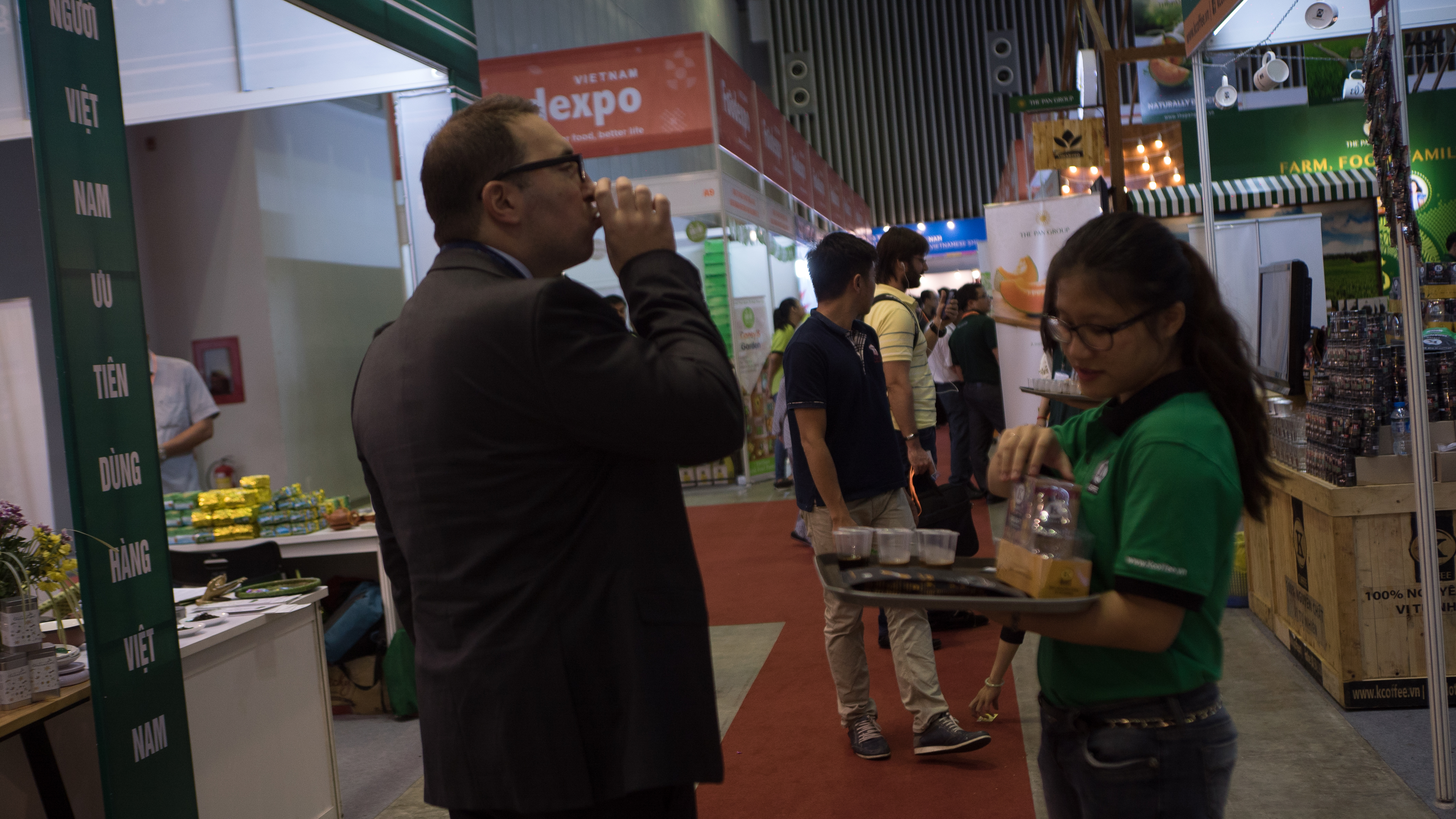 Organizer: Can you share some information on the machines and equipment that your company is introducing at the exhibition?
Mr. Luong Ba Thai: We have exhibited here a variety of machines, processing equipment, coffee makers of foreign brands which are represented by our company in Vietnam market to introduce to domestic users new coffee making technology in the world. In addition, we bring roasting machines using the most advanced technology produced in Vietnam in order to introduce to everyone the process of making delicious coffee.
Especially at the booth of the company, we show to visitors trolley coffee models on the street, which is expected to develop in the future due to the cost savings of premises that makes the price of coffee reduced considerably, helping people to access and drink Vietnamese coffee products more widely.
Organizer: With your coffee roaster and brewing machines, do you have the confidence to compete with the same products on the market?
Mr. Luong Ba Thai: Coffee machines imported from Europe, distributed by our company, have been branded for a long time, so I think the level of competition depends on sales policy and after-sales service.
For the coffee roaster produced by the company, we apply foreign technology so the machine is much cheaper than imported ones, the served time is also reduced. Simultaneous ly we can control the quality of the machines very well.
Organizer: Participating in Vietnam Foodexpo 2017, what is your company's expectation?
Mr. Luong Ba Thai: We want to bring the best products and drinking style of organic coffee from Vietnam's pure coffee to potential customers to the exhibition. Our company's goal is to create a closed circle from production to consumption by having roasting machines, using the highest technology being espresso machines and offering coffee products to Vietnamese street drinkers at low cost. Instead of going to a hotel for a good cup of coffee for $ 3-5, you can buy a quality coffee from street strollers. Consumers will have more choices and new experience. Coffee is sometimes an individual style, so people will enjoy and make comments for their new style.